Perfect gift!
By
Shopper

(Dallas, TX) - February 20, 2014
I bought two mugs separately because I was sure they were only giving an option to just personalize one at a time. I loved them my sons grandparents loved them but most of all they were worth the money I spent. The pictures could have looked more like a collage. The stripes I didn't like as much. I think there should be an option to change the color of the stripes. I kinda wish they sold two at a time as well. Overall I loved the mugs.

Personalized Mug
By
Shopper

(Goreville, IL) - January 11, 2014
The personalized mug was nicely done with a good use of color. It is a perfect gift to show somebody how much they are loved.

Adorable!
By
Shopper

(Upper Marlboro, MD) - December 10, 2013
Great quality! Can't wait to use it Christmas morning! =)

Cup is good, gift wrap not so much
By
Shopper

(River Edge, NJ) - July 6, 2013
Liked the cup, images seem to look ok, w/o major distortion. Didnt like the gift wrap. Even though it looks like what's displayed on the website, didnt notice the company add at the top of the gift box, also the box itself and wrapping feels quite cheap.

Better than expected.
By
Lisa A.

(Elk Grove , CA) - December 29, 2012 (
See all reviews by this customer
)
I chose this because it was on sale.....was not too sure about the colors and pattern...but it turned out. really good. I love the pucture editing tools!

Love it!
By
R B.

(Florence, SC) - December 12, 2012 (
See all reviews by this customer
)
Can't go wrong with this for a Christmas present!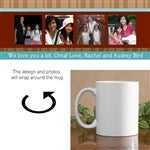 Photos are very small on 11 oz. mugs
By
Julie H.

(Folsom, CA) - December 12, 2012 (
See all reviews by this customer
)
Overall, I'm happy with the 4 mugs I bought. However, I didn't realize the photos would be so small. Most of the photos were not head shots, but the ones with head shots are fine. The mugs make great gifts for grandparents, but I now have 2 mugs which I can't gift out.

Photo Mug
By
Shopper

(Canada) - December 11, 2012
I was very pleased with the photo mug. The only thing was I
thought the photos would be a little larger than what they were.
But other than that I really liked it. Pictures were clear and
precise. I am sure receiver will love it!!! Thank You!

very nice
By
Karen M.

(Provo, UT) - November 30, 2012 (
See all reviews by this customer
)
Turned out really nice! It looks far better than most photo mugs,the trim makes it more professional looking. Can't wait to give it to my husband.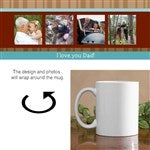 Birthday gift
By
Shopper

(Portales, NM) - September 15, 2012
This mug is the absolute perfect gift! The pictures were great and my boyfriend loved the gift! I just wish this company ships faster & shipping wasn't so expensive.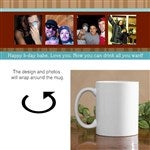 loved it!
By
Shopper

(Mishawaka, IN) - June 26, 2012
just as shown. dad loved it as a father's day gift! wonderful.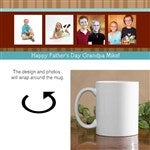 Love it
By
Shopper

(Westland, MI) - June 26, 2012
My husband was pleased with the gift. It actually brought tears to his eyes

Great mug
By
Dana J.

(Baltimore, MD) - June 22, 2012 (
See all reviews by this customer
)
The mug came out great and was delivered really fast. My father loved his gift.

What A Wonderful Shop
By
Shopper

(Orange, CA) - January 10, 2012
Actually I Like This Site And I Found All My Gifts For All Events Here In personalizationmall You Can Send Any Gift To Any Where And The Gift Here Have A Very High Quality :D:D I Like It

Cute gift
By
Bronte B.

(Canada) - November 15, 2011 (
See all reviews by this customer
)
My dad loved the mug! It's a very creative idea, and the pictures turned out very well. Very pleased!!!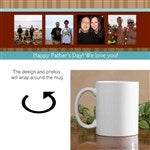 FATHER'S 86TH BIRTHDAY
By
Shopper

(NEWTON, NJ) - October 25, 2011
The photos on the mug came out beautifull . Customer service is wonderful and thankfully in the USA. I cannot say enough about this company, their staff, their products, the quality and speed in which I rec'd my gift. My father's birthday is Sunday and I'm sure he will enjoy it very much.

Classy
By
Sharon M.

(Dracut, MA) - June 27, 2011 (
See all reviews by this customer
)
The receipent was thrilled with the clearity of the photos, it made for a very memorable Father's Day gift for a dear friend.

product review
By
Shopper

(Hope Valley, RI) - June 25, 2011
the mug and personalization are good...just wish the mug came in a larger size. The quality of the photos I downloaded are great.

great gift for dad
By
Shopper

(Milton, WI) - June 22, 2011
It's a nice way to make memories last....great Father's day gift

1st Father's Day
By
Karyn F.

(Windsor Mill, MD) - June 20, 2011 (
See all reviews by this customer
)
I ordered this mug Memorial Day weekend and it arrived fairly early. Thankfully so because there were quality flaws. Customer Service was great, friendly and professional. They shipped out a replacement the next day and it arrived in plenty of time for Father's Day. It's my husband's 1st and the mug was designed with pictures of the baby in chronological order from ride home from the hospital to first teeth! He loves it. Oh and PM told me to keep the flawed one so I'll use it at work. I would order this again.
P.S. I've ordered several items from PM (about 8 or 9) and this is the first time that I've had to have anything replaced.

Picture Mug
By
Jaime T.

(Rohnert Park, CA) - June 20, 2011 (
See all reviews by this customer
)
This item was much smaller than it looks on the website, but it is designed brilliantly. It looks wonderful and is NOT cheaply made! My husband loved it and I am very happy with this purchase!

make sure you use light pictures...
By
sandy S.

(Chandler, TX) - June 14, 2011 (
See all reviews by this customer
)
my mug arrived today and I was a bit disappointed with 2 of the pictures - you need to make sure that they are bright and close ups of the people - otherwise they will not be to visual. the 2 pictures on the right are great but the 2 on the left are very hard to visually see - so in a nut shell...all of your pictures will be printed darker than you think