Canvas Print
By
Shopper

(Easley, SC) - April 7, 2014
Very well made canvas. The only thing wrong was the color when I got it looked more on the light green side instead of tan. So I wish I got another color instead.

A little disappointed
By
Janis L.

(Diana, TX) - December 11, 2013 (
See all reviews by this customer
)
I bought this canvas for my daughter for a wedding gift and it came in a timely manner, the canvas itself was very nice but do pay special attention to the writing when you preview and do realize it will look smudgy, almost like it was stamped more than once. I also ordered a coffee cup and it came out great. I spoke to someone in customer service and they answered back quickly, overall I was happy with the order but just want everyone to look closely at the writing in the middle.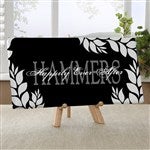 Great!
By
Jami C.

(Woodhaven, MI) - May 6, 2013 (
See all reviews by this customer
)
The product is awesome! Bought it for a gift for my niece!

Thoughtful Gift
By
Shopper

(ONTARIO, CA) - December 24, 2012
Bought this as a gift and used their 2-word company name in front, with an industry-related word in the background. It's going to be for the front desk of an office. I think this is a great item to be creative and give a gift that really expresses personal thought into it. The recipients said they loved it!

I do wish it was offered with the easel stand, not sold separately, because I would have liked to have included that. I didn't add it because I thought it was too expensive. I think a little wooden easel should be maybe 6.95, tops - not around twice that amount :(





it's super nice
By
Char D.

(Canada) - November 29, 2012 (
See all reviews by this customer
)
nice but its way smaller then it looks i should have looked at the size

GOOD
By
Shopper

(Appleton, WI) - August 22, 2012
Got here super fast...quality is good. I bought a couple of these for gifts:) They are little and cozy, good to put on a shelf or wall.

loved it!!!
By
marla H.

(Colorado Springs, CO) - July 28, 2012 (
See all reviews by this customer
)
Ordered 2 1 taupe beautiful, 1 blue, blue is more a lavender back ground and writing on top is more purple. Wished the color to be more blue/grey...

Great gift
By
Shopper

(Stanwood, WA) - April 13, 2012
I ordered this canvas art for my living room as I had just painted and was redoing the room. Great little size and the printing on the sign shows
up well. My only complaint is that I ordered the beige sign and when it came
I thought there was a mistake as the sign was light green. I even went back
and relooked at the description of product and compared the colors. When reading the reviews someone else had said that there was a definite green
tint to the canvas, it is not a tan/beige color. I still like it I just had
to hang in a different room. My fault for not doing my research on product.
Overall I would order this again I would just be very careful about color.


Looks nice
By
Veronica C.

(Cleburne, TX) - December 27, 2011 (
See all reviews by this customer
)
Looks pretty nice. My boyfriend's mom really liked it. I would suggest getting the stand even though its extra money, it seems like it would be easier to display than hanging it on the wall.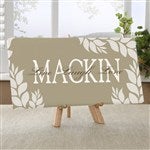 Great quality
By
Ashley P.

(Jeffersonville, IN) - November 22, 2011 (
See all reviews by this customer
)
I purchased this product as a Christmas gift. I think my grandmother will love it! However, there were a few things that I wish I would have know prior to purchasing, which is why I rated this as 4 stars. This canvas is a lot smaller than I had envisioned, this is my fault due to not really measuring out the dimensions. Also, I ordered the beige canvas and I thought it had more of a "green" hue to it. Lastly, I was a little disappointed that the hook to hang the canvas on the wall was not already on the back; it is packaged with it, but you must hang it yourself. Overall, I am pleased with my purchase.

Such a wonderful sign for our home!
By
Shopper

(Suffield, CT) - July 25, 2011
The colors in this canvas art are beautiful...we bought the blue and were thrilled with it. My only wish is that there was a larger version - nice to display on a shelf or with something else but small for our entryway.