Love it!
By
Shopper

(Perrysburg, OH) - August 29, 2014
Clear and crisp lettering - the perfect tool for wedding stationery! :)

It's okay
By
Neely B.

(Decatur, IL) - March 3, 2014 (
See all reviews by this customer
)
The stamp, unless you're very conscious of using evenly applied pressure, will leave pale, even non existent markings. It must be used on a very flat surface. I don't feel like I should have to use this much caution based on other self inking stamps I've used.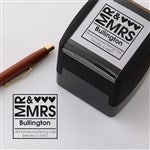 Adorable
By
Shopper

(Happy Valley, OR) - February 28, 2014
This stamp is exactly what it looks like on line. Super cute! My only complaint is that the address line on the stamp is so thin that it does not print very well all the time. I have to press pretty hard in order for it to show up completely.

Great
By
Shopper

(Taft, CA) - September 1, 2013
Loved this product! I didn't get it as fast as I hoped I would but it still arrived in a reasonable amount of time.

Cute Stamp
By
Shopper

(Brook Park, OH) - August 13, 2013
This is a really cute stamp. We got it to use for our Wedding thank you cards. My only complaint with it, is that you have to find the right spot to push the stamp down. If not, not all of the address shows up. I tested the stamp a bunch on a piece of paper first. Otherwise, it's an adorable stamp!

A nice stamp
By
Sara S.

(Buffalo, NY) - August 4, 2013 (
See all reviews by this customer
)
I absolutely love this stamp. I had seen this in a search I'd done a while ago and knew that I wanted this. I waited and then snagged it while it was on sale. It is making my Thank you card writing a little less painful and shows off my new name in style. I truly love it, it's easy to use and seems easy to refill when needed. The only reason why I didn't give this 5 stars is because when I have been stamping it has been light on the paper in some areas. I don't quite know if it's because I'm not pressing it down hard enough or the ink isn't even on the stamp. That is my only complaint and truly it's a minor one.

Useful for saving on address labels
By
Chitrali S.

(Arlington, VA) - July 15, 2013 (
See all reviews by this customer
)
I think this stamp is really cute and convenient. The only downside is that sometimes the stamp comes out a little blurry and the address is harder to read. Otherwise I really like this product. I got it in black.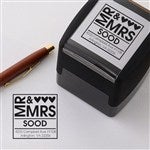 Love This
By
Shopper

(tulsa, OK) - June 19, 2013
Love everything about this stamper...ordered it for my wedding. Color I choose was just like I thought and it stamps really well...don't know yet how long it will last...only only problem I have with it is one spot in my address doesn't stamp well no matter how I push or wiggle with it which is kinda sad but all in all I really like it.

Too Cute!!!
By
Kristen B.

(Parkville, MD) - May 20, 2013 (
See all reviews by this customer
)
I love the stamper and so have the people who received mail from us. You have to make sure you press down firmly enough and on a flat surface so the entire stamp shows up. Don't put a card in the envelope and then stamp it - it doesn't turn out right. Stamp everything before you put anything in the envelopes. Other than that I love it!!!

stamp
By
Shopper

(elmhurst, NY) - April 12, 2013
really nice stamp but the whole thing doesnt come out unless u press it really hard. it messed up a couople of our wedding invites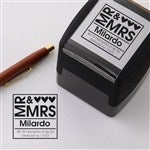 custom address label stamp
By
Marian Diane B.

(Adin, CA) - February 25, 2013 (
See all reviews by this customer
)
this is a great item at a great price

No Instructions. Like the stamp
By
Shopper

(Indianapolis, IN) - December 16, 2012
The stamp is great....one main issue is that Personalization Mall put a label right over the instructions. I ruined a few envelopes figuring out how to make it fully stamp and I have no idea how to re-ink it. They might rethink the placement of their label in the future.

Mr. and Mrs. Stamper
By
Shopper

(Saint Charles, MO) - November 19, 2012
This is a cute time saver for return addresses for thank you cards for our wedding

mr and mrs stamp
By
Shopper

(Lincoln, NE) - November 5, 2012
I wish the stamp would roll up into it to get the ink. Because sometimes it doesn't stamp all the way. But other then that I love it.

SO Easy
By
Hanna B.

(Harrisonville, MO) - October 9, 2012 (
See all reviews by this customer
)
I got this for myself as a wedding gift. It is perfect for all of those 'thank you' cards. The only thing is, you have to have it perfectly flat and press at JUST the right amount of pressure to get it to stamp precisely. Good quality stamp!

Perfect Stamp!
By
Cierra D.

(North Las Vegas, NV) - August 22, 2012 (
See all reviews by this customer
)
I ordered this stamp for our wedding invitations. This stamp gave them such a great look! No problems with the ink and it stamped clearly and evenly. Wish they had one that said "Almost Mr & Mrs..." though.

Very pleased
By
Daphne B.

(Independence, MO) - May 20, 2012 (
See all reviews by this customer
)
This arrived quickly for me to give it to my daughter and son in law for their 1st anniversary. This made a great gift for the paper anniversary along with a box of assorted greeting cards. My daughter loved this. What a great gift for anyone.

Creatively display the "From"
By
Julie J.

(Prosper, TX) - April 22, 2012 (
See all reviews by this customer
)
The stamp operates and looks as I expected. My only concern is that it doesn't seem to have enough ink - it is already faint on one side when I stamp after only a few uses. I think it should be darker being this new. I have the black ink stamp.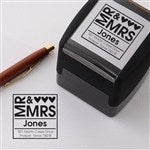 Looks great
By
Shopper

(Church Hill, TN) - December 18, 2011
I really am glad I got this stamp. I gave it four stars instead of five because the ink sometimes doesn't go on evenly, but if I make sure to press and slightly wiggle (if that makes sense) it doesn't leave the bald spot in the middle. Anyways, I love it. Thinking about ordering another one in a different style as well.

Exactly as pictured...
By
Shopper

(Pittsburgh, PA) - October 28, 2011
I purchased this self-inking stamper as a small wedding gift for my niece. It arrived in a timely manner, and the product was exactly as advertised. The ink is a vibrant color, and the print is very clear and sharp. I would have rated it with 5-stars, but the product is brand-new and I don't know how it will wear.