A pleasing gift . . .
By
Heather B.

(Bensalem, PA) - December 26, 2013 (
See all reviews by this customer
)
I loved this when I saw it and ordered it for my brother and sister-in-law for a Christmas gift. I'm not entirely sure what I was expecting, but it was a little flimsier than I was hoping it would be. I'm sure if it's treated properly it will hold up fine for years to come. Anyway, my SIL cried when she opened it and we will be ordering one for the older son sometime soon.

Nice frame
By
Shopper

(Warrensville Heights, OH) - December 11, 2013
Nice frame but had a few nics around the frame.

great quality
By
maria c P.

(chicago, IL) - December 9, 2013 (
See all reviews by this customer
)
this product shipped so quick, i was afraid of the quality of the personalization, but was pleasantly surprised. it was just as described and looked great.

love this frame
By
Rose Ann D.

(Cumberland, RI) - October 20, 2013 (
See all reviews by this customer
)
I love these frames. This is the 3rd one that I purchased. I have 3 grandchildren and they each have on in their rooms. I would definitely recommend this item.

Needs a support
By
Shopper

(Twin Falls, ID) - October 13, 2013
Love this frame. Would have given it 5 stars if it had a support so you could set it on a table instead of hanging it on a wall.

A Gift That Will Be Cherished
By
Shopper

(BEAUFORT, SC) - October 6, 2013
This is my second gift creation for new parents and it is one they will cherish. The most recent gift made the new mom cry--I was able to choose colors that are perfect for her son's room, and she couldn't wait to find a spot on the wall.
I must say that I only give 4-stars because I am a wired-for-hanging snob. Because you only offer "keyholes" for hanging I drill and wire the back before giving it. It is a nuisance step that could be avoided if it arrived already wired. You may want to consider offering wiring as an option, for even a small fee if you must. Otherwise, it's a great product. Also, keep coming up with new color schemes as people can be very creative beyond the traditional colors for new babies--which is why I loved the rich, royal (instead of powder) blue for the baby's red, white and blue baseball-themed room. Thank you.

great gift!
By
Erin H.

(Staten Island, NY) - September 17, 2013 (
See all reviews by this customer
)
great gift!! the new family loved it!!

Perfect gift for Grandma
By
Shopper

(Zionsville, IN) - August 30, 2013
I loved this frame and so did my mother-in-law. Looks great in person. My only complaint is that it does not have a stand, so you don't have the option to set it on a table.

Excellent design
By
Shopper

(Bloomfield, NJ) - July 7, 2013
I really liked how the frame came out. It is absolutely necessary to put as much information into it as possible- don't skip too many fields, or it will look boring. My only complaint is that it arrived with a small chip in the black edging around the frame, which is what prevented me from giving it a full five-star rating. It was small enough that it can be fixed with a Sharpie marker, but it still shouldn't have been there.

Liked
By
Shopper

(Roseville, MN) - June 8, 2013
The trouble with this was that I didn't see where i was suppose to enter pounds, ounces and inches on the picture....thought it would have been automatically added. So the four items i purchased just have numbers....not what i wanted.

Looks Awesome. Arrived Fast.
By
Liteesha W.

(West Palm Beach, FL) - June 8, 2013 (
See all reviews by this customer
)
I love the colors. All the info was accurate. Nice and soild and quite large. My only downer was that it doesn't come with the little kick stand at the back so you can only either hang it on a wall or lean it against something. But overall great product everything as promised.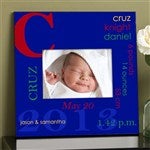 Moms & Dads love this treasure...
By
Tonie S.

(Chicago, IL) - May 10, 2013 (
See all reviews by this customer
)
This is the only baby gift I've found to be very unique and very tasteful for the price. The quality is GREAT! I've ordered approximately 5 within the past 2 years and each time the mom and dad treasure this more than any other gift given to their new arrival. Thank you Personalization Mall for a good quality, costs conscious gift. I will spread the word.

awesome
By
Shopper

(Willow grove, PA) - April 22, 2013
Loved it:) they were gifts for my sisters and they loved it:)

Great gift!
By
Nicole J.

(Hoboken, NJ) - December 13, 2012 (
See all reviews by this customer
)
I bought this as a gift for a friend's new baby and they loved it! I'm only giving it 4 stars instead of 5 because I didn't see it with my own eyes, so I can't vouch for the quality.

Back of the frame
By
Shopper

(Elizabethville, PA) - November 21, 2012
I love the front of the frame and it was done exactly as I would have expected The issue I have is the back. the opening for the picture frame does not stay put. There are only to clips holding it in place and there should be four. One on each side to keep it in place. We had to make our own adjustments to the back to present as a gift.

Never saw item
By
Shopper

(jackson, NJ) - October 23, 2012
The picture frame was a gift and sent directly to that person. I never saw the gift so I cannot send a review. I was told they enjoyed it very much and thought it was very special. Nothing was said about the quality.

Love my frame
By
Ryan H.

(New Orleans, LA) - September 21, 2012 (
See all reviews by this customer
)
The absolute only complaint I have is that it did not come with a stand.

baby frame
By
Lindsay H.

(Lonsdale, MN) - August 2, 2012 (
See all reviews by this customer
)
I loved the frame itself and so did the parents I bought it for, but the back of it looked a little cheap. It looks like it could have been constructed a little better.

Great gift for a new baby
By
Shopper

(laguna beach, CA) - August 1, 2012
Our friend cried when she opened this gift. Highly recommended.

My only complaint is that this company specializes in gift items but then over charges you on the gift boxes. I think they should offer a basic box to be included for free. The one we pay for is marginal at best and not worthy of the price. Room for improvement in the wrapping area.

But I love this site for it's uniqueness and will continue to be a customer or years to come.

Beautiful gift for anyone.
By
Shopper

(Santa Rosa, CA) - July 31, 2012
Absolutely stunning personalized frame that is glossy and bigger than it looks online. I was completely overwhelmed by how beautiful it looked in person. The one downside is it doesn't have a picture frame stand; it can only be hung on the wall.

Super cute frame but needs more options
By
Lydiah J.

(Chesterfield, MI) - June 11, 2012 (
See all reviews by this customer
)
I love the frame, although I was highly mislead when your description said it could be put on a shelf- you need to be more specific because I figured it could be tabletop or on a wall. Not so! So bummed because I wanted it to be tabletop. Also, I did not like how the personalization was only in lowercase letters. Should be an option.

Great gift
By
Melissa L.

(Barrington, IL) - April 23, 2012 (
See all reviews by this customer
)
Great gift for a new baby. The person I gave it to loved it.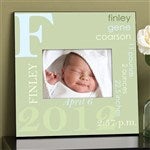 Great Shower Gift
By
Shopper

(Canada) - April 21, 2012
This is a great shower gift! I bought it as a gift but also to display at a baby shower I was hosting! It looks great and is good quality!

Wonderful!
By
Shopper

(Bison, SD) - March 30, 2012
I was given one as a gift for my third child and had to order ones for my other kids as I liked it so much! I like that it has all the information (i.e. wt, ht, name, etc.) as most other products similar don't. Very nice keepsake and not too spendy! I ordered the green one and wish the writting was a little darker. Overall, great item!

Nice way to annouce birth
By
Shanna D.

(Sheppard AFB, TX) - March 5, 2012 (
See all reviews by this customer
)
My sister loved this frame I personalized with her new son's birth information. Turned out really nice and would make nice addition to any baby's room. We displayed frame at a "welcome baby" shower after the baby was born and perfect for guests to see the birth details.

Personalized frame
By
crystal R.

(Warwick, RI) - February 18, 2012 (
See all reviews by this customer
)
This is adorable!!! I love it. Didn't give it 5 stars because I wish it could stand up but other then that it is perfect :)

Great Gift and Great Price!
By
Shopper

(Aliso Viejo, CA) - January 20, 2012
Just wish that it had a stand with it!

Feature I didn't like
By
Shopper

(Union, NJ) - January 17, 2012
The frame is really nice, but I just wasn't crazy about the way it cut off the left side of the large letter M in the upper left hand corner. I thought it could have been placed a little better.

Perfect
By
Shopper

(Philadelphia, PA) - December 14, 2011
I love this. However, I didn't realize how big it was and that you need to hang it. In the picture, it is on a table, but it does not have the back arm for resting.

Still a great gift for new parents. Speedy delivery and perfect transaction.

Great Frame w/one Improvement...
By
Shopper

(Bethesda, MD) - October 10, 2011
I ordered this frame and it looks Great! There is only one thing that I would change, currently this frame can only be hung and does not have a leg to allow it to stand on a dresser or bookshelf...

LOVE IT
By
Shopper

(Gardiner, ME) - September 6, 2011
I love this frame so much just wished the time was a darker color.

Nice frame for the price
By
Shopper

(Suwanee, GA) - August 21, 2011
This is an adorable frame at a decent price. It is lightweight and easy to put on the wall. I like the style of the matting, and the preview page shows exactly how it looks in person. It was also delivered very quickly. It looks great in our house.