Good quality but minor disappointments
By
Sarah K.

(Glendora, CA) - June 20, 2014 (
See all reviews by this customer
)
I bought this tumbler for my Dad for Father's Day. The pictures and overall quality were great however I was fairly disappointed in the tumbler design. The inside of the tumbler is pretty narrow so I can't imagine it will hold very much coffee/drink without needing to get refills often. I was also disappointed in the fit of the lid as it was not very snug and I worry it may cause the drink to spill or leak out when tipped during drinking. Overall I was happy with my purchase and my dad loves it.

Reusable travel mug
By
Shopper

(Spring Valley, CA) - December 31, 2013
After searching all over the internet looking for a ceramic travel mug I could get personalized, I found your site. The mug looks great. My only complaints are that it is a little smaller than I anticipated and was a bit on the expensive side. But it turned out nice and it arrived on time.

Nice, but heavy
By
Erik H.

(Dublin, OH) - December 7, 2013 (
See all reviews by this customer
)
I like the mug...gift for my wife, but it seems a bit heavy. It's not a bad thing I'm just comparing it to the one my wife currently has.

Great mug!
By
Shopper

(Columbus, OH) - September 23, 2013
This is definitely a great personalized gift! You can add 4 of your own pictures and the mug itself is really nice! I didn't give it a 5 because I do think the pictures are a little small and could have been a little bigger.

Nice cup but heavy
By
Theresa F.

(Knoxville, TN) - January 1, 2013 (
See all reviews by this customer
)
I really like this cup because I like to avoid plastic but was unhappy with how heavy it is. Just not something I would want to carry back and forth to my car, work, etc.

GLASS MUGS ARE SOLID!
By
Shopper

(Yuma, AZ) - December 13, 2012
I really liked the mugs . But even more important, the recipients I bought them for, LOVED them! The only suggestion I have, would be, make the pictures larger. They are very small, and if they aren't close ups, they are hard to see.

More of a keep sake
By
Tracy A.

(Chandler, AZ) - December 6, 2012 (
See all reviews by this customer
)
The images that I uploaded look wonderful on the cup. My only issue is the cup may barely hold a cup of liquid and the lid is a soft rubber and would not hold liquid if the cup was knocked over. This cup will remain more of a decoration and that's ok with me. Also, the lid stains easily with coffee.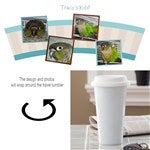 4/5
By
Shopper

(spencerport, NY) - November 24, 2012
Came out a littlle darker then i had liked, but over all a great product!

Perfect gift!
By
Jennifer C.

(Willowbrook, IL) - August 5, 2012 (
See all reviews by this customer
)
This is a great cup! I do wish it was available in other material other than ceramic. I bought it for my grandmother who is afraid to use it that it might get broken. But she loves it!

quality picture travel mug that is mw and dw safe!
By
Shopper

(Mount Holly, NC) - June 22, 2012
My husband loved getting this mug with pictures of our new babies for fathers day. Now he has a nice travel mug for his morning coffee and he has another way to show off his pictures ( & identify his mug).its so nice though he almost doesn't want to use it! The reason I bought this one is that it was the only one w a lid that was microwave and dishwasher safe. I only wish it had a handle. The pics came out nice- 4 pics w a message. The porcelain is heavy but the lack of a handle makes me afraid I'll drop it. It's worth the few dollars more than the other personalized ones I saw on the Web.

adorable...but a bit small
By
Kimberly H.

(Oshkosh, WI) - May 8, 2012 (
See all reviews by this customer
)
this mug is very cute. i am very pleased with the overall product but the size of the mug is a bit small.

Very Pleased
By
Shopper

(Kansas City, MO) - January 3, 2012
My mom loved getting a new coffee cup with pictures of her daughters and grand-daughter. The inside looks like it may only hold a cup or so, but the tumbler itself seems very durable.