Nice quality
By
Melinda E.

(Manassas, VA) - September 16, 2014 (
See all reviews by this customer
)
These are a great addition to the Christmas tree

Very satisfied
By
Melissa B.

(Lackawanna, NY) - June 8, 2014 (
See all reviews by this customer
)
Love this personalized ornament! I have ordered them for all of my nieces and nephews. It is a great keepsake. It always arrives very quickly without any issues. Only complaint I have is there is no special line for children who are either a jr or the 2nd, 3rd, etc. But still worth every penny!

Beautiful gifts for new babies!!!
By
Christine R.

(Staten Island, NY) - March 3, 2014 (
See all reviews by this customer
)
I was very happy with this ornament and got some for gifts as well. I would have given it 5 stars but it bugs me that the name was in lower case...If it was upper case I would have given it 5!

Great Keepsake
By
Shopper

(Greenwood, IN) - January 24, 2014
The first time I ordered this, the printing was not centered and there was a big white space on the side; however, PersMall fixed it with no charge. I love this little keepsake. It's thoughtful without being too big or expensive. I'd just love to see more colors!

Beautiful
By
Stacy R.

(Fall River, MA) - January 13, 2014 (
See all reviews by this customer
)
This ornament was great. I purchased it for my second son after I received one for my first as a gift. I would recommend the lighter colors.

Clever and Beautiful Ornaments
By
Shopper

(Frankford, DE) - January 3, 2014
Will treasure these very pretty ornaments! Wanted one for my nephew, whose name is Timothy. Grateful for the preview step before placing orders. It showed that the large "T" initial doesn't look like a "T." It's more a backwards number seven. Wish this flaw could be fixed. Certainly would order if the initial looked right. Then item would be rated with five stars.

Mom loved it!
By
Shopper

(Tomball, TX) - December 31, 2013
It was smaller than I expected but the mom that I gave it to LOVED it! It is cute!

granddaughter's first Christmas
By
Shopper

(Lincoln, NE) - December 28, 2013
We purchased this ornament for our granddaughter's first Christmas, she is 3 1/2 months old. We liked the quality of the product. All the information was entered correctly on the ornament and in a format that we liked. The only thing I would suggest is that they offer different shapes.

Baby Brother and Sister!
By
Ronald P.

(Platte City, MO) - December 27, 2013 (
See all reviews by this customer
)
Ordered these for Christmas Ornaments for friends! They were both so neat! The blue one was easier to read than the pink one, seemed a little "sharper". They each came with a small soft pouch to keep them in once they come off the Christmas tree! Would also be nice to hang on an ornament hanger, side by side" Anxious to see how our friends liked them! Always pleased with purchases from Personalization Mall...good selections, easy to order and very prompt delivery. I had 4 purchases with this order in December and rec'd them all w/in 4 days! Thank you!


Great Birth Announcement Memory
By
Shopper

(Boynton Beach, FL) - December 27, 2013
My Daughter Loved..Loved..this Xmas Ornament.. Just Beautiful..
Too Bad.. it arrived "Late Christmas Eve"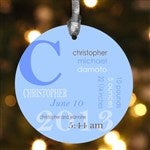 Beautiful keepsake
By
Shopper

(Collegeville, PA) - December 24, 2013
Just love this ornament because it is a record of our grandson's birth with all the information on his birth, weight, length and time. It's a wonderful gift to pass on to him when he gets married so his wife can cherish it and continue the tradition.

I just wish that it wasn't a plan a plain ball. When my children were born 20-30 years ago, I got angels with their birth.

Love this ornament!!
By
Rose Ann D.

(Cumberland, RI) - October 26, 2013 (
See all reviews by this customer
)
I have 3 grandchildren and they all have this ornament. They are well made and a perfect weight for branch on the xmas tree. I also purchased the coordinating frame for their rooms. I would highly recommend this item

Just a little something
By
Shopper

(Glendale, NY) - September 16, 2013
I only know the grandmother, but wanted a little something to welcome her new grandchild. This birth ornament was the perfect gift. All I needed was the baby's birth information. The site shows you what your product will look like before placing your order. I was slightly disappointment when my order came. The printing was lighter and not as sharp as what the site showed as my finished product. However, I would purchase again because it was the perfect little something.

Beautiful 1st Christmas Ornament
By
Jenifer P.

(Hamden, CT) - August 23, 2013 (
See all reviews by this customer
)
This is a unique and beautiful idea for a Baby's First Christmas Ornament. Includes all the birth information (day, weight, time, and length) and even includes baby and mom and dad's names which is really sweet and different! Great quality and ships in a great time frame!

Adorable ornament
By
Valerie W.

(Oak Ridge, NJ) - May 19, 2013 (
See all reviews by this customer
)
Great quality product! Arrived exactly as pictured. The ornament is the perfect size, I can't wait to see it on my tree this year!

Cute
By
Shopper

(Peoria, AZ) - January 6, 2013
It turned out cute, but overall appearance could have looked a little better. Definitely not as clear as digital pictures.

Almost Excellent...
By
Suzanne B.

(Magnolia, TX) - December 28, 2012 (
See all reviews by this customer
)
I ordered two blue ornaments. There was some difference in the shades of blue between the two. They were for twins, so I would have preferred they be the same color, as they would be displayed on the same tree. One of the names started with a T. The placement was a bit odd, and most of the top left of the letter was chopped off. The name that began with a B looked fine.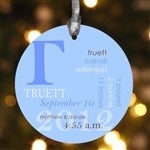 Wonderful Memory!
By
Shopper

(Sioux Falls, SD) - December 16, 2012
ornament is beautiful. cannot wait to share it with my daughter once she gets older. great personal first Christmas ornament!

Great Keepsake
By
Shopper

(Camp Hill, PA) - December 16, 2012
I bought this ornament last year for my first grandchild, and I liked it so much that I ordered one for myself. This year brought 2 more babies and once again I bought this ornament for everyone. I like how all of the birth information is captured in such a stylish way. My only real reservation is that some of the large initials look better than others. Last year's 'J' looked fine. But the top left part of 'Z' was cut-off and it looks a little funny.

what i didnt like about it, and do like about it
By
Tammy R.

(Lowell, MA) - December 13, 2012 (
See all reviews by this customer
)
I loved the idea of having the different colors but i did pick the dark blue and it is a little difficult to read the other information on the ornament.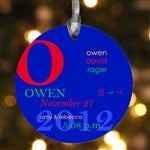 Scrapbook ornament
By
Shopper

(Lumberton, NC) - December 11, 2012
I used mine to record events in my son's life during the year. The lettering is not crisp, but overall cute ornament.

wonderful choice
By
Charles S.

(Chicago, IL) - December 9, 2012 (
See all reviews by this customer
)
Good selection. Perfect personalizations. Ornament was smaller than I thought. Super quick delivery.

great "remember when" gifts!
By
Shopper

(Fremont, IN) - December 1, 2012
purchased 3 of these ornmanets for babies born in the last year - my son, my niece, and a girl friend's daughter. lots of great info on a fair-size ornament. all of the info is legible. the sage green is a very nice color -- chose it for my son's. the lavender is very girly. and the fushcia is bold - will definitely stand out on the tree. overall -- i am pleased.

Very cute
By
Shopper

(Forest Hill, MD) - November 26, 2012
I love the look of how the ornament came out. It is a cute design. The quality seems ok, not great. The ornament is a little thinner than I thought it would be, but overall I am very happy with it.

Beautiful gift.
By
Shopper

(Hialeah, FL) - November 18, 2012
These are very nicely done. Good quality. The reason for the 4 stars is the in the set up, if you have one line with no info, it shows as blank space (ie. 8Lbs, 0 ounces in the weight, if you dont enter 0 ounces, there us a blank space - ) otherwise, a beautiful gift

Nice Idea
By
Shopper

(Houston, TX) - October 22, 2012
This was a nice idea for my granddaughter's first christmas. Her parents loved it as a memo with all the vital birth statistics for their tree.

So Adorable, Great Gift
By
Shopper

(Lusby, MD) - October 22, 2012
I ordered all 3 of the girl colors because I couldn't decide... I also ordered one as a gift for my cousin that had a baby 2 months before me. She loved it. It would make a great grandparent Christmas gift. The only complaint is it limited part of the statistics. I had to use 13 ounces, not 13.5 ounces.

Good customer service
By
Shopper

(Forest Hills, NY) - August 29, 2012
Ornament is very cute. Originally received one with some spots; called customer service & they sent another promptly. Second one was great. Bright pink has eye appeal!

Big letter option
By
Cristin J.

(Savannah, GA) - August 12, 2012 (
See all reviews by this customer
)
I love these ornaments, but my son goes by his middle name. I plugged in the info and the big letter would be his first name and I didn't like it. So I ended up leaving his first name off completely. It would be nice to have an option. But otherwise, I love it!

Very Pleased!!!
By
Shopper

(Parma, OH) - August 2, 2012
This ornament was awesome........nice quality, unique, and my daughter loved it when i gave it to her. I am always pleased with what I purchase!

Beautiful!!!
By
Shopper

(brooklyn, NY) - August 2, 2012
Perfect. My only feedback is you don't have the option to capitalize.

Xmas touches
By
Sunlee C.

(Anchorage, AK) - June 8, 2012 (
See all reviews by this customer
)
This is the perfect addition to my tree and was very affordable.

Love
By
Shopper

(Milton, MA) - May 16, 2012
I absolutely love this ornament. I can't wait to put it on my Christmas tree this year for everyone to see it. It is well made. Personalization mall did not disappoint me.

christmas ornament
By
Linda S.

(Sterling Heights, MI) - January 24, 2012 (
See all reviews by this customer
)
beautiful keepsake for grandparent, godparent or parent.

Feature I didn't like
By
Shopper

(Union, NJ) - January 17, 2012
The ornament is really nice, but I just wasn't crazy about the way it cut off the left side of the large letter M in the upper left hand corner. I thought it could have been placed a little better.

Cute keepsake
By
Shopper

(Muskegon, MI) - January 3, 2012
The ornament is very classy. I would definitely buy another.

Baby ornaments
By
Ellen M.

(Mill Creek, WA) - December 29, 2011 (
See all reviews by this customer
)
I ordered two of these, one for each of my children. They are a little smaller than I thought they would be and very delicate but I believe they will be a wonderful addition to our tree and a great keepsake to pass to the kids when they are older.

Personalized Birth Ornament
By
Shopper

(Saint Charles, MO) - December 27, 2011
These are great ornaments. Just remember to type the words (ounces,pounds, length) or it will be left off and only the number will appear.

Great Christmas gift for baby's 1st Christmas
By
Shopper

(High Ridge, MO) - December 27, 2011
The ornament was bigger than expected, and looked great. The only improvement was the printing quality looked blurry and almost pasted on. Didn't effect the ornament overall, but can cheapen its look.

Cute idea for 1st Christmas
By
Harper A.

(Shawnee, OK) - December 19, 2011 (
See all reviews by this customer
)
I ordered this for my great neice for her 1st christmas. Can be used year round as nursery decor. Great quality from this wonderful website!