Great Memory item
By
Shopper

(West Jordan, UT) - September 29, 2014
Nice memory maker ornament. Would be nice to have the same format in different shapes other than the heart. Over all I love personalization mall.com I have so much fun with giving gifts from here.

Cute
By
Cheryl P.

(Greenwood Lake, NY) - July 14, 2014 (
See all reviews by this customer
)
Bought this as a bridal shower gift for a friend. Very cute idea, especially since you can add phrases that are personal to the couple. Looks like it costs way more than it really did.

Lovely Couples Ornament
By
Veronica O.

(Indian Head, MD) - January 19, 2014 (
See all reviews by this customer
)
I ordered this ornament as a 2 year Anniversary keepsake for me and my husband. I love the idea of adding sentiments of our relationship to this ornament as it makes it even more special and truly a one-of-a-kind. This is a very pretty ornament, however it looks best displayed with light behind it otherwise you can't even see what it says. The lettering on the actual ornament is more blurry and a tad smaller than the picture of the ornament on the website. Overall, this is a cute ornament for couples and will surely be a heirloom passed down through generations.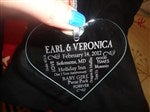 Very nice
By
Shopper

(Bridgeport, CT) - January 17, 2014
Love the fact that could add more than just names . It was just what I expected.

lovely gift
By
Belinda B.

(Cedar Rapids, IA) - January 14, 2014 (
See all reviews by this customer
)
Item arrived on time, in perfect shape. It is very pretty. I am looking forward to giving it to my son & his spouse. The other is for me!

CUT GLASS STYLE ORNAMENT
By
Patricia D.

(Brunswick, ME) - December 31, 2013 (
See all reviews by this customer
)
I was really pleased with the ornament. Just as nice looking in person as on the site. Had many people ask me where I had purchased it. Like the personal touch it gives to the receiver. Very nice and would recommend to others.

Brought tears to husband's eyes
By
Shopper

(Palatka, FL) - December 30, 2013
After a rather difficult period in our relationship, I gave this to my husband as a symbol of "Looks like we made it." I personalized it with our names, our wedding date, our home towns, where we had our first date, our recipe for happiness, where we honeymooned. I added "Hope" in the slot above forever as we now face a serious health issue.
I was thrilled with the finished product and he really did get tears in his eyes.
Only 4 stars because it's difficult to read hanging in the air. (Sorry. We have over-age-40 eyes.)

Very personal
By
Shopper

(South Bend, IN) - December 22, 2013
Love all the info. you can actually put on this! It's really pretty. The only downfall (and it's hardly an issue) is that in a couple of the words, the letters didn't seem to etch as dark as the rest of word. Not very noticeable at all, though.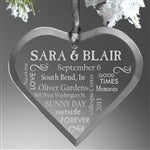 Ornament
By
Shopper

(East Alton, IL) - December 11, 2013
A little smaller than I expected. But I'm very pleased with it. Good quality and very cute

Very cute personalized ornament
By
Shopper

(GLEN ALLEN, VA) - December 2, 2013
I received my ornament today which was ordered to commemorate my fiancé's and my first Christmas together in our new home. It's very cute and met my expectations in terms of quality for the price. My fiancé was also pleased due to what I was able to put on the ornament itself (i.e., the location we met originally 5 years ago, the date about a year and a half ago when we reconnected, the address of our first home, the title of "our" song; things very special to both of us).

To sum it up, this particular ornament makes a great gift for anyone looking to capture memories a couple will be sure to reflect on each year while decorating their Christmas tree. I highly recommend this product!

Heart ornament
By
Shopper

(New Canaan, CT) - November 18, 2013
Loved the ornament and it would have received 5 stars if not for the fact that one name is so tiny that you can barely see it. The name on the far right is very, very time. As I said, still love the ornament just that one complaint.

nice quality, fast transaction
By
susan K.

(West Palm Beach, FL) - November 16, 2013 (
See all reviews by this customer
)
silver ribbon it hangs on is a little cheap looking so I replaced it w/ some nicer ribbon I had at home. Otherwise awesome. Love that you get nine lines of personalization and know it will be loved by the recipient.

1st Christmas Together Ornament
By
Shopper

(LAWRENCEVILLE, GA) - November 5, 2013
It was not a substantial as I thought. The overall look was beautiful. I was very please that all the personal touches I had hoped for were there. I can not wait to give this to my Daughter and Her new husband for Christmas.

Good but could be better
By
Shelly M.

(Highlands Ranch , CO) - October 28, 2013 (
See all reviews by this customer
)
The ornament is beautiful but the ribbon on it was very cheap. I had to replace ribbon. I had paid extra for the nicer box as well - very poor quality. I replaced the box as well. Even with that - I'd buy it again


Versatile -- not just for couples!
By
Chelle Annette I.

(San Diego, CA) - October 10, 2013 (
See all reviews by this customer
)
We used these to note special people and occasions for two different people and both of the ornaments were lovely. If they didn't put the word "FOREVER" on it, it could serve many situations.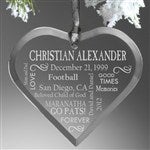 great
By
Shopper

(Cincinnati , OH) - August 16, 2013
this item shipped fast and looks great. great quality for low price. will definitely be using this website for Christmas and gifts.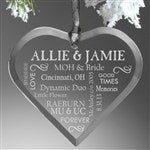 easy to order
By
Shopper

(Beaverton, OR) - March 15, 2013
quick and nice product

Great gift
By
Kelly B.

(Charlotte, NC) - March 5, 2013 (
See all reviews by this customer
)
I have received many ornaments from PM as gifts - graduation, wedding, new home, etc. and they are all great. I just purchased this ornament for a friend who is getting married in June. While the etching is very deep and easy to read, I thought a few of the words were almost too small to read. Still a great gift!

Actually, 4.8 stars
By
Shopper

(Deland, FL) - December 31, 2012
The ornament itself is exactly as shown....no surprises which is wonderful! The personalization is well done and correct....phew. My only complaint is that there are a few selections made for you by the company..."memories, good times and love..." I would have preferred to have my own choices in those spots or at least be given other options by the manufacturer. None of those are words I would have chosen. But the product itself is lovely.

Great keepsake for a couple
By
Cynthia S.

(Cave Junction, OR) - December 31, 2012 (
See all reviews by this customer
)
Really special because you can personalize memories to the couple.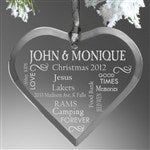 Christmas gifts
By
Shopper

(Breese, IL) - December 27, 2012
These ornaments were a surprise gift to my adult children as well as a German exchange student staying with my daughter. It was a great way to highlight the past year for them: baby adoption, memorable vacations, new jobs, etc...and a fun keepsake of things the student did while here in the USA. I would order more in the future for gifts; they all loved them!

Didn't realize how small it would be
By
Shopper

(Woodstock, IL) - December 21, 2012
The ornament of itself is just as I hoped it would be for their upcoming wedding. However I did not read the size and it is quite small, especially with the holder that I ordered to go with it. I shall give it and hopefully it will be memorable for them.

OMG - I love your gift!
By
Melodye G.

(Woodruff, SC) - December 14, 2012 (
See all reviews by this customer
)
I bought this for my son and his wife. My son is serving in the military and I wanted to send something to remind them of their first Christmas together. I got a text out of the blue from my daughter in law, "OMG - I love your gift". She said she had been looking for something like this for their first ornament and this was exactly what she was looking for. I didn't actually get to see it myself but they loved it and that is all that matters. This is my second purchase from your company and I have not been disappointed. Thank you so much for letting me have a little part of my son's Christmas away from home.

Sweet
By
Catherine G.

(Chester, VA) - December 12, 2012 (
See all reviews by this customer
)
This is a grea idea...I had so much fun putting these together. The engraving wasn't as deep as I thought it would be but they are fine. The packaging was perfect and they arrived super quick, I would order them again.

SMALLER THAN EXPECTED
By
Shopper

(NEWARK, DE) - December 8, 2012
I enjoyed thinking of things to put on this ornament. BUT The item was smaller than I expected. But it IS a NICE ornament and I do not regret buying it as a present.
I will buy from PMall again! THIS is my 3rd or 4th year that I have done so!

Nice but not as nice as expected
By
Alyce W.

(Centerville, OH) - December 7, 2012 (
See all reviews by this customer
)
The ornament turned out well, but it is lighter and thinner than expected. Overall, a nice gift and a great value.

Great Christmas Ornament
By
Shopper

(Janesville, WI) - December 6, 2012
What do you get a couple who have already had their first Christmas together but it's the first Christmas they're married? So many "wedding" ornaments are so tacky. This one is simple, personalized and looks great! What you see is really what you get; no surpizes. Wish I could think of more people to give it to. I was expecting the quality to be less than what I saw on line, but not so! Only drawback (if I had to find one)is the small lettering on the left side is really small. But really...I'd order again! Turn around time from ordering to delivery was quicker than I expected.

Nice and Fast
By
Brendan B.

(Sunnyside, NY) - November 27, 2012 (
See all reviews by this customer
)
One of the few items on the site for couples that is not gender specific. This ornament arrived very quickly and will be a happy addition to our Christmas tree.
There is only one very minor criticism and that is that the etching could be a little clearer. I can read all the print, but if I needed to be really persnickety about it, I would ask for it to be clearer.
But this is a great product for that special couple that you might have on your list that may not fit the girl/boy "standard."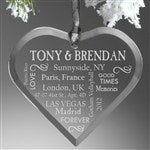 As Described
By
Shopper

(Santa Clara, CA) - November 26, 2012
Shipped on time. Looks as expected. Font ends up being quite small in finished product, may consider increasing size. Otherwise beautiful.

Our Life Together
By
Bronwyn S.

(North Augusta, SC) - November 6, 2012 (
See all reviews by this customer
)
Item is nice, like the engraving, just a lot smaller than I expected.

finished product
By
Shopper

(Oxford, OH) - November 5, 2012
I was hoping it would be a little larger in size. some of the engraving I would have liked to be not so tiny, but all in all,engraving was correct as specified and it is really nice and I think it will be a good Christmas gift. Thanks.

Love the product, just off a little bit
By
Felicia H.

(lennon, MI) - August 1, 2012 (
See all reviews by this customer
)
Love the ornament, so beautiful. I ordered many in this glass style. However the printing was not centered on my last few I ordered. They are gifts so hopefully they wont look at it too closely, it really is a beautiful ornament. Looks very expensive! love it :) If I had someone else to buy for, I would get it again.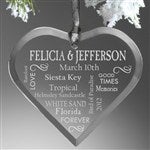 Cute but off center
By
Shopper

(Powhatan, VA) - July 17, 2012
The item is very cute, however, I ordered 2 and both were personalized off center. The wording extended into the beveled edge of the product. Certainly not what the picture shows. Customer service was excellent about offering to replace the item. I had to send in a picture of the item for verification. It has only been a day or so since the reorder and I'm waiting to get them for the 2nd time. If you order them for a gift, allow plenty of time in case they have to be remade! I would have given the item 5 stars if it wasn't for the hassle of having them redone.

Not Centered
By
Shopper

(Avondale, PA) - April 23, 2012
I love the ornament and how you can personalize it. I was a little disappointed that it wasn't centered very well, especially line #4. On the sample it has the word hydrangea which looks fine. The word I used for line #4 was only 3 letters long and is not centered properly. Same problem as I read in another review...the word starts on the beveled edge of the heart. It would have looked much nicer had it been moved up a little.

Fix line #4
By
Shopper

(Ventnor, NJ) - April 9, 2012
No matter how many letters in the word for line #4 [accepts up to 12]the first letter ALWAYS ends up starting on the bevel edge, rather than in the body of the heart. Have tried starting with a space as 1st letter, doesn't matter.I've done this ornament 6 different times.Always problem with line 4. Some lines are harder to read if you use all of letters as the font is small and almost runs together. Gave it 4 stars as everyone,I've given it too, loves it. Ya can't leave a line blank.

Things I didn't really like
By
Sam K.

(Canada) - February 13, 2012 (
See all reviews by this customer
)
The ornaments arrived safely, thank you. They appeared to be larger on the website so I was surprised at their actual size. The etching isn't as clear as it appeared on screen either.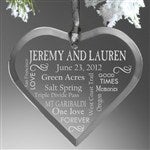 Pretty & Elegant
By
Lisa H.

(Encino, CA) - January 26, 2012 (
See all reviews by this customer
)
I bought this for myself and as a wedding gift ( to go with our actual gift) for another couple. Its very sweet and personal and looks nice.

Would recommend this
By
Shopper

(Hurricane, WV) - January 20, 2012
The heart was a little smaller than expected. Otherwise, was very pleased with this. A one-of-a-kind gift.

very nice
By
Shopper

(Canada) - January 17, 2012
very nice

Nice anniversary gift
By
Maureen R.

(Lancaster, PA) - January 10, 2012 (
See all reviews by this customer
)
The ornament looks good. The only negative was trying to get the words I wanted placed where I wanted them on the ornament. It took a few tries to get it looking the way I wanted, but once I got something that worked, it turned out really nice.