Christmas ornaments
By
Shopper

(Franklin Lakes, NJ) - July 19, 2014
This is a wonderful ornament when you're looking for both a name and year to be on it. However, the names are clearer and easier to see when the name is longer. One that I purchased had a 3 letter name on it and it's very difficult to discern what it says. Great for a long name!

Beautiful piece
By
Shopper

(Las Vegas, NV) - December 11, 2013
The piece is beautiful. The carving/etching is precise and professional looking. The only negative comment about the ornament is the stain used on the wood has created a noxious odor. Maybe the smell will diminish over time, but as of right now, the smell of the wood is quite unpleasant. Overall, the item was worth the price.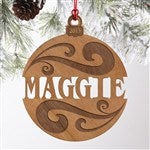 Quality of wood
By
Shopper

(Conyngham, PA) - December 11, 2013
I purchased two of these ornaments for my grandsons last year and was very pleased with them so I ordered one for my new grandson. My only disappointment with the new ornament is the quality of the wood. There are streaks across the ornament that I don't remember from last years ornaments. My husband says that is the nature of wood

Memories
By
Peter M.

(San Diego, CA) - December 4, 2013 (
See all reviews by this customer
)
Personalized gifts are memories made. Special and meaningful.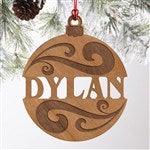 cute but smelly
By
Micah-Shea M.

(Saraland, AL) - July 20, 2013 (
See all reviews by this customer
)
The ornaments are cute and I think they are going to be perfect for our nieces. The only problem I found was they have a very strong smell. I'm not sure if it is the wood or the stain. I would definitely suggest letting them air out.

Very nice
By
Shopper

(PARLIN, NJ) - December 20, 2012
My daughter loved it!

High Quality
By
Shopper

(Auburn, WA) - December 12, 2012
We bought 5 of these for ornaments for our grandkids. They were shipped quickly and were expertly made. They were a little pricey but now each child has their very own ornament with their name and the year.
Hopefully - they'll have it for years to come!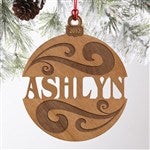 Lovely!
By
Allyssa T.

(Albany, NY) - December 9, 2012 (
See all reviews by this customer
)
I really love this ornament. My ONLY negative comment is that the design is not as dark as it appears in the picture, much lighter coloring. And I thought it was really neat that when I opened it up, it smelled like a wood stove. The ornament smelled like it had been hanging in Santa's workshop or something. It must be the process used to lazer cut the wood, but the smell added to the charm. Great pick!

Good ornament but not for all names
By
Shopper

(Coral Springs, FL) - November 9, 2012
I ordered this ornament for a couple of friends and found that it looks better with some names than others. Make sure to preview well. Otherwise quality is very good.

very nice
By
Amber H.

(Charlottesville, VA) - October 19, 2012 (
See all reviews by this customer
)
I really like the way this ornament turned out! Very pretty. Pretty much what I expected it to be. I also got it very quickly! I wish it were a little bit sturdier feeling though. It doesn't seem like it would take all tha much to break it in half. But it looks great.

Nice!
By
Kerri P.

(Fort Stewart, GA) - December 9, 2011 (
See all reviews by this customer
)
I ordered 2 of these, 1 for each son, and they turned out great. A little bigger than I thought, and a little more "rustic" than I had imagined. But I love them!

Just like the picture
By
Jessica W.

(Saint Petersburg, FL) - December 8, 2011 (
See all reviews by this customer
)
I bought this as a "baby's 1st Christmas" ornament. I figured it can't get broken and its not as cheesy as a rattle ornament. It has her name and the year at the top. Looks great.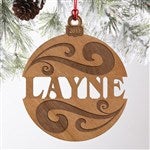 love love love them!
By
Kristen B.

(Groves, TX) - December 5, 2011 (
See all reviews by this customer
)
beautiful just like the picture. wish they were a bit thicker, i worry they may break if handled to much. but they're beautiful.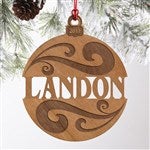 Personalized Ornaments
By
Shopper

(STONINGTON, CT) - November 28, 2011
Each year I purchase personalized ornaments for each of my four grandchildren. I'm happy to know there is a web site where I can make these purchases easily and there are always so many fun ornaments from which to choose. Shopping is is easy and shipping is speedy!