Birthday gift
By
Deborah W.

(Fern Park, FL) - August 23, 2014 (
See all reviews by this customer
)
Shirt is a birthday gift for my sister and has names of her grandchildren and was printed correctly. My only wish is that the print would have been in a brighter ink. Has a flat look but otherwise looks good.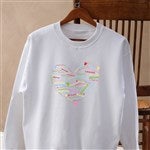 cute
By
Tina N.

(Brentwood, CA) - August 17, 2014 (
See all reviews by this customer
)
Fast service, nice quality T-shirt, cute design

Carefully choose size
By
Shopper

(Saint Charles, MO) - May 16, 2014
Loved the idea of this! Actually fit more names on it by using the "&" sign for married grandchildren's names. Colors are more pastel than bright on a white shirt, but looks cute. Ordered a medium per the measurements on size guide. It was too small so I had to re-purchase/re-order in a large so Mom could wear it. Think about that when choosing your size. Happy with product though!

Happy Mother of a happy customer
By
Paula C.

(Austin, TX) - May 15, 2014 (
See all reviews by this customer
)
I purchased this lovely sweatshirt for my mom as a Mother's Day gift. It arrived on time and she loves it! It's ample in size as I purchased a M and it could actually be considered a large. Being a sweatshirt makes that ok with us however, in the future I think I'll keep in mind that the sizes tend to run large. Which is why I gave it 4 stars , opposed to 5. Very nice quality in the shirt.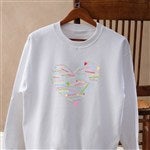 pleased with purchase
By
Shopper

(Easton, PA) - May 12, 2014
Gave this to my mom for Mother's Day. She LOVED it and said she is wearing it today! (day after Mother's Day) Very cute shirt for a Grandma!

nice t-shirt
By
Shopper

(Holliston, MA) - March 17, 2014
I am pleased overall with this t-shirt, however, one of the names was s-t-r-e-t-c-h-e-d out in two instances. This was a gift and the receiver was happy. Also, the shirt ran a little large for the recipient.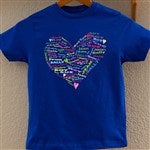 Perfect for Mother's Day
By
Laura Z.

(Lebanon, NJ) - June 2, 2013 (
See all reviews by this customer
)
Runs a little big and long, but otherwise really cute. It only holds up to 8 names so if you have more than 8 children/grandchildren/students/names it won't work.

Great product
By
Shopper

(Cincinnati, OH) - May 17, 2013
Got two of these for my mother and mother-in-law for Mother's Day this year. I loved the final product and especially love that I could preview it first. Shipping was quick and they both loved the shirts. The only negative would be that the sizes seem to run a bit small.

Great gift for a mom
By
Brenda F.

(New Lenox, IL) - May 16, 2013 (
See all reviews by this customer
)
I love that you can choose what you want for the words in the heart. I put my husband's and my girls' names. I also put the date of my wedding and when my girls were born. Now I have this keepsake shirt that is very unique. The only thing I would change is the vividness of the colors. They are kind of dull on the black shirt.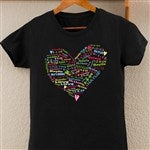 very happy
By
Shopper

(kalamazoo, MI) - May 16, 2013
I was very happy with this product. I was worried about the quality of the sweatshirt but it seems to be very thick and nice. I was only hoping the print could have been a little more brilliant in color. Some seem to be "dimmer" than they seem on-line. But overall very cute! super fast shipping!!!

Perfect Mother's Day gift
By
Lisa C.

(Manchester, CT) - May 14, 2013 (
See all reviews by this customer
)
My family and I purchased this shirt for mom's day and had the three kids and five grandkids listed so that when our step mom runs in her marathons we can all run with her to cheer her on. She loved it and it was very sentimental because of the personalization of it. Great quality shirt and printing was vividly colorful.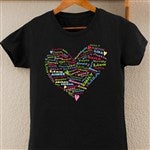 t-shirt sizing
By
Shopper

(Woodland Park, NJ) - May 8, 2013
The t-shirt is smaller than I thought a medium should be. I wear a small normally, ordered a medium thinking it would fit better and found it to be snug. Quality is good though.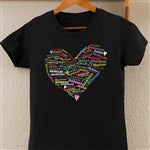 Cute idea but could be better
By
Shopper

(Ventura, CA) - May 4, 2013
Cute idea. Heart looks nice. White fabric is pretty thin. I looked at the size chart and ordered a medium. I also measured the shirt when I received it and it seems accurate (38" W x 26" L). I can tell you that the width starts to taper pretty quickly, it gets down to about 34-35" so the t-shirt is fitted and hugs the body.

Very happy
By
JANET H.

(TRUMBULL, CT) - May 3, 2013 (
See all reviews by this customer
)
Much nicer than I expected--personalization was very well done.

great delivery fast
By
Shopper

(Wylie, TX) - April 30, 2013
delivery fast and excellent shirt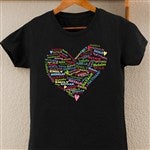 Heart of love sweatshirt
By
Twilla D.

(Frankfort, IN) - December 27, 2012 (
See all reviews by this customer
)
It is very nice but the sizes run pretty large I would order 1 size smaller then normally worn. But it was just exactually what I ordered did a really nice job on it.Would recommend this sight to other people.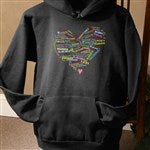 Nice design & not overwhelming
By
Robert I.

(Tewksbury, MA) - November 26, 2012 (
See all reviews by this customer
)
I liked this. I am not sure about the imprint at this time, though. I think it will hold up quite well, but I will have wait and see. It is not a heavy imprint but seems permanent. I'd like to follow up to see how my wife likes. It does look very nice and my sons are very excited to give it to their mom for Christmas.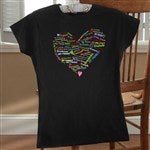 Great Shirt!
By
Kim B.

(Grand Prairie, TX) - October 6, 2012 (
See all reviews by this customer
)
Great Shirt just not very fitted compared to size chart. Heart came out looking lovely~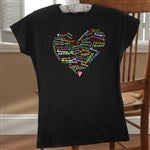 Awesome
By
Amanda S.

(Pittsburgh, PA) - August 31, 2012 (
See all reviews by this customer
)
I bought this shirt for a surprise 50th B-Day and it was so great! It is a mdern fit not those grandma tee shirts and it even comes in its own little bag! I would buy this item again for sure!!!! It was a huge hit!!!!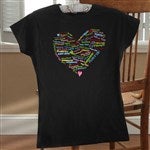 So cute
By
Sharon J.

(Cincinnati, OH) - July 23, 2012 (
See all reviews by this customer
)
I ordered this t shirt for myself with my husand and boys name in it. I really like it and have received mutliple compliments on it. It is a typical cotton t-shirt that DOES shrink a bit in the dryer. I would have given it 5 stars if it came in a more feminine shape.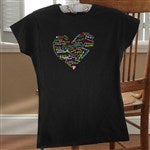 Nice tshirt with an interesting design
By
Shopper

(Worcester, MA) - May 21, 2012
I got this tshirt as a gift for mothers day. It looked exactly as the website shows it except that the website says "fitted" and this tshirt is not very fitted. I have a medium tshirt which is normally my size, but this tshirt is just like a regular tshirt..not fitted at all. Love the design though:)

Great gift idea, my Mom loved it
By
Shopper

(Belleville, MI) - May 21, 2012
Thought the coloring on the names of the hearts was already light/faded and not sure over time if the black shirt will keep it's color.

Satisfied with my purchase
By
Shopper

(Dillsburg, PA) - May 19, 2012
I was happy with my purchase. The only things I would say are the heart is smaller then I thought it was going to be. It would be nice if it took up a larger area of the shirt. The only other thing is try not to use very long words, for example I used the pharse "unconditional love", which fit into the allowed number of letters, but then it was a bit hard to read as the letters appeared more condensed.

Good present! Neat idea!!
By
Lindsey W.

(Canton, NC) - May 19, 2012 (
See all reviews by this customer
)
The shirt is really different and cute but the colors are not near as bright as they appear on the website. But overall, good gift idea!!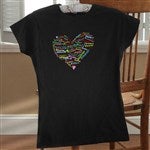 Great bragging shirt
By
Shopper

(McGraw, NY) - May 15, 2012
Would have given a 5 star review but this is the second one I purchased because they run small. But other than that I love how this is a great bragging shirt about your grandchildren for a younger grandma.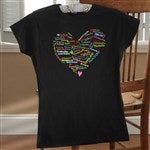 great tee!
By
Diann A.

(Williamsport, PA) - May 15, 2012 (
See all reviews by this customer
)
I bought this for my nieces to give their mom for mother's day! She loved it!! It was very special to her - so personal!!! Great gift!!