Nice, but ....
By
Shopper

(Latham, NY) - September 29, 2014
Nice and cute but I felt the engraving wasn't perfect. As I look at it on line now, it is what it looks like engraved. Yet I was expecting the engraving to be deeper ...come closer to the "Bless This Child" look.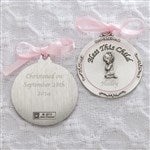 Special Gift
By
Leana S.

(Papillion , NE) - July 28, 2014 (
See all reviews by this customer
)
I gave this as a gift after my sister gave birth to her first baby. I felt that is was a special gift, unlike anything else most other people would get her. She seemed to really like it. It was very nice and quite heavy. However I do wish baby's name was larger and darker. It was a little difficult to see his name but overall very nice.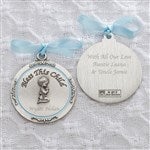 Beautiful Gift !
By
Shopper

(Naples, FL) - July 5, 2014
I love this medallion such a beautiful keepsake, however, the engraving could be a little heavier for a better visual !!! I've purchased a few and do love them...

Quality
By
Shopper

(Miramar, FL) - June 16, 2014
Item is nice but engraving much too light.

Beautiful!
By
Isabel C.

(Houston, TX) - April 2, 2014 (
See all reviews by this customer
)
It was very very very pretty. I just wish the customized engraving were as dark as the original "Blessed This Child" engraving. It was a nice gift and I'm sure I'll order again.... Thanks!

Beautiful gifts
By
Shopper

(Canada) - January 18, 2014
It is a beautiful gift that is appreciated by everyone I have given it to. The only thing I would change, is that it is very difficult to see the childs name engraved on the front of the medallion. I strongly suggest the letters be darkened. Again, it is a wonderful item.

Nice Medallion
By
Shopper

(Saint John, IN) - September 7, 2013
Puchased this for nephew's Christening with date engraved on the back. Don't know if they will pin it in the crib, but it will be a nice keepsake for the ocassion.

Perfect keepsake
By
Pamela I.

(Bloomingdale, IL) - May 26, 2013 (
See all reviews by this customer
)
The Crib Medallion arrived on time, and was shipped very securely wrapped in tissue, bubble wrap & a black pull string bag. It's the perfect keepsake. It's larger & heavier than I expected. I do wish the personalized engraving was bolder to match the rest of the medallion, so my granddaughter's name stood out more.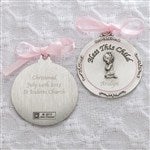 Cute Metal
By
Shopper

(Beaumont, CA) - May 18, 2013
Very nice little metal I got for a baptism, but I had Lauren engraved on the front and it was really small. There was definitely room to go bigger. The name came a lot smaller then the picture looked on the preview.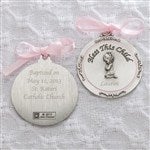 Satisfied
By
Shopper

(Hamilton, IN) - April 13, 2013
I thought the crib medallion was cute and a great gift, I only wish the name engraved on the front could have some how been darker. I found the name was hard to read. I'm still satisfied with the product.

Nice
By
Shopper

(Miller, SD) - February 17, 2013
This is nice quality. Was larger than i envisioned but did not look at size before i bought it. Made a nice gift for baptism.

crib medallioj\n
By
Shopper

(Collierville, TN) - February 4, 2013
Great except the pre-engraved portion is so much deeper than the personalized engraved portion. It is so lightly engraved its very hard to read.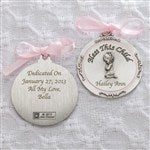 Lovely Gift!
By
Anna B.

(Pineville, LA) - December 25, 2012 (
See all reviews by this customer
)
Beautiful gift. The inscription was a little hard to see, but overall, just beautiful!

keepsake
By
Shopper

(Cornwall, NY) - December 16, 2012
I am happy with keepsake for a new baby.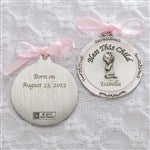 Very special
By
Shopper

(Bennington, VT) - November 13, 2012
Better than I imagined. They are bigger than I thought and would make a great gift for any baby. The only complaint is that I wish the name appeared a little darker hard to read as it is very light lettering.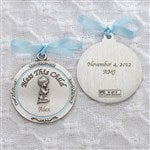 Thoughtful Gift
By
Shopper

(Wilmington, MA) - November 10, 2012
I bought this for my grandson's crib with a special message from us engraved on the back. The only thing I would suggest is that his name be printed a little larger on the front. Medallion is a Great size and very happy with our purchased. Would recommend this for that special child in your life.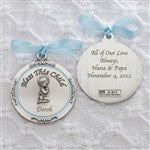 Very Nice
By
Shopper

(BLACKWOOD, NJ) - August 29, 2012
Beautiful crib medal. Nice large size. Engraving was a good I just wished the lettering was darker, otherwise a perfect, memorable, keepsake present.