Wedding Ornament
By
Shopper

(Largo, FL) - August 14, 2014
Loved the prompt delivery and great product !!!!
I know that my friend will be really happy with this on her gift !!!
Thanks for all the years of great products and service !

Sweet ornament for newly weds!
I ordered this for myself and it's so cute! Such a keepsake!

Bride & Groom
By
Barbara K.

(Canton, MI) - January 13, 2014 (
See all reviews by this customer
)
Love it. Will be perfect next Christmas

Nice Gift
By
Shopper

(Long Eddy, NY) - December 27, 2013
Nice gift idea.

Cute
By
Shopper

(coppell, TX) - December 20, 2013
This is a cute ornament for newlyweds - crystals on the dress make it sparkle

Perfect for newly weds
By
Tiffany M.

(Rochelle, IL) - December 17, 2013 (
See all reviews by this customer
)
I purchased this for my niece and her groom, they were just married this year. The item is beautiful and well made. The only flaw in this item is that the wording rubbed off a bit on the bottom and makes the bottom of the dress appear a bit dirty. I tried to clean it off.. it came off a little but it still looks dirty. I am sure the newly weds will love it, but I am a bit saddened at the smudge :(

Beautiful
By
Shopper

(Murfreesboro, TN) - December 7, 2013
Lovely ornament. The glitter at the bottom could be better quality but overall it's a good ornament.

Really cute gift for newly weds :)
By
Shopper

(Waterville, NY) - November 21, 2013
I just purchased this ornament for two friends of mine who are getting married soon. I had to get it because the wedding gown looks just like what my friend will be wearing when she walks down the aisle- it was just too perfect to resist! I'm very happy with this product and would recommend it if you're considering purchasing it.

Gift for ourselves
By
Audrey F.

(Parker, CO) - November 5, 2013 (
See all reviews by this customer
)
This ornament came out good considering it was one of the only ones that we could find that didn't have a tacky cartoon character on it. My dress had a sparkly belt when we got marked so we though this was appropriate. My husband liked it a lot compared to others we had looked at.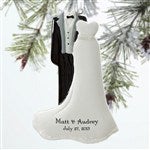 Wedding ornament
By
Esther C.

(TEMECULA, CA) - September 10, 2013 (
See all reviews by this customer
)
Bought this for our daughter for her first married ornament this year......its cute however, i would prefer less shine to it. Other than that, it is really cute and came in a nice velvet pouch for gift giving. I'm sure they will love it.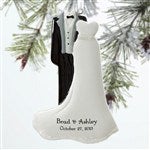 aN ADDED THOUGHT
By
Shopper

(Martinez, CA) - May 27, 2013
I gave this ornament as an added gift with a monetary gift, just so the bride and groom would remember that I remembered them. It is small but it has a nice touch to it for a rememberance.

Super Cute!
By
Shopper

(Kahului, HI) - December 12, 2012
Since we just got married, I thought that this was a cute idea to have hung on our Christmas tree each year. It's really cute. I did find it a little generic and not as cute as the picture, but that just might be me. It is adorable though.

very cute
By
Shopper

(Midlothian, VA) - December 11, 2012
I purchased this ornament for my daughter for her first christmas being married. I like this mostly because her wedding dress resembles the one on the ornament.

Bride & groom ornament
By
Shopper

(Gray, ME) - December 9, 2012
Adorable gift for the newlyweds!

bride and groom
By
sharon G.

(south setauket, NY) - December 7, 2012 (
See all reviews by this customer
)
I loved it. was perfect for my daughter and son in law that were just married in AUGUST ....









Cute Wedding Ornament
By
Britney W.

(Owens Cross Roads, AL) - November 16, 2012 (
See all reviews by this customer
)
I love this ornament! I got it for my Christmas tree because this is our first Christmas together as husband and wife. My only complaint is that I think it would be cuter if the figures had heads :)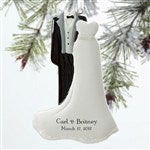 cute
By
Patricia E.

(Statesville, NC) - November 16, 2012 (
See all reviews by this customer
)
The size is great, and it will standout when on the tree. The only concern of mine is that it feel heavy so not sure if the tree will handle the weight. I guess we will have to see.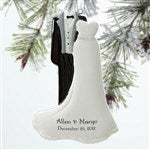 Very nice
By
Shopper

(Lapeer, MI) - November 11, 2012
I order this for my son and his new wife for christmas . Im very pleased with this choice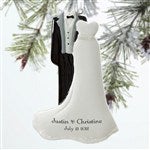 NICE
By
Shopper

(New Castle, DE) - November 5, 2012
Nice gift for the stocking... brought few for two sisters that got married this past year... it's little smaller than I would have thought but nice for the tree. I would order again.