very nice woodwork and etching!
By
Shopper

(Pago Pago, HI) - January 7, 2014
received in good order and was pleased with it. i guess i have to go back to some bit of math basics as it turned out smaller than expected, but still satisfied with the product overall.

A nice inexpensive gift
By
Tina R.

(York, PA) - December 13, 2013 (
See all reviews by this customer
)
The box was smaller than I realized but overall a great deal for the money.

Great Price for the Product
By
MelissaTye W.

(Amarillo, TX) - July 8, 2013 (
See all reviews by this customer
)
This was a father's day gift and once again I am very impressed with the product's from personalizationmall.com The box is lighter than I expected, but overall a great price for the product.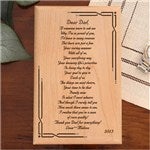 pretty
By
Jamie S.

(Rosedale, MD) - June 19, 2013 (
See all reviews by this customer
)
This is a very pretty, quality item made special by the personalized poem, name, and date. There was a relatively good choice of poems or could write/use our own.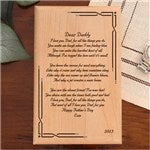 Pretty good
By
Shopper

(Saint Louis, MO) - December 18, 2012
I thought the outside of the box was beautiful and perfect- the inside seemed a little cheap though. Overall a great value!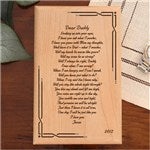 Smaller than I expected
By
Shopper

(New Windsor, NY) - November 13, 2012
The box was certainly a thoughtful idea and a decent quality but it was smaller than we expected.

Nice but small storage
By
Shopper

(Hampton, GA) - April 16, 2012
Got this for my husband's 50th birthday. The poem was beautiful and really touched him. I only wish the inside of the box was larger.

My review
By
christina E.

(st petersburg, FL) - January 21, 2012 (
See all reviews by this customer
)
I love this product! There was just one thing i thought it would be bigger then it was but still was wotth the money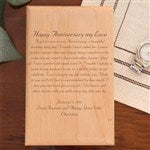 Great just a little small
By
Shopper

(Rising Sun, MD) - December 31, 2011
You can't beat the price. It's a little shallow but very pretty!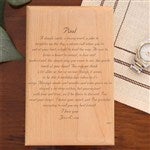 product quality
By
Shopper

(everett, WA) - December 20, 2011
Little small but nice, i like it.

Very nice
By
Shopper

(Roseville, MI) - December 19, 2011
I really loved this gift because it can be used for years to come. I wish it was a little deeper but overall very nice.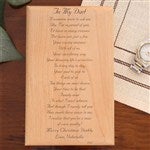 nice little box
By
Shopper

(Pilot Mountain, NC) - December 8, 2011
This is a nice little box, I bought it for my husband for Christmas, it's a little smaller than I expected but that's not a problem. The words are engraved nicely on the box, and easy to read.

small and sweet
By
Shopper

(Phoenix, AZ) - June 26, 2011
The box is really small but you can fit 3 watches in weird angles with change. The writing on the box is really pretty.

Valet Box
By
Angela C.

(Billings, MT) - March 28, 2011 (
See all reviews by this customer
)
This product had good workmanship and the printed poem was personalized for a man's 60th birthday celebration from his children. Awesome keepsake.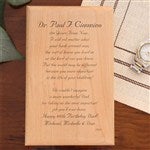 Very nice!
By
Shopper

(Indianapolis, IN) - February 4, 2011
This box is very nice and quality made! It wasn't as deep as I would have liked but after all it is more for a keep sake. The engraving was perfect! I am always very happy and satisfied with Personalization Mall's work! Prompt service too! I actually used the "make your own poem" selection and typed my own message and used it as a gift to my husband for 5th Anniversary since wood is the traditional gift for that year! It was great!

Fantastic
By
Laura L.

(Rockwall, TX) - December 27, 2010 (
See all reviews by this customer
)
I am very pleased with this item. My only wish is that it were a little deeper. The box is beautiful. I am overall very happy with my purchase.

cheesy but good
By
Katherine F.

(Attleboro, MA) - December 13, 2010 (
See all reviews by this customer
)
if u dont know what to get for dad this is perfect. its sappy and hell put it to use

Great gift
By
kristen H.

(conroe, TX) - November 26, 2010 (
See all reviews by this customer
)
I've bought two of these boxes now, one for my husband as a father's day gift and one for my father-in-law as a christmas gift. They both really look great. I love the wood, and the script on the lid of the box is really very nice. I didn't much care for the poems, but that's my own personal opinion. I used to option to write my own, and found poems I liked better off the internet. Also, the inside is a little small because it's compartmentalized with a divider. It can hold a watch, some lose change, and maybe a small pocket knife, but don't count on it holding anything more than that. It's definitely not big enough to hold a wallet, though it would work for a money clip. My husband just ended up popping the divider out and making more room. I actually looks better inside once the divider has been taken out, but you can see glue marks where they glued it in. All in all, it's really an awesome gift. I would definitely buy this again.

Loved It !!
By
Jennifer R.

(Mascoutah, IL) - September 17, 2010 (
See all reviews by this customer
)
Just wish it were larger for the price but it is a good size, looks great and worth it The engraving is just beautiful !! would recommend. I love the products they sell !!!

grandpa loved it
By
louise S.

(west keansburg, NJ) - June 22, 2010 (
See all reviews by this customer
)
this is a nice (a little small) valet box. we customized it with our own poem for my father in law's 1st father's day as a grandpa. perfect gift for the hard to shop for the guy and adds the sentimental touch. was the perfect gift for my father in law!

good present
By
Jennifer W.

(Clearwater, FL) - June 17, 2010 (
See all reviews by this customer
)
Dad really liked it! He uses it for loose change and small jewlery

dad box
By
Faith F.

(hoboken, NJ) - June 15, 2010 (
See all reviews by this customer
)
box was beautiful and the inscription was also. my only minor complaint was the quality of the interior of the box. it was a little flimsy.

I could not have said it better.
By
Vickie R.

(pottsboro, TX) - June 14, 2010 (
See all reviews by this customer
)
This gift and the poem brought tears to my eyes as soon as I read it. Thank you for every thing. Great and prompt service.

Beautiful---great sentimental & useful gift
By
Julie W.

(Charleston, IL) - June 10, 2010 (
See all reviews by this customer
)
My soon to be 11 yr old step-son picked this out for his dad for father's day. He thought it was so great that he gave it to his dad the day it arrived. Even for the toughest of men it will bring a tear to their eye. His dad LOVED it. I only gave it 4 stars because I thought it would be heavier and the engraving deeper, but it is beautiful and I would definitely recommend it. And, to have the date & your child's name really makes it a great keepsake and a daily reminder of how much you love someone.

beautiful
By
Denise L.

(Aston, PA) - April 16, 2010 (
See all reviews by this customer
)
I wanted to get my step father something just for him for my wedding. He is the one walking me down the aisle even though my real dad will be there he (step) is actually the man that raised me. When I saw this poem it was just very fitting. the engraving is beautiful and so is the box I just expected it to be heavier...I am still not sure if it is real wood but over all it is a beautiful box and he will love it!!!

met my expectations!
By
selma C.

(North Bergen, NJ) - March 4, 2010 (
See all reviews by this customer
)
the final product looks exactly like the preview. nice size, could be used for small keepsakes.

Good product
By
Isay L.

(Garland, TX) - March 1, 2010 (
See all reviews by this customer
)
This was a nice looking product! got here in good condition! Decent amount of time,I would recomend this item,makes a really nice gift for some one special!!

Great Keepsake
By
Navette W.

(Bronx, NY) - January 22, 2010 (
See all reviews by this customer
)
This is an excellent keepsake. It would be nicer if the box came with a lock though.

Very cute, but....
By
Maritza R.

(Newington, CT) - December 16, 2009 (
See all reviews by this customer
)
i was wondering why the pic didnt show the inside, and now i know why. the inside is a very cheap piece of plastic, barely covered in a very light felt, then glued into the box.

The outside is beautiful, looks just like the pic! Im sure the Daddy will love it! Just look carefully at the measurments, I didnt and pictured something bigger. Very cute item though!

Small but priceless gift!
By
Nicole H.

(Ingleside, IL) - November 16, 2009 (
See all reviews by this customer
)
The dad poem is great. This will be a very unique gift. It is very small, won't be able to put much in it, but not to bad for the price.

MADE MY HUSBANDS DAY!!!
By
Lisa M.

(Indian head, MD) - October 8, 2009 (
See all reviews by this customer
)
This Valet Box was BEAUTIFUL!!! I was so blown away at how perfect and detailed the engraving on the box turned out! I gave the item to my husband on his birthday and he was brought to tears! It was very neatly done with no mistakes and it was deatiled exactly how the preview picture showed and how I personalized it to be and say. The only issue that I have with the box is that the inside is very small with limited space for jewelry and his watch couldnt fit inside. But other than the inside size the outside totally makes up for that! Thanx P.Mall.com

Very Nice
By
Dennis R.

(Somerset, NJ) - October 1, 2009 (
See all reviews by this customer
)
Nice item, looks good and well constructed.. arrived as expected.. on time