great gift!
By
Shopper

(Killeen, TX) - September 20, 2014
For the "hard to buy" for person, this frame is great. I recommend this for anyone on your gift list.

The Prado Family
By
Adam P.

(San Jose, CA) - August 12, 2014 (
See all reviews by this customer
)
We absolutely love this photo frame and PM.com

Very nice
By
Nicole R.

(Canada) - August 4, 2014 (
See all reviews by this customer
)
Bought this for our new blended family (6 people)

The item is amazing except that one name is cut off every time it appears...my daughters name only appeared twice (all others names were on 3 times) and both were cut off :( she was hurt

Everything else about it is very good.... If you do have 6 names, play around with the order and preview what it will look like first....in the preview her name did appear fully but in reality it was chopped off by the top edge and the picture display hole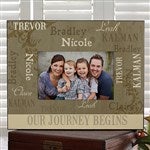 Loved the frame
By
Shopper

(Tallahassee, FL) - July 22, 2014
Absolutely loved this frame but was disappointed that the frame limited the number of names to only six (6). Would love to have a product available like this which allowed spaces for more than six (6) names for larger families.

Family photo frame
By
REBECCA M.

(CHATTANOOGA, TN) - June 28, 2014 (
See all reviews by this customer
)
Great Christmas gift--well made

Good gift
By
Shopper

(DAVIS, CA) - May 12, 2014
This is the second frame of this style that I've ordered in the last year. It is a great gift. My complaint is that I found it hard to tuck in the latch on the back of the frame that holds the picture in.

Makes for a lovely unique gift
By
Shopper

(Bonaire, GA) - April 20, 2014
The photo frame was of good quality and makes for a lifetime keepsake. The only issue was the name at the bottom of the frame was off-centered. Overall, the clarity of the names and the uniqueness of the different fonts made this gift a winner at a birthday party!

Really nice frame
By
Shopper

(Hatfield, PA) - April 19, 2014
My only complaint is that the space for the picture is on the small side, being bigger would have been nicer but I bought this for my son's wedding and it will be a blended family so showing all the kids on the frame as well as the parents was something I wanted.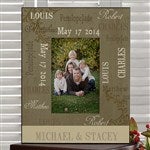 Family of 5
By
Shopper

(Oswego, NY) - January 14, 2014
I think the recipients will like the frame but I did have a few complaints. I'm not sure if it is because one son has his dad's name and is a Jr. or not. The name "Jeff" appears in capital print all 3 places. Jeff's wife's name, "Patti" appears in print letters only which is never white. "Ashley" and Emma" appear in fancy and print lettering. What I'm saying is that it was difficult to decide where the Mom's and Dad's names should go and I am a bit disappointed in the inconsistencies of lettering and color. If available I would probably rate this frame 3.5.

Really nice gift
By
Shopper

(Mandeville, LA) - January 5, 2014
This frame is really nice for the price. The printing is not crystal clear but overall I am happy with the product.

Landscape Style great, Portrait Style doesn't stand up right
By
Laura B.

(Rochester, NY) - January 2, 2014 (
See all reviews by this customer
)
The Frames are very nicely done. Great quality overall. I ordered two of the horizontal & one Vertical. The vertical won't stand up properly. I belive the back stand that holds it up is not long enough to support the position.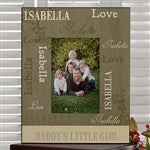 Family Personalized photo frame
By
Kelly U.

(Houston, TX) - December 26, 2013 (
See all reviews by this customer
)
I ordered 4 frames. 3 of the frames were perfect but on the 4th one, the names were a bit off center. Thus the names that were at the top of the frame or near the picture opening had the top of their letters cut off.
But I would order this item again.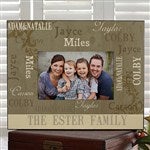 Not enough ink on the bottom title...
By
Shopper

(Staten Island, NY) - December 25, 2013
I ordered 2 frames and although the names that were printed on the top came out beautiful, the bottom title "Family" and "Love" looked like some of the letters were worn out. Since they were holiday gifts I had to give them as is.

Just as pictured
By
Shopper

(Bergman, AR) - December 22, 2013
Very happy. Looked just like picture with FAST delivery!

Great Gift!
By
Shopper

(IRVINE, CA) - December 14, 2013
It's so easy to create the names on the frame! This makes for a really great, personal gift idea

FUN FAMILY VIEWING
By
DIANE W. D.

(Advance, NC) - September 23, 2013 (
See all reviews by this customer
)
Delightful item!
Wonderful speed on delivery!
Looking forward to giving it as an anniversary gift.
Two things to remember:
~Front is laminate
~Work with name placement to get what you think is best
Thanks, again, PersonalizationMall!
I will return!!

Love my family frame!
By
Shopper

(Bartow, FL) - June 17, 2013
Quality is great. Love the design. Gave it 4 stars because I wish there were multiple colors to choose from.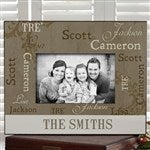 picture frame
By
Donna B.

(Yonkers, NY) - January 2, 2013 (
See all reviews by this customer
)
Great Idea. Family loved seeing their names on the frame.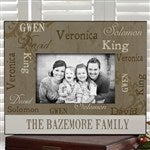 Loved it!
By
Shopper

(Vienna, VA) - December 31, 2012
I bought this for my son's girlfriend for Christmas. She and my son are at 2 different universities. I included the names of their respective universities and the year. His girlfriend loved that it was so personalized and told their story. I was impressed with the quality. The only reason for 4 stars is I thought the design could have a bit more pop.

Great Gift for Dad!
By
Brandon C.

(Cincinnati, OH) - December 29, 2012 (
See all reviews by this customer
)
My Dad LOVED this! Great value for the money, I was surprised at the quality. My only gripe is that it's reall 3.5 x 5.5 inches, so part of it was cut off...to fit a 4 x 6 photo, I can see cutting off 1/4 inch each way but not 1/2. Otherwise, great!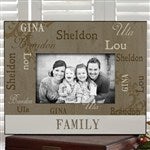 Nice Frame
By
Shopper

(Ellijay, GA) - December 23, 2012
This is actually nicer than it looks in the picture. I was ever so slightly disappointed with the imprint, but it is still a nice frame. I love all the names being all over the frame.

Product feature that I didn't like
By
Shopper

(Yonkers, NY) - December 10, 2012
Overall, the picture frame more than met my expectations but the family name was a little washed out but acceptable.