Anniversary Gift
By
Dylan M.

(Elgin, IL) - September 10, 2014 (
See all reviews by this customer
)
The product looked amazing and it was the most beautiful gift that my girlfriend could ask for. There was only one thing wrong with the product and that is that it was dented about 2 milimeters from the lip. I don't know if it got that when it was being shipped or if it was accidently dented when being buffered or something.

Good Quality
By
Shopper

(los angeles, CA) - August 17, 2014
I'm really happy with this product, and how my picture design turned out! It is definitely great for traveling, you won't spill your drinks. The pictures turned out great and very pretty looking on the steel background. Shipping was fast.

Great cup
By
Shopper

(Helena, MT) - June 17, 2014
I really enjoyed the quality of the cup and the print but I wish the pictures could be lighter. They just aren't as clear as they are on white.

Short but sweet
By
Shasta S.

(Waterloo, SC) - June 7, 2014 (
See all reviews by this customer
)
When I received the mug I noticed right away that it was alot smaller than the normal travel mug. My husband can still use this as a coffee cup every day but going on a 20-30 min trip he will have to use our older travel mug. The pictures turned out great and the wording was great. Overall I am very satisfied with the way the mug turned out. I just wish it was a bit bigger.

It is lovely.
By
Chandrashekhar P.

(Austin, TX) - April 30, 2014 (
See all reviews by this customer
)
Just for <20 bucks, you can bring a smile on the face of your friend/colleague.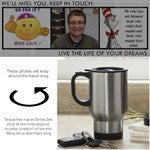 good cup
By
Linda S.

(Forney, TX) - March 2, 2014 (
See all reviews by this customer
)
great item but photo is dark

Beautiful mug slow delivery
By
kevin M.

(Copperas Cove, TX) - February 21, 2014 (
See all reviews by this customer
)
The cup is great and the images are very clear and sharp, but I paid for guaranteed delivery by Valentine's day and it didn't even come close to making it.

Great mug!
By
Elizabeth D.

(New Market, AL) - December 30, 2013 (
See all reviews by this customer
)
Mug was just as expected. Pictures looked great! Ordered this as a Christmas present & was very pleased to give!

Great Idea but pics are a little dark
By
Shopper

(Gainesville, VA) - December 27, 2013
I love this mug and so did the Dad I gave it to, however the pictures came out a little dark on the mug. It still looks great and he loves it. I read reviews prior to purchasing so I knew that this was a possibility, I just want to make sure that others are aware too.

MUGS
By
Jennifer K.

(Maplewood, MN) - December 23, 2013 (
See all reviews by this customer
)
Very practical gift that my dad loved of his grandkids. One negative is that the pictures are not as clear due to the gray stainless steel, but other than that great quality.

Dark
By
Shopper

(Gaithersburg, MD) - December 17, 2013
The photos came out a little dark, so be sure to use very bright photos on this item. The mug itself was exactly as expected.

daughter's book cup
By
barb K.

(Bartlett, IL) - October 28, 2013 (
See all reviews by this customer
)
I placed my daughter's two published book covers on a travel mug for her - they turned out very well. I would have liked them lightened up a bit - but the covers themselves were dark green. I think she will be delighted and I look forward to adding covers to future mugs when she publishes her next novel.

Good, but not perfect
By
Matthew E.

(Menlo Park, CA) - July 19, 2013 (
See all reviews by this customer
)
If you need a car mug, this is one of the few options I've seen. It is a quality mug. The only downside is the pictures will be a bit dark and also - probably harder to fix - the shiny steel surface of the mug is so reflective that it makes appreciating the pictures a bit of a challenge. That said, I'm comparing this to the *stunning* clarity of the ceramic mugs we've purchased in the past. Would be great if PersonalizationMall could create some kind of a "matte white" decal beneath the pictures to give a better "canvas" for the photos.

That said, my recipient loved it, and it remains a solid option if you want a travel mug.

Very good travel mug
By
Shopper

(Chicago, IL) - May 20, 2013
Good value for purchase - only drawback was the pictures didn't seem contrasted enough from the mug, so it made the pictures a little less sharp / clear. But, overall was pretty pleased with it.

good
By
Shopper

(Elk Grove, CA) - April 8, 2013
Its nice in shape, good in quality, easy to use, the pics are clear