Great Gift
By
Connie A.

(La Habra, CA) - June 23, 2014 (
See all reviews by this customer
)
I placed multiple orders of this product as gifts for Mother's Day and Father's Day. Everything for the most part worked out really well. However, the finished quality on 1 out of the 6 mugs ordered had a blurred photo image.

ms
By
Monique F.

(Collins, MS) - June 21, 2014 (
See all reviews by this customer
)
Loved it

Late birthday gift
By
Erlin P.

(Taylors, SC) - June 11, 2014 (
See all reviews by this customer
)
The quality of the product is amazing! My father loved the mug, and so did I!

"Better late than never" they always say

Almost Perfect
By
Amy C.

(Nampa, ID) - June 10, 2014 (
See all reviews by this customer
)
The reason I only gave this item 4 Stars instead of 5 is because when I was inputting the photos I couldn't switch places of where I wanted the pictures to go. Other then that, I love the mug itself...very personal and I think my father is really going to enjoy receiving this gift on fathers day.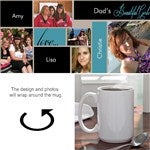 Great product/great deal
By
Felicia L.

(Riverdale, IL) - May 19, 2014 (
See all reviews by this customer
)
Sharp pictures; great product and great price.

Great investment
By
Keenya B.

(Brooklyn, NY) - May 16, 2014 (
See all reviews by this customer
)
This was such a cute mothers day gift. My only wish is that they wouldvr enhanced/brightened one of my pictures before printing it on the mug. As one of them looked dull compared to the rest. I would def buy it again though!

My favorite mug
By
Vivien B.

(Durham , NC) - April 29, 2014 (
See all reviews by this customer
)
There was a little white still on the mug. The mug was a little darker than I had expected but overall the pictures came out beautiful. It is my favorite mug to dink my coffee out of every morning. Thank you!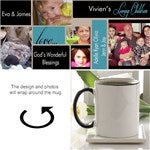 good but
By
Shopper

(Munich, ND) - February 20, 2014
Ordered one previously and wanted another for the other grandparent. Slightly more distortions to top & bottom of pics, but still look like they will hold up as did the first one.
My 'but' is that I did not receive the black handle mug this time, but instead the cheaper all white-at the black handle price. They wanted me to do a return/pic a month later, after having given it as a Christmas gift the month prior, instead of issuing a price diff. refund. Had I known, I could have taken a pic before giving it-since I received it on Christmas Eve & couldn't hold on to it.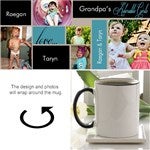 Coffee Mugs
By
Shopper

(Somerville, TN) - December 26, 2013
While I did not get to see the finished products as they were Christmas gifts, my family seemed very happy with their cups. Having them personalized made them a lifetime memory gift while honoring my children and my grandchildren.

Special gift
By
Wendy B.

(El Paso, TX) - December 2, 2013 (
See all reviews by this customer
)
I was looking for something nice to give my team. By adding all the personal pictures and titles, I was able to create a very memorable gift for all their hard work. I would love to see the same thing done on a plate or a bag.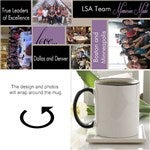 excellent quality!
By
Nicole S.

(Fort Wayne, IN) - October 8, 2013 (
See all reviews by this customer
)
I purchased & customzed this mug for a friend. It was nice to be able to preview what I made to get an idea of what it looked like. I was blown away at the quality of the mug once I got it. The pictures were vibrant and it just had a quality apperance overall. I was also impressed on how quickly I received it. I ordered it on a Thursday and it arrived on Monday!

Daddy loved his gift!
By
Stephanie W.

(Prairieville, LA) - June 22, 2013 (
See all reviews by this customer
)
My husband loves this mug. It almost made him cry when I gave it to him for Father's Day. The pictures turned out great, the 11oz. size of the cup is perfect and it seems to wash safely in the dishwasher. We've washed it several times in the dishwasher and there has been absolutely no fading. The glossy protective cover on the mug seems to do its job. He uses this mug close to every morning (if it's clean).

My only complaint would be that the top picture they advertise this mug with is thinner than an actual picture you wouild most likely use. The thinner picture allows the pictures below it to be flush to it. When you use your picture, which most likely would not be as thin, it makes a small gap. Even though it would look nicer without the gap, I got over this and am still very happy with how it turned out....gap and all. :)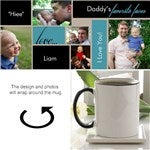 Favorite Faces Photo Mug for Father's Day
By
Jacqueline S.

(Pittsburgh , PA) - June 17, 2013 (
See all reviews by this customer
)
Great mug, great style and size. It took me a little time to figure out the process to pick the pictures and crop them through the website, but it all worked out. Two of the pictures turned a little yellow tinted otherwise I would give it 5 stars - they were natural light photos with no flash.

Mother's Day Gift
By
Shopper

(Foley, AL) - May 14, 2013
This is an amazing mother,s day gift. she will love it and may even bring tears to her eyes, well did mine anyway.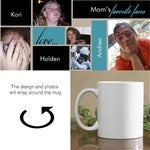 Great
By
Emily M.

(Canton, OH) - March 9, 2013 (
See all reviews by this customer
)
the mug is great and the amount of pics with the words you can put around them, the only thing is that you don't have the option of moving the pictures around the places that you want, so if you don't like how they fit on the mug then you have to start all over again after you know how the setup goes.