Graduation gift
By
Shopper

(Hickory Hills, IL) - July 22, 2014
A beautiful gift looks even better than online photo. Received sooner than projected delivery. Awesome product and service.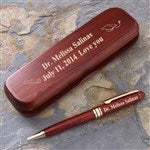 Graduation Gift
By
Shopper

(Queenstown, MD) - July 7, 2014
This item makes a great lasting memory for any level of graduate! The only thing I would like to see changed is the groove in which the pen lies. It's a little big. The pen rattles inside the case. A strip of velvet would solve that issue.

Unique
By
Shopper

(Queens Village, NY) - May 12, 2014
I purchased this gift for a friend who recently received her doctorate, and she loved it. Both the box and pen are beautiful.

natures knots
By
BLASE W.

(SHELBY, MI) - January 1, 2013 (
See all reviews by this customer
)
The pen itself is excellent with flawless features however the case has several wood grained knots which detract from it's appearance. I realize that Mother nature isn't perfect but who ever did the engraving should have noticed this and if it were me, I would have selected a cleaner case to engrave with no knots. The knots do add character to the piece though making it unique I suppose. To each they're own.

Impressive
By
James R.

(Salem, IL) - December 2, 2012 (
See all reviews by this customer
)
I purchased 8 of these pens for my team. They are impressive looking writing tools and are in a great looking box. I was hoping the pens would have a little more weight to them, but am happy with them overall. They're a little pricey, but still less than having to order 25 at a time from less expensive websites. Chatting with customer service can help with getting a 'coupon code' if you don't have one.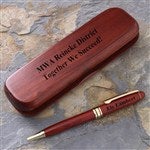 Engraving on Pen
By
Shopper

(Arlington, MA) - December 3, 2011
This is an excellent quality gift....I think the only way to improve it would be to somehow make the engraving on the actual pen stand out better. The case is easy to see and read (probably being due to larger lettering) but the pen is much harder to see in comparison to the box.
Maybe a lighter or different coloring of the engraving on the pen would make it stand out more.
Other then that feature the gift set is of high quality.

Good set
By
don L.

(el segundo, CA) - May 20, 2011 (
See all reviews by this customer
)
it worked..

Good gift
By
Shopper

(Westmont, IL) - May 12, 2011
Very nice as a commemorative gift for graduation. Quality is 4 verses 5 stars, but good enough to give as a gift. Pen and box may vary slightly in color and engraving on box does not stand out very brightly because the box is a very dark rosewood. I would still consider giving this as a graduation gift again.

Return Shopper
By
Sharon B.

(Missouri City, TX) - June 8, 2010 (
See all reviews by this customer
)
The pen set is a second purchase for me. The first was for my son's Christmas gift. This time I got it for a graduation gift. It arrived on time and I was very pleased. The pen was a little loose and when I tried to tighten it, it felt stripped. But I gave it to my graduating senior and he loved it.

Lovely Gift
By
Andrea G.

(Winston Salem, NC) - May 28, 2010 (
See all reviews by this customer
)
Very pleased. Very nice gift for a very reasonable price. The wood is a bit more red and darker than the photo making the inscription a bit difficult to see. But inscription is bold and deep. All-in-all, nice.

Excellent graduate gift!!
By
Odyle S.

(Boynton Beach, FL) - May 25, 2010 (
See all reviews by this customer
)
I received the item within 5 days after I placed the order online. Just as you see the preview. Very nice gift for a graduate. Very pretty!!! The reason I gave 4 stars is because they placed a company sticker on the back. Difficult to remove since I have to use alcohol to remove the glue completely. This was a gift, and I didn't want the graduate to know where I purchased it. Other than that please with purchase.

Engraved Rosewood Pen Set
By
Norma G.

(Walnut, CA) - May 9, 2010 (
See all reviews by this customer
)
I am really impressed with the quality of this product...(I only wish that this is handcrafted in the United States) The wood tone is very rich and the engraving is deep and classical. Beautiful!

Excellent design
By
Lonny B.

(Atlantic Highlands, NJ) - May 9, 2010 (
See all reviews by this customer
)
Good quality and very prompt delivery.

Nice
By
Brooke R.

(Las Vegas, NV) - March 22, 2010 (
See all reviews by this customer
)
This is the quality I expect from a company. Very nice and I will enjoy giving this gift as much as they will enjoy opening it.