The one thing I wish was different
By
Shopper

(Greeneville, TN) - August 15, 2014
The frame is very pretty;however, I wish that the stand was different. I don't like the way it is so loose when placed on the bottom. Why couldn't it have been attached permanently to the frame?
If I had known about this feature I would not have ordered the frame.

Classy and elegant
By
Shopper

(Phila, PA) - March 18, 2014
I ordered this for my parents for their 40th anniversary. I ordered it a month in advance and had it in about a week. The etching is very classy, and the gold brass frame trim against the glass frame gives another wow factor to add an extra touch of elegance. It really looks more expensive than it really is. I can't wait to see their reactions when I present it to them next month. Due to their speedy personalization and delivery, and the quality of the merchandise, I will definitely consider ordering from PersonalizationMall.com in the future.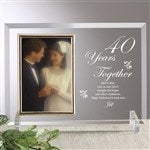 50th Anniversary Frame
By
Shopper

(Perkasie, PA) - October 15, 2013
Purchased this frame for my parents 50th anniversary. The writing was etched in nicely. I loved the fact that we could personalize what was written on the front. Turn around time was great. The only down fall is you needed to have something behind the glass to read the writing. I would order this again as it is a very nice keepsake and the quality of the glass is nice, thick but not too bulky.

nice frame
By
darlene C.

(brooklyn, NY) - July 4, 2013 (
See all reviews by this customer
)
The frame is very nice. My only complaint is the part around the picture is gold and it does not seem to match the rest of the frame. It would look better in silver.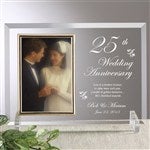 Great frame for the price!
By
William K.

(Northfield, OH) - June 30, 2013 (
See all reviews by this customer
)
We searched everywhere for an engraved frame for the grandkids to buy for Grandma's and Grandpa's 50th anniversary. The engraving at most places was so expensive! The etching on this frame is beautiful. Not only is it perfect, we received our frame in 2 days!

faded engraving
By
Geetika T.

(cerritos, CA) - June 9, 2013 (
See all reviews by this customer
)
I love this frame and was perfect gift on our 10th anniversary but i am not statisifed with the engraving.....the ink is not as white as it shows on the website..........for a long time i put a black paper behind it to see it but that takes the show of the product away.............. :(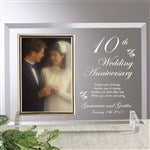 gift to daughter on 25th ann.
By
Marion S.

(Canada) - February 3, 2013 (
See all reviews by this customer
)
My daughter received her gift on the date promised. My son in law and daughter said it was beautiful.






Beautiful
By
Shopper

(Morgan City, LA) - January 25, 2013
I loved the frame that we ordered. IT was just as beautiful as it was in the picture on the website. Very happy with the product. The only thing I was not happy about was I purchased a black and white box expecting it to be a plain box and it had the website logo on it. I REALLY did not like this.

Almost perfect
By
Shopper

(Spring, TX) - December 30, 2012
The glass etching was perfect, but the gold plastic frame was all scratched up. It made the quality of the overall frame look a little cheap. Would be better if the framing was in a metal silver material. The gold looked a little cheap & out-of-date.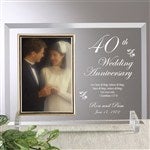 Anniversary gift
By
Shopper

(Hoover, AL) - December 20, 2012
It was a nice gift I got for my friend. I got it ontime.

Good gift
By
Shopper

(Canada) - October 26, 2012
The gift looks better on the Internet than when you get it in person
I didn't really like the writing it seems the wrote it with something cheap
My boyfrirnd loved it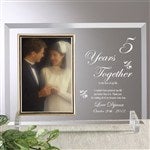 Silver or Gold
By
Shopper

(Fort Myers, FL) - October 9, 2012
My wife loved the picture frame, however, a silver frame around the 4 x 6 photo for a 25th anniversary gift would make more sense??????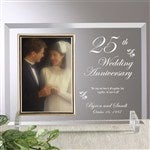 anniversary
By
Shopper

(Port Orange, FL) - September 3, 2012
This is a very nice product, as you can customize the wording and date.I purchased it as a 60th aniversary gift. I would however have liked some sort of backing on the glass behind the engraving, as the engraving is somewhat hard to see / read. I have ordered from this company quite a few times and have not previously been disappointed.

50th anniversary frame
By
Shopper

(North Wales, PA) - August 20, 2012
Engraving was worded exactly as expected. Although,the engraving had a "sandy" appearance. But, very pleased with the frame and ws a hit with the anniversary couple!

Very nice anniversary gift
By
Phillip L. C.

(Saline, MI) - May 6, 2012 (
See all reviews by this customer
)
The personalized anniversary memories frame was ordered for my parents' 50th wedding anniversary. Although we had some difficulties with customizing a gift card (the picture we wanted to use would not fit in the profile provided), the gift was well-received. One recommended suggestion would be to allow purchasers to customize the picture in the frame.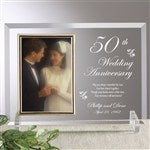 Beautiful
By
Shopper

(Syracuse, UT) - March 7, 2012
Got this for my parent 55th aniversary and they love it.

Very Satisfied
By
Margo F.

(Carrollton, TX) - January 7, 2012 (
See all reviews by this customer
)
The lettering was beautiful and well centered, and I was very pleased at it's arrival time. One thing could have improved it, if the lettering would have been gold, it was for the 50th anniversary. Over all, I am very happy with the purchase and will purchase gifts again.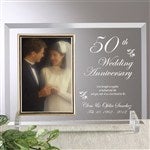 Missing Date
By
Dennis T.

(Elwood, IN) - December 4, 2011 (
See all reviews by this customer
)
Forgot to put Anniversary Date on item.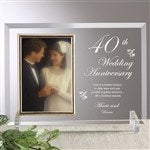 Nice Item, But Horrible Shipping
By
Shopper

(Machiasport, ME) - November 12, 2011
Like the item, but I probably won't buy again from here due to how long it took me to get it I was under the impression that it would be delivered by FedEx, but it ultimately was delivered by the USPS, which I usually try to avoid because it takes forever around here to get anything and they are rude. I didn't know this though, until my item reached my area as I could see with the tracking number and that it was in the Post Office's possession. I couldn't get my package at the Post Office though because of the holiday, so I had to wait three more days to receive it. Once I received it, it was too late, as I had bought it for a gift and the party had already come and gone. And I can't return it because it's personalized. So. That's that.

Anniversary plaque
By
Jay B.

(Nevada, MO) - October 15, 2011 (
See all reviews by this customer
)
Very nice appearance. Spouse loved it. Shipped fast and in time for special occasion.

Beautiful anniversary gift
By
Gloria C.

(La Quinta, CA) - September 25, 2011 (
See all reviews by this customer
)
I was very impressed at how fast I received this order and how beautiful it was. When I placed the picture in the frame, it was just perfect. Thank you!

Not bad
By
Shopper

(Ewing, NJ) - September 24, 2011
Overall quality is excellent, however the lettering is a bit light and hard to read against the background.

Classy frame at a great price
By
Michael V.

(Atlanta, GA) - September 12, 2011 (
See all reviews by this customer
)
Given the personalization aspect of this frame, it's a great deal. It arrived quicker than I anticipated and it really does look great. Engraving is very clean and it was exactly as I entered it into my order. I gave it to my wife as part of her anniversary present and she really likes it. Only reason I gave 4 instead of 5 stars is the brass framing around the photo itself. I'm not a big brass fan and I think that part in particular looks a little cheap or tacky. I supposed that's more personal taste than anything, but it takes away from the 'classiness' of the frame for me. Still, a good product and it was as expected.

good stuff
By
Shopper

(Clarksburg, MD) - September 2, 2011
Good as expected.

Product great; "gift box" a rip off
By
Shopper

(Madison, WI) - August 21, 2011
Very happy with quality of item and timely delivery. But the five dollar gift box I ordered to go with it was flimsy, made of very thin card, and had a huge ugly "personalization mall" logo on the lid. It reminded me of boxes chain store mall stores give out for holiday sweaters. A huge profit margin for them, you would be well advised to steer clear.

25th Anniversary Frame
By
Shopper

(Burlington, , CT) - August 19, 2011
I thought the engraving on the frame was done well. I was a little disappointed with the gold border for the framing. I would have preferred a choice of a silver border for a 25th anniversary frame, and maybe offer the gold border for a 50th anniversary.

The gift box that I purchased, arrived crushed. It would be nice if the boxes were a little more sturdy to withstand the shipping.

Overall, I liked the frame.

PERSONALIZATION MALL ALWAYS DOES A GREAT JOB
By
Joan G.

(Cresco, PA) - August 19, 2011 (
See all reviews by this customer
)
I can always rely on your company to produce a quality gift for friends and family. I highly recommend your website to many people for that "special" gift and keepsake. Joan Grohowski

Very nice
By
Shopper

(Harrisburg, PA) - July 11, 2011
Shipped quickly, very nicely engraved. Would recommend if you need a somewhat inexpensive gift for a special person(s).


Distance gift giving
By
Linda T.

(Canada) - July 10, 2011 (
See all reviews by this customer
)
I have not seen this myself because I had it shipped to my niece to be presented to my sister & brother-in-law on their anniversay. She has told me that it looked very nice.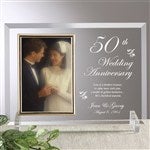 anniversary gift
By
Shopper

(Lolo, MT) - June 19, 2011
The frame was beautiful and the engraving done very nice. I really was please with the product however I was upset because seconds after I made the order I realized I didn't put the date on it and there was no way to edit the order after it was placed. I think that you should have an option to change your order for maybe up to 5 min. after ordering. Other than that I highly recomend this company and its products.

Close to perfect, if only...
By
Shopper

(Sharon, MA) - May 31, 2011
I was happy to find your frame when I was searching for an anniversary gift for a couple who has everything. The frame looks lovely, comes with its own stand, and I appreciated having the option of providing my own wording in place of the 3 verse options provided. However, as the engraved wording has no color, it is difficult to read unless the frame is placed in front of a dark background. The gift is close to perfect, if only you would offer an option to have the engraved words appear darker, as if they were engraved in black ink.

25th Wedding Anniversary
By
kathryn G.

(fairfield, VA) - May 16, 2011 (
See all reviews by this customer
)
After searching numerous stores I went on the internet and found at Personalization exactly what I wanted. The quality was excellent and will make a perfect gift for special people.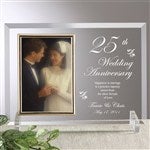 Anniversary Frame
By
Shopper

(Indianapolis, IN) - April 15, 2011
The frame looked great. The reason I didn't rate 5 stars is because of the gold around the picture part. I REALLY would have prefered silver. IT looked bright and a little tacky. Other than that i loved it. The gift was loved upon presentation. The engraving was nice and easy to read.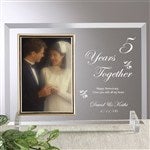 Nice anniversary plaque
By
Robert T.

(Fairport, NY) - April 2, 2011 (
See all reviews by this customer
)
I surprised my wife with this on our 10th wedding anniversary and she absolutely loved it! It holds a regular 4x6 vertical picture too. For the money, this item is surly a home run!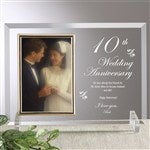 Lovely as a gift
By
Dawn M.

(Snohomish, WA) - February 11, 2011 (
See all reviews by this customer
)
The frame looks very nice, is very solid feeling. The etching is nicely done. My only downer is I wish there were either more verses from which to choose, or that we could write our own verse. I used these as gifts for 60 year anniversaries at our church celebration and wished I had been able to put more into the sentiment. But all in all, it is a good value and a nice gift. I'll probably be ordering more of them next year!

Unbelievably fast shipping!
By
Shopper

(dunwoody, GA) - January 28, 2011
I always wait until the last minute to purchase a gift. Then I scramble around at a local store and end up with something boring that almost looks like an afterthought! I needed a 50th anniversary gift for my neighbor and of course I waited to long. I figured let me just buy the frame and I can just give it to them a few days late. (what's the differece right)I placed the order and received it in 3 days! I could not believe it. It was beautifully engraved & just as described. Only reason I did not give it 5 stars is because the feet that hold up the frame are made out of plastic so it kind of cheapened the look a bit. But for the price it is a great deal and easy to look past.

Very pleased...would change...
By
Shopper

(Saginaw, MI) - January 28, 2011
I was very pleased with the quality of this! However, I was hoping for more of a fancier holder for it. All it came with were two pieces of plastic to support it. Other than that I was very pleased and will definitely order from Personalizationmall.com!

Nice Memento Frame
By
Shopper

(Windsor, CO) - January 17, 2011
The frame is beautiful and well done but the etching is very difficult to read. I will probably mount some velvet or other color backing on the backside of the frame so that the writing "stands out." It would be nicer if the etching were in GOLD.

Very pleased
By
Lori L.

(Blaine, MN) - November 26, 2010 (
See all reviews by this customer
)
I received the personalized frame for my parents 40th wedding anniversary and was very happy. I received my order within three business days of ordering (I paid a little extra rush ship). The item was flawless and looked just like it does in the picture. I would definitely recommend this personalizationmall.com to friends and family. Thanks!

Great value
By
Denise J.

(Everett, WA) - November 15, 2010 (
See all reviews by this customer
)
The order turned out great and was delivered in plenty of time.