Personalized Picture Frame
By
Shopper

(Fresno, CA) - September 11, 2014
The Frame was perfect. I didn't care for the gift box. I wouldn't pay the extra money again, even though they did wrap it. It was flimsy, came bent, & has a huge company logo on the front which is a little tacky. I usually prefer plan gift boxes.

Great Products
By
Betty L.

(Westminster, CA) - December 16, 2013 (
See all reviews by this customer
)
We purchased several for our friends and family. We are giving it to them with their annual Christmas picture, and now we are going to purchase a set for ourselves.

Great gift
By
Shopper

(Phila, PA) - October 25, 2013
Ordered my frame on a Sunday and received very quickly! This will make a great holiday gift

great frame for baby gift
By
Shopper

(Omaha, NE) - May 11, 2013
I always send this baby gift to families who have had a second baby of the same sex as their first child.
Certainly they don't need baby clothes or equipment and a frame that has both kids' names on it seems very personalized and special.

Carved wood frames make nice gifts
By
DAWN B.

(Norman, OK) - December 31, 2012 (
See all reviews by this customer
)
I ordered this for a gift but I like it so much I will probably order another for myself.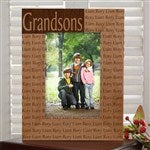 Personalized picture frame
By
Shopper

(Parrish, FL) - November 25, 2012
The quality of the product was great ... amazed at how quick we got the frames! It is something I would recommend and purchase again when needed.

Family
By
Shopper

(Thousand Oaks, CA) - May 4, 2012
Great quality and adding the names in family makes it so personal
and something they will never have in one place again.

Loved it
By
Rebecca S.

(Liberty, MO) - February 7, 2012 (
See all reviews by this customer
)
A big hit with everyone that saw it. Good quality and well made.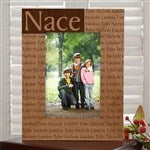 Well made product, exactly what I wanted
By
Shopper

(Vancouver, WA) - November 8, 2011
Frame is attractive and well made. The personalization is what makes it special. They fit so many occasions, I will definitely be back for more.

Great Grad gift...
By
Lynn S.

(Elgin, IL) - July 8, 2011 (
See all reviews by this customer
)
I purchased this frame for a friend's daughter who was graduating 8th grade. I thought this frame would make an interesting graduation frame. As I discovered with many of the frames, you can add words or short phases to personalize instead of just names. The quality was very nice and my friend's daughter really seemed pleased the frame. I always "preview" the frames to make sure everything looks perfect. This website is great.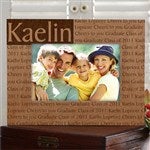 Nice Housewarming Gift...
By
Lynn S.

(Elgin, IL) - June 6, 2011 (
See all reviews by this customer
)
I ordered this frame for friends who are moving into a new home. I know they will like it and appreciate it for years to come. I have ordered many different picture frames for different occassions and have always been satisfied with the quality. I always "view" the final product before I order.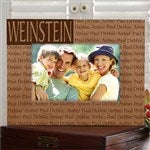 Shipping Mishap
By
Cyle H.

(Newark, OH) - December 21, 2010 (
See all reviews by this customer
)
We ordered the frame as a Christmas gift and love it. When it arrived the glass was missing, so we called and a very friendly customer service worker shipped out the glass. We received the glass just two days later! Very satisfied with the company and product!

Wonderful Gift Idea
By
Sarah Z.

(Elk Grove Village, IL) - December 20, 2010 (
See all reviews by this customer
)
I purchased this gift for my grandmother. I chose to have the word "FAMILY" in the top corner. It was nice to choose which adjectives describe our family. I'm sure she will love it!! The frame came quickly and in time for the holidays.

Fast but QA lacked
By
Noreen M.

(Schaumburg, IL) - September 6, 2010 (
See all reviews by this customer
)
I appreciate the speed of delivery, but this time I would have returned the item had it not been for giving it as a gift shortly after it was delivered. There was a scratch on the wood where the upper left corner identifies the prominent name. I will allow more time in the future so I can return and reorder if needed.

I like the product very much, but...
By
Marcia A.

(Fairlawn, OH) - April 30, 2010 (
See all reviews by this customer
)
I have ordered your photo frames before and was very happy. However, on the one I just ordered and received, I had made a correction on the spelling of one of the words, and continued with my order, but it did not record the correction. When I checked my confirmation, it showed the uncorrected spelling. I immediately wrote to your Customer Service to let them know about it and correct it, but they said it was too late. Luckily, it wasn't a serious problem, or I would have wasted my time and money. It did warn me, though, that if I ever need to correct an order, I will start over from scratch, since your ordering method did not allow for a correction. Just a warning to others!