Perfect and reasonably priced.
By
Karen M.

(Renton, WA) - June 29, 2014 (
See all reviews by this customer
)
This frame turned out exactly as pictured, except for the personization of course. It's a very light weight wooden type frame. For the price, I think this is a good value with the personalzation and all.

Wedding gift
By
Harriet B.

(Plano, TX) - June 4, 2014 (
See all reviews by this customer
)
The personalized frame is really nice. It makes a great gift! I am disappointed by how small the personalized message is. It is hard to read! You would think that on an 8 x 10 frame the personalized message would be legible.

Good value
By
Shopper

(Evansville, IN) - May 12, 2014
Fun gift

She loved it
By
Shopper

(fairhope, AL) - April 29, 2014
Great looking frame. Quality of construction is excellent. My only con is that I would've liked the font for the personal message to be bigger. My message was only a few words and is hard to see/notice due to the size of the font

Shower Gift
By
Shopper

(West Islip, NY) - March 18, 2014
Great turn around time. It's a sturdy wood frame.

looks $$$
By
Shopper

(Ventnor, NJ) - March 8, 2014
Should have been 5star but there was a huge knot on the front.Wonder how it got past inspection.
But customer service sent a new one out right away. 2nd time was a charm.

Excellent Quality
By
Rodrigo M.

(Marietta, GA) - February 24, 2014 (
See all reviews by this customer
)
I bought this product as a Valentine's Day present and was very happy with the quality of the craftsmanship. Maybe a bit pricey but I can understand its price tag.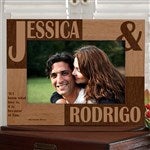 Good quality
By
Shopper

(Sun City, CA) - February 19, 2014
Frame was very nice. The quality of the wood was excellent. I totally recommend. Excellent product.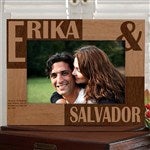 Nice frame
By
Charles F.

(Bordentown, NJ) - February 18, 2014 (
See all reviews by this customer
)
Nicely made frame. Looks exactly like the ones shown on the website. Received in a timely fashion.

very nice!
By
Jenna S.

(Sewell, NJ) - February 15, 2014 (
See all reviews by this customer
)
Beautiful engraving of names. The quote font is a bit small.
I am happy with my purchase!

Beutiful wood frame, and I love the font!
By
MaryKate M.

(Philadelphia, PA) - February 14, 2014 (
See all reviews by this customer
)
I love this frame. I think it's beautiful wood and great font and contrast. Good craftsmanship as well. My only complaint is that I think the last letter of the name at the bottom should be large like the one on the top for balance.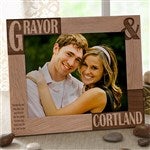 nicely done, a little tricky to get phrase spaced right
By
Shopper

(Durham, NC) - February 12, 2014
The finished product looked very much like the simulated picture online, which was helpful in visualizing the product. If you choose your own phrase, counting out the spaces per line and hoping it all fits nicely line by line is a little bit time consuming, but otherwise it turned out well.

Personalized Frame
By
NOEL S.

(CLIFFSIDE PARK, NJ) - February 4, 2014 (
See all reviews by this customer
)
Very easy website to navigate.
Very easy checkout
Very fast delivery
I was very pleased

Beautiful Gift!!
By
Shopper

(Whittier, NC) - January 26, 2014
Wonderful item at a great price!

Nice
By
Jan E.

(Marengo, OH) - January 11, 2014 (
See all reviews by this customer
)
Nice, inexpensive gift.

personalized picture frame
By
Patti C.

(Deltona, FL) - December 27, 2013 (
See all reviews by this customer
)
very happy with the product. My daughter liked that her and her fiance's name was on it. Plus I could write my own personal note to put on it.

Anniversary frame
By
Shopper

(Homer Glen, IL) - December 16, 2013
Almost perfect.
Most professional portraits go North and South and it is difficult to find "special frames" that goes North and South. I was thrilled to find this frame especially in 8 X 10. The reason I only gave it 4 stars is that the poem on the left side of the frame is in a very small font and it is very faint which makes it difficult to read. The poem doesn't look like the sample pictures.

Very Nice!!
By
Dawn S.

(Dallas, TX) - December 10, 2013 (
See all reviews by this customer
)
Really nice frame!!! The names and sayings were perfectly crafted into the wood.

Even my husband was impressed
By
Shopper

(Escondido, CA) - August 18, 2013
Even my hard-to-impress husband noticed the cool craftmanship of this frame, with the name carvings and raised letters. With the coupon I used, definitely an excellent buy. Now my problem is finding a picture that's worthy of the frame!

Picture frame
By
Shopper

(LaCrescent, MN) - June 3, 2013
This is the second customized frame I have bought from Personalization Mall. I like the second one better. The dark wood on the first one seemed "dry". I conditioned it with an oil to bring out the beauty of the wood. It was much better. The second frame already seemed to show the beauty of the dark wood. They are contemporary. I will order again.

Very Nice
By
Shopper

(Gardena, CA) - May 28, 2013
I wish it could've been lacquered, but I still like it very much :)

perfect
By
Shopper

(Lisle, IL) - April 21, 2013
This product was exactly was I expected. It looked professional and sleek. Would definitely recommend.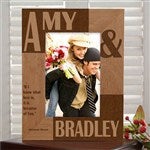 Nice frame- personal quote eh
By
Shopper

(Southold, NY) - March 17, 2013
Frame is great. Quality is great. My only issue is the personal quote I added which wasn't that long- I don't like the size on the frame. It's too small. There's enough room for it to be bigger and look proportional. I added a comment upon buying but I didn't receive a response. What you see is what you get upon preview


Nice
By
Shopper

(Santa Clara, CA) - February 25, 2013
It is a really nice frame and i really think this is a cool collectible amongst the must-haves for couples.

picture frame
By
Shopper

(Hasbrouck Heights, NJ) - February 16, 2013
Very nice quality and great idea. Recipient loved it!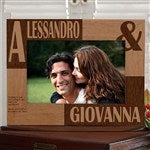 Better Looking In Person
By
Nikki D.

(Scottsdlae, AZ) - February 12, 2013 (
See all reviews by this customer
)
This frame is absolutely adorable and looks even better in person than online. The only thing that is a tiny bit disappointing is that the quote you put in the bottom left corner is very small writing. Still looks nice, but it is small. Also could be because I put a pretty long quote there. IDK, but DEFINITELY well worth it for the price. I LOVE IT and so did my boyfriend!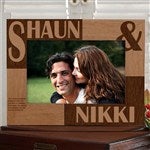 Great gift for my Bestfriend
By
Haley H.

(Gadsden, AL) - January 14, 2013 (
See all reviews by this customer
)
She liked the gift it was very well done. I would order this item again. Great!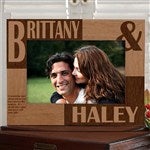 Beautiful when perfect
By
Shopper

(Green Bay, WI) - December 31, 2012
I had a reorder done on mine when the first was lost in the mail, but both ended up making it to me. They both looked different. The colors of wood were different on both of them. On one of them, the etching had little white borders around the small text. The one that didn't was gorgeous.

Frame is a great gift and beautiful, but leave time in case you need to have a remake done.

Beautiful Frame & Craftsmanship
By
Shopper

(Silver Spring, MD) - December 30, 2012
This beautiful frame was ordered as a Christmas present and it did not disappoint. The frame is made from good quality wood and it shows. It beautifully frames almost any picture you can slip into the frame. I ordered this product in the horizontal orientation and the personalization was very well crafted. The color tones of the frame contrast and compliment each other very well. It sits very nicely on a table and although it was never mounted, I suspect it looks just as good mounted on a wall. This product is made out of high quality material and is sure to bring joy for years to come. There is a reason this product has received so many reviews and is a customer favorite.

Boyfriend/Christmas Gift
By
Shopper

(Grand Junction, CO) - December 28, 2012
Very nice gift. Letters came out perfect. Nice quality. Background of names a little too light, but looks good.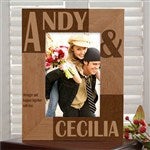 Great product!
By
Trisha K.

(Victoria, TX) - December 27, 2012 (
See all reviews by this customer
)
Bought as a gift. Thought it was very nice product! Thanks!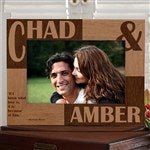 Great Gift
By
Shopper

(Solon, OH) - December 7, 2012
The frame came out great. The names are large and the frame is good quality. I am disappointed that the "saying" came out small. Not sure why that can't be made larger font.

Perfect gift
By
Shopper

(Swartz Creek, MI) - November 27, 2012
We purchased two different frames for our children. The frames were delivered quickly. They were as pictured. Which was very helpful to preview the pictures before purchase. Slightly engraved into the wood are the names. Good quality. I would recommend this product. I would purchase from Personalization Mall again.

Very pretty
By
Shopper

(Lafayette, LA) - August 26, 2012
Very pretty. Quality was ok.

Beautiful Frame
By
Mirela G.

(Canada) - August 19, 2012 (
See all reviews by this customer
)
The frame was very beautiful. It exceeded ny expectations however when I received the item the glass was broken in pieces. Personalization Mall should be more careful the way they package their items. But overall, the frame looked great and it was exactly the way it shows in the pictures.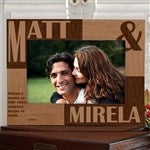 awesome gift
By
Shopper

(iselin, NJ) - July 23, 2012
very nice presentable and awesome gift

Not as sturdy as expected
By
Sherida S.

(Norwalk, CT) - June 25, 2012 (
See all reviews by this customer
)
Ordered this frame for Father's Day. The personalization came out great. But the frame itself is thinner than expected and a little wobbly. It looks thicker/sturdier in the pictures than it actually is.

Happy to be able to give this to him
By
Shopper

(Canada) - June 19, 2012
It's amazing how it's exactly just like the picture on this site. The quality is excellent. (Plus, the shipping for the items was surprisingly fast, got it way sooner than I expected.)

great gift
By
Rachael B.

(Federalsburg, MD) - April 14, 2012 (
See all reviews by this customer
)
Loved the frame and it arrived quickly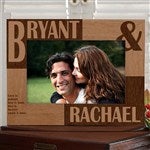 nice picture frame i love it!
By
isabel P.

(dallas, TX) - April 14, 2012 (
See all reviews by this customer
)
I gave it to my husband as a gift for our wedding anniversary and put in a picture of both of us it really look awesome. Thank you guys I got on time. My husband love it.