love it
By
Fallonn F.

(Tampa, FL) - February 24, 2014 (
See all reviews by this customer
)
THIS IS A SIMPLE PUZZLE SO IF YOU ARE HYPER OR DISCTRACTED EASILY THIS IS GREAT! AND MY BF LOVED THE PERSONALIZATION OF IT AND WANTS TO GLUE IT AND FRAME IT!

NICE!!
By
Joshua X.

(Anchorage, AK) - October 25, 2013 (
See all reviews by this customer
)
This was a very great idea and Thankyou for the fast shipping even though i live out of the 48's but within the 50's! Did i mention to say i wanted to rate a 4.5 because some of the puzzels pieces were degraded or ripped-ish but over all they still fit and still are good!

Message puzzle
By
Elena T.

(Rego Park, NY) - February 16, 2013 (
See all reviews by this customer
)
This was incredible gift for the loved one.
It was a good way to deliver my message and spend time together at the same moment.
I would highly recommend this gift.


fun
By
Lisa B.

(Grafton, MA) - January 3, 2013 (
See all reviews by this customer
)
the picture was peeling from the puzzle pieces but easy to glue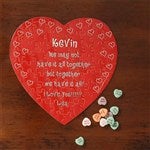 Perfect gift
By
Shopper

(East palo alto, CA) - July 28, 2012
a very unique unexpecting gift, also very creative and forever lasting my boyfriend was very excited to put it together and at the end he loved it. this was perfect because this wasn't like a typical flower or card, it was more creative and special.also I thought the message was very simple yet meaningful(: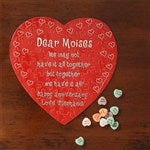 Good, but Could be Better
By
Shopper

(Mount Vernon, IN) - February 16, 2012
This item was almost exactly the item I wanted. The only difference was I expected the puzzle to, at the very least, look new. It looked like the top was barely glued to the actual puzzle piece, so some of the pieces are hard to read. It seemed like it had been used in the past. Other than that, the puzzle was good.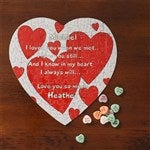 satisfied
By
Shopper

(Wallkill, NY) - February 16, 2012
My only critique is the size. It's a lot smaller then I expected but its really cute nonetheless. Great gift for anyone. I gave it to my bf for valentines day and he put it together right away.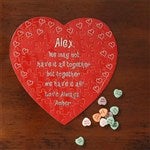 Great Gift
By
Shopper

(Lexington, KY) - February 15, 2012
It is a very cute gift. It comes in a beautiful black velvet bag. My husband was very surprised. He thought a puzzle was an odd idea but then I made him put it together. He loved it! I bought a frame for it and now it is hanging up in our bedroom.

Simple and fun
By
Paul M.

(Glendora, CA) - February 12, 2012 (
See all reviews by this customer
)
Bought this for my gf, she enjoyed it as it was simple, fun, and thoughtful. Obviously, nothing too spectacular so be sure to get something else to go along with this.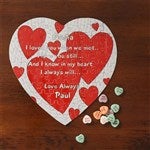 Super cute
By
Shopper

(Jacksonville, FL) - February 6, 2012
This is a really cute gift. I got this for my boyfriend for our first Valentine's Day together, it has a special meaning because I recently had my heart broken and he has really pieced it back together. The quality of the puzzle is okay...I looked at the pieces before I gave it to him since in other reviews people said they had some pieces stuck together. I did notice that a few pieces were peeling back from the cardboard but not to bad. I love the idea and I'm sure he will too.

nice
By
Shopper

(Canada) - January 17, 2012
nice

Nice and cute
By
SUMAN D.

(Atlanta, GA) - December 12, 2011 (
See all reviews by this customer
)
Good for young lovers....

very pleased
By
LaShunda W.

(Jacksonville, FL) - September 25, 2011 (
See all reviews by this customer
)
I was very pleased and my husband really liked it. I just wish the saying can change.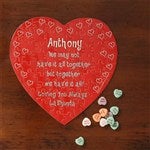 Good Gift
By
Shopper

(Norman, OK) - February 26, 2011
It came earlier than what I thought and it was a perfect gift for my boyfriend! He likes puzzles and the idea of a personalized message it's amazing. He loved it, it came in a really nice bag. I recommend it without any doubt.

Affordable gift
By
Shopper

(Eureka, CA) - February 24, 2011
I got this for my G/F who is in MT for college and I couldn't be there for valentines day. I bought her this and it was delivered on time. Thanks for delivering on time and making her day a little brighter.

Craftsmanship
By
Shopper

(Edmonds, WA) - February 18, 2011
The Be My Valentine I ordered came on time as promised, but the finish quality wasn't as good as it could be. The die didn't cut through cleanly and some of the pieces tore out getting the puzzle apart before assembling.

eh
By
Shopper

(Salt Lake City, UT) - February 16, 2011
i love the design and personalization but the puzzle was poorly made.. when i got mine a lot of the pieces were still stuck together and i had to cut a couple so it wouldn't get ruined from pulling them apart. other than that it was really cute and challenging to put together so i loved it and so did my boy friend

Neat!
By
Alexis G.

(San Marcos, TX) - February 14, 2011 (
See all reviews by this customer
)
I have yet to put it together, but by looking at the pieces, I'm sure it'll come out very nicely. I thought these puzzles were a cute idea.

Creative from the Heart
By
Dion B.

(APO , AP) - February 11, 2011 (
See all reviews by this customer
)
Great gift for that special someone. The puzzle helps show your creative side to being romantic. It offers your loved one time to ponder about the many things the two of you have shared (while putting it together of course) as well as provide a bonding symbol for your relationship. The puzzle not only says I love you in the simplest form but illustrates to your special someone that they're in your thoughts. The only limitation to this gift is that you're not able to write your own unique message or phrase that the two of you may share. Overall, a worthwhile gift for any new love, old love, and even just because.

great gift
By
Shopper

(Altus , OK) - January 30, 2011
its a small bag of puzzles so don't think the finished product is a huge one...but what a great way to show someone you love them..not everyone get a personalized puzzle which upon completion spells how much they are loved...wonderful

good
By
Junaid I.

(Canada) - November 23, 2010 (
See all reviews by this customer
)
the jigsaw puzzle was nicely crafted and the personalization looked really good. but it would've been better if the pieces were a bit bigger and lesser in number since it was really complicated to join them all easily.

Excellent innovative gift for a loved one!
By
Lakshmi K.

(Westborough, MA) - February 16, 2010 (
See all reviews by this customer
)
This made a unique Valentine's gift for my husband. I knew he liked brain-teasers but I did not expect him to get down to solving it at once. The quality was good enough, though, I would have been happier with a thicker board or some other long-lasting material (for, its only paper glued to a thin cardboard- which makes the pricing steep). I noticed the paper started coming unglued in one of the pieces. I feel the pouch that carries the pieces must not have the site logo as that would make the gift traceable :) These are only inputs for improvement. Overall, its a very nice gift idea and I would recommend it heartily.

Good item check dimensions before purchasing
By
Tim M.

(Miami, FL) - February 15, 2010 (
See all reviews by this customer
)
Puzzle came out great. I would bot recommend this puzzle for kids. It is a little challenging. The size caught me by surprise I was expecting it to be a little bigger. Over all it was a good buy

Cute lil gift
By
Connie C.

(Fort Collins, CO) - January 28, 2010 (
See all reviews by this customer
)
Great gift to personalize and give to your loved one. I'm super excited to give this to my boyfriend!

Very Cute
By
Heather W.

(Stevinson, CA) - January 28, 2010 (
See all reviews by this customer
)
Take a look at it before you give it to your loved one. Some of the pieces were still together, which can be good if you want it easy to put together, otherwise you will want to take them all apart. Also, the cardboard was peeled back on some of the edges. This is normal for a puzzle that has been put together a few times, and it is nothing that a very tiny dab of glue can't fix. Overall a great product, and it should be fun watching him put it together. I am happy with my purchase.