Upload photos
By
Christina G.

(Cartersville, GA) - June 23, 2014 (
See all reviews by this customer
)
This would be perfect if you could upload the photos you want and when your item is delivered it's all ready.

Great Gift!
By
Shopper

(Vienna, VA) - December 26, 2013
This was the perfect desk gift! Looks great and arrived early!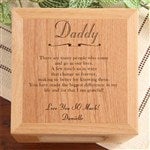 Better than I expected
By
Elizabeth W.

(Norwood, OH) - December 11, 2013 (
See all reviews by this customer
)
The cube was bigger than what I expected which I liked. The engraving was clean and very readable.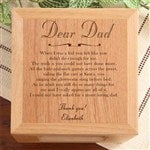 Amazing Wood Engraved Photo Cube
By
Kristina Y.

(Parker, CO) - June 28, 2013 (
See all reviews by this customer
)
The Nobody Like You Engraved Photo Cube is awesome! It's a natural colored wood grain and it looks so beautiful. My father was so excited this past Father's Day when he got something a little different. I definitely recommend it!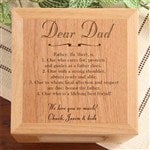 Great gift
By
Angela D.

(South Milwaukee, WI) - December 21, 2012 (
See all reviews by this customer
)
This is exactly as expected and is a great gift idea. The only thing that would have made it better would have been the option to select different fonts.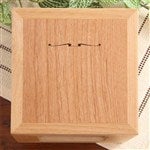 Much Smaller
By
Shopper

(Tulare , CA) - December 12, 2012
Item was much smaller then I thought it would be I was a little disappointed. But overall the quality and price was good.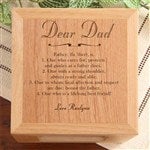 love it, love it, love it
By
Shopper

(Vernon, TX) - January 9, 2011
This cube came right after Christmas (my fault because I ordered late) but came very quickly. The cube is very well made and perfect. It made my father cry, my dad who told me he was born without tear ducts. LOL

Great gift for Dad!
By
Janet W.

(Ames, IA) - November 19, 2010 (
See all reviews by this customer
)
I was quite please with the overall product and the quality of the engraving on the top of the box. For some reason I thought it would be bigger and didn't realize that the pictures are only 3 x 3 so it will take some adjusting to find or crop photos to fit. The bottom of the box, there is a lid type thing that you have to slid out in order to access the pictures. Mine was very tight and difficult to get out so you might need some help with a tiny screwdriver to help with the sliding.

well made, but had an issue with the personalization
By
Johnna R.

(Zachary, LA) - September 6, 2010 (
See all reviews by this customer
)
This was a really great item. The only reason I'm only giving it 4 stars is because there wasn't very much flexibility with the personalization of the product. I really only wanted to put a name and a quote on the top, but the ordering process INSISTED I put a closing as well. (You can't proceed with your order until all lines are filled and trying to just put spaces doesn't fool the system) I managed to work around it and used the author's name as the closing. In the end I still had a really beautiful gift.

Made my Daddy cry
By
Stefanie C.

(Hibbing, MN) - January 1, 2010 (
See all reviews by this customer
)
This is a wonderful idea for the sentimental guy that is really hard to buy for. My Dad is a sucker for this kind of gift. He got all choked up when he saw the photos of my brother and I in the cube. The only criticism I would have is that the inscription was a little small compared to the engraving at the top and bottomm of the cube. Otherwise it is very nice and very affordable. Thanks for providing with an option for someone I have a very difficult time buying for. Highly recommend it!

Great gift idea!
By
Kari B.

(Fargo, ND) - December 21, 2009 (
See all reviews by this customer
)
I received this item very quickly and the quality of the photo cube is good. The only complaint I have with the product is that the engraving was not centered, as it was shifted to the right of the square. Now, my father-in-law probably won't even notice, but I noticed right away and expected it to be perfectly centered, but oh well! I would certainly recommend this product.