A Keepsake
By
Stephanie C.

(Chester, NJ) - March 28, 2014 (
See all reviews by this customer
)
I think this is a very thoughtful gift for a newborn. I have given this set many times over the years.

Loved it... but
By
Denise W.

(Amityville, NY) - March 1, 2013 (
See all reviews by this customer
)
I was very happy with my purchase. the only thing I would change is the fact that the lids dont fit snug, doesnt need to be tight, just alittle snug . It was a beautiful gift for my twin granddaughters 1st birthday... Have bought items here before and will again... great service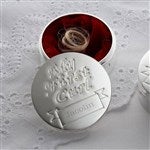 Lifetime Remembrance
By
Shopper

(Derby, CT) - February 27, 2013
I purchased this gift to last a lifetime for my great-nephew's Christening along with money. This is so perfect for the parents to keep and give to him when he becomes an adult. He will treasure this for a life-time. Nice quality gift! The size of the engraving of his name could have been larger so it would be easier to read.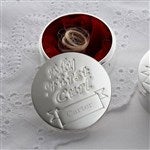 a little disappointed
By
Shopper

(East Bernstadt, KY) - February 21, 2013
The boxes are beautiful inside and out. They will be a nice keepsake.
My only complaint is the name engraving, it does not show up very well.
It would have been nice if it were deeper or color added to show up better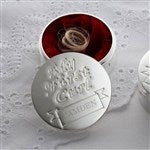 The Perfect Baptism Gift!
By
Cheryl W.

(Vallejo, CA) - November 4, 2012 (
See all reviews by this customer
)
I purchased this adorable gift set recently for our niece's baptism. I really liked it because it was unique, cute as a button, and arrived in a beautiful gift box. The day of the baptism, I knew I had made the right choice. Baby Ellie received 9--count 'em 9--crosses! So this gift definately stood out in the crowd and everyone raved about it. Plus, the personalization on top of each box was the perfect touch!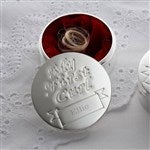 Happy but I wish...
By
Shopper

(Woodside, NY) - October 9, 2012
I'm really happy with the quality of this set, looks expensive. I just wish the lids can be screw on or something. They just rest on top of the containers. Also, I wish the box was just plain white, without the company's name on it. Better yet, why not put the baby's name on the box. I wouldn't mind paying a little more for extra/added personalization. You can offer that as a choice...with or without baby's name on the box...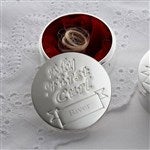 Great keepsake/baby gift
By
Shopper

(Round Lake, IL) - September 21, 2012
My cousin loved this gift I bought for her baby.
It's beautiful and so nice looking.
My only concern is the lid doesn't screw on - it just rests on top of the box. Makes me nervous that eventually little hands could easily remove the contents.

Great Baby Gift
By
Allison B.

(Fort Myers, FL) - May 22, 2012 (
See all reviews by this customer
)
Thought this was a great gift to give. I want one for myself.

cute
By
Kara K.

(Canada) - April 4, 2012 (
See all reviews by this customer
)
these are great! a little smaller then I expected but still very nice.

First Curl & Tooth set
By
Shopper

(Kalamazoo, MI) - January 21, 2012
Nice presentation and quality. I just hope the containers don't tarnish after being exposed to air.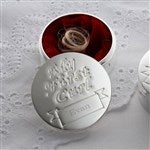 Great service
By
Shopper

(Kennewick, WA) - December 13, 2011
Service was wonderful and the product is really nice. The only complaint I have is that the tops of the containers don't close securely. They sit down over the top but don't screw or lock on in any way. The engraving is really nice. I will purchase from this company again.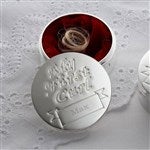 Shopperlady
By
Shopper

(Akron, OH) - November 22, 2011
This turned out to be a cute gift. Smaller than what I was expecting.

cute !!
By
Shopper

(Houston, TX) - August 11, 2011
little curl and tooth gift,beautiful for babies

cute!
By
Jessie S.

(Franklin, WI) - September 9, 2010 (
See all reviews by this customer
)
I liked the presentation of the gift - nice gift box and cute idea. The engraving was just alright.

A nice idea
By
Cory A W.

(Lincoln, IL) - March 11, 2010 (
See all reviews by this customer
)
I purchased the MY First Tooth and Curl Set as a gift to be given at a baby shower. It seemed to go over quite well. The personalization is what gives it that extra appeal. I myself have always desired a nice place to put my children's firsts and thought this would make a great gift. I gave it four stars only because I thought it to be a tad small but I suppose you don't need much room to hold a tooth and lock of hair.