Loved it but misleading
By
Shopper

(Fairfax, VA) - September 22, 2012
It was very cute but VERY small. the picture is very misleading. I can only fit one or two small rings in it.

Product features that I do not like
By
Teresa O.

(Canada) - August 27, 2012 (
See all reviews by this customer
)
It did not specify the size of the heart. When it arrived I was shocked to see how small it was. Only 2 1/2 inches x 2 1/2 inches. I had thought that it was at least 4 inches which would hold at least 5 necklaces. This one might hold 3 if lucky. Since it is engraved it can not be returned. The necklace that is shown in the picture must be really tiny in size, for when I tried some of my 16 inch necklaces, it would only hold 2 of them, and they did not have any trinkets on them, only the necklace.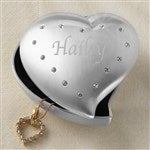 VERY SMALL but cute box
By
Shopper

(New Baltimore, MI) - May 19, 2012
This box is very cute. The engraving was clean. The box itself is a lot smaller than I thought! Not much but a ring or two will fit in it.

Cute but small
By
Shopper

(Dowagiac, MI) - March 23, 2012
This is a very cute jewelry box, but small. It should come in a larger size.

Great item
By
Shopper

(Jersey City, NJ) - February 21, 2012
This was an awesome gift I got for my mom, but only a little dissappointed that it was a bit smaller than I thought it would be. All in all great gift.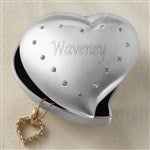 The Small Things Matter
By
Heather D.

(Cincinnati, OH) - December 27, 2011 (
See all reviews by this customer
)
We ordered two of these, one for each of my cousins who couldn't make it in to town for Christmas this year. My aunt said the engravings were perfect and very clear. My cousins thought they were cute, although I agree with the other reviewers. They were a bit small, but the size worked perfectly for the occasion. If you want something small, simple, and sweet, this gift is perfect!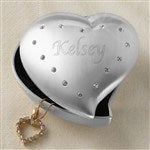 Perfect for a child
By
Shopper

(Canada) - June 21, 2011
I bought this for a first communion gift and I had seen reviews that mentioned it was small. It really was. This is a perfect gift for a child but not for an adult.

Small but cute
By
Christine B.

(Suwanee, GA) - May 1, 2011 (
See all reviews by this customer
)
WAY smaller than I expected, but super cute. Bought it for a 7 year old.

Smaller than I expected - but Nice!
By
Cynthia K.

(Gatesville, TX) - December 16, 2010 (
See all reviews by this customer
)
I don't know why I didn't read over the measurements closer, but the heart shaped box is small....much smaller than I had thought but it's a very nice item. I bought it as a gift box presentation for a jewelry set I bought my daughter but only one item fit in the box. However, the item is nice, just small.

It's cute, but tiny.
By
Holly W.

(Houston, TX) - May 10, 2010 (
See all reviews by this customer
)
I bought this to give to my flower girl who is my niece as well as a present. I was excited when it arrive, but it is very tiny. The engraving is good, but big enough for a small bracelet.

CUTE!
By
Monica M.

(Los Angeles, CA) - May 5, 2010 (
See all reviews by this customer
)
VERY NICE ITEM, BUT MUCH SMALLER THAT I EXPECTED....