Beautiful gift
By
Shopper

(Round Rock, TX) - December 30, 2012
Very pretty and thoughtful gift.

Beautiful, personal gift!
By
Jessica G.

(saint cloud, FL) - December 23, 2012 (
See all reviews by this customer
)
Great gift for under $50.00, something we will have around forever!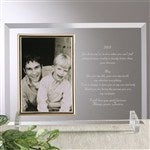 Solid Product
By
Shopper

(San Diego, CA) - June 25, 2012
I purchased one of these items along with a gift box package for Father's Day. The glass 'frame' and poem itself are quite lovely, but the two plastic bits that are used as a stand leave much to be desired. I docked a star due to the quality of those bits used as the stand. Overall the product and product quality were solid.

Side Note: I definitely do not recommend the gift box options, though. All you get is a flimsy cardboard box with advertisements all over it. It's definitely not worth the extra money, just use a gift bag.

Words are kind of hard to read
By
Jasmine B.

(Roanoke, IN) - June 23, 2012 (
See all reviews by this customer
)
I used the max 19 lines possible which made the words very small so it's hard to read my personalized poem. But it's a great idea!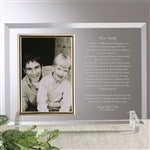 Gave it to my uncle on fathers day
By
Constance A.

(Dundalk, MD) - June 18, 2012 (
See all reviews by this customer
)
I gave it to my uncle on fathers day & he loved it. Everyone keep asking where did I get it from and of course I referred them to this website. I also received it in a Timely matter.

beautiful
By
Shopper

(virginia beach, VA) - June 10, 2012
looks great. my only issue is that the pic is held by just a paper- hope i dont rip it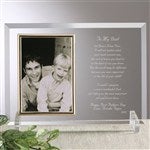 Nice
By
Shopper

(Montgomery, TX) - February 13, 2012
It is a pretty nice photo frame with a poem and the only downside of it is u can hardly read it. I wish the writing would of been of different color, like gold or silver but not white..Other than that i think it's a perfect gift for father's day.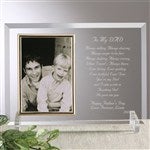 Nice but hate "gift box"
By
Crystal C.

(Mableton, GA) - September 28, 2011 (
See all reviews by this customer
)
I bought this to present to my future father-in-law so I asked for it to be gift wrapped. The "gift" box has a HUGE company logo on the front it looks more like regular packaging rather than a gift box. Otherwise, the frame is gorgeous and I know he's going to love it.... right after I go out and buy a real gift box.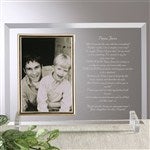 Beautiful
By
Shopper

(Burkburnett, TX) - June 30, 2011
I really loved this product. I wish the gold frame could come in silver though. Make sure you watch your spacing and look at the example given. Mine was off 1 or 2 spaces but it is hard to tell and I still love it. My Dad will cry :-) If I had to order all over again, I would get the same product!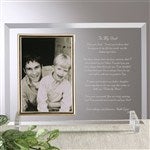 Awesome
By
Shopper

(Orlando, FL) - June 21, 2011
I love this gift and my dad absolutely loved it as well. I gave it 4 out of 5 stars because the writing is SO light it's almost invisible unless you put a dark background behind it which is what I did. Either way, LOVE this item and would reorder it.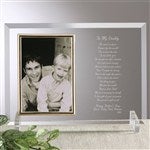 Good Product.
By
Shopper

(Buffalo, NY) - June 19, 2011
This frame was actually great! Except for one minor detail which only gave it four stars. It is very, very difficult to read the poem unless you put something dark behind it like a piece of colored paper. However, other than I was very pleased.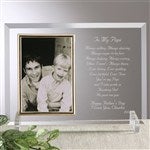 Dear dad poem
By
Shopper

(West Sacramento, CA) - June 5, 2011
It is very nice I like it alot I just wish the writing was darker!!!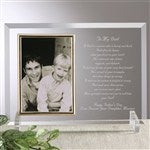 Good gift
By
Tracey C.

(Roswell, GA) - May 9, 2011 (
See all reviews by this customer
)
My sister and I bought this dad poem and turned it into a grandfather poem for my dad's 70th birthday. The frame was nice. The only thing I wish I could change was the color of the words for the poem because the frame was clear so it was hard to read the words. I think it would have been better if the words had some color of some sort. Maybe I missed that option. It still turned out to be a nice frame.

Beautiful gift for the sentimental receipient
By
Amanda B.

(Homer Glen, IL) - December 31, 2010 (
See all reviews by this customer
)
I gave my dad this frame and personalized it with my own sentiment about how important he has always been to me. I included a picture of one of my most memorable times with him as a child. He said it was the best gift anyone had ever given him and that he would cherish it. My only complaint is that with the white engraving, it is somewhat difficult to read if you aren't holding it or looking at it directly - which generally forces you to touch it, leaving finger prints.

Great hearfelt gift
By
Kim H.

(Greenville, SC) - December 22, 2010 (
See all reviews by this customer
)
I wrote a poem from our 4 month old daughter to her daddy on this frame and put a picture of her in it. Everyone who has ready it so far has loved it. It's heavy and nice quality. I only give it 4 stars because the writing was not as crisp as I thought but the poem was long so it was small writing. It was definitely worth the money. Very pleased with this product.

Excellent Service, Excellent Product
By
Tracy M.

(Sioux City, IA) - December 11, 2010 (
See all reviews by this customer
)
This was very beautiful and loved the heaviness of the glass. Not flimsy at all. It was a bit hard to read the etching but understandable because it's glass. Overall, a great product

PRETTY HAPPY
By
JANET P.

(HOLLY, MI) - July 27, 2010 (
See all reviews by this customer
)
THE FRAME WAS BEAUTIFUL. THE DELIVERY WAS FAST. THE ONLY PROBLEM I HAD WAS THAT THE ETCHING NEEDED TO HAVE MORE WHITE SO THAT YOU COULD READ IT WITHOUT HAVING TO PICK IT UP AND MOVE IT AROUND TO READ IT.

Great Father's Day gift
By
Natalie P.

(Bethel Park, PA) - June 23, 2010 (
See all reviews by this customer
)
The personalized frame was beautiful! I purchased it for my husband from my son as a first father's day gift. He really liked it. I also liked how you could write your own poem or put another poem on it. It was engraved beautifully! The only part of it that I wasnt too crazy about was the gold around the picture...I would have liked silver better.

Dear Dad Poem
By
Donna T.

(New Hill, NC) - June 19, 2010 (
See all reviews by this customer
)
Item was packaged very carefully. Item looks good and as I ordered. Would have been nice if some color to read the wording easier. Hard to see wording on the glass. Maybe larger print would made it easier to read. Plenty of room for it. Would recommend your business.

Gorgeous
By
Victoria B.

(Oviedo, FL) - June 17, 2010 (
See all reviews by this customer
)
The piece itself is gorgeous. I loved that i could customize the whole thing. I am not a poet so i used one of the preloaded ones which are very good. I just wish the stand was a little nicer. its just two pieces of plastic that the plaque sits in. i was expecting more of like a v shape that opens and is connected.

great product
By
Dana S.

(san diego, CA) - June 3, 2010 (
See all reviews by this customer
)
ordered a set for my sons godparents. the quality is great and the engraving was beautiful. it is truly a gorgeous present. The only reason i gave 4 instead of 5 stars is that I thought the glass would be thicker.

Item shipped quick and arrived in great condition. I would recommend this to everyone.

Very Nice- Shipped Quickly
By
Alayne K.

(Ellicott City, MD) - May 23, 2010 (
See all reviews by this customer
)
Good quality and a lovely gift. Would recommend. Shipped the next day too!

Dad Frame
By
Amanda M.

(Tomball, TX) - March 9, 2010 (
See all reviews by this customer
)
The glass is nice and the engraving was correct- but i didnt realize the base was so flimsy. After setting up it stays well, but not too pleased with the base.

Need Glasses
By
Mike A.

(West Palm Beach, FL) - December 28, 2009 (
See all reviews by this customer
)
This is a beautiful Frame. The problem is the writing is to small and to light. I had to put something dark behind the frame in order to see what was written. Other than that it is a BEAUTIFUL gift.

Needed something special..
By
Kristine N.

(North Las Vegas, NV) - December 21, 2009 (
See all reviews by this customer
)
This is the first Christmas my fiance and I have been able to share together, because he is Active Duty Air Force, the last two Christmas' he was in Afganistan and Germany. We are both pretty easy to please people, and decided that this Christmas we would go in together on a big screen TV for our living room, but I still wanted to do something special from the baby. I searched and searched and this seemed perfect, even more so because I actually wrote the poem out with my son in mind. The only problem I have is that the font is pretty small, which is fine for my fiance, but for an older grandfather with bad eyes, it might be a problem. Other wise, it's pretty amazing. And I agree with other reviews, I would have preferred if the trim was in silver instead of gold. And I was pleased with the shipping. I ordered it on the 12th and it arrived on the 18th.

I like it but...
By
Codi D.

(Somerville, OH) - October 6, 2009 (
See all reviews by this customer
)
The only reason I don't love this item is because it doesn't come with a silver finish. I don't love the gold finish around the picture. Other than that I really like it!~