Very nice.
By
Shopper

(New Castle, DE) - May 4, 2014
Very nice.

Quality Plush Robes
By
Melissa D.

(New York, NY) - February 24, 2013 (
See all reviews by this customer
)
One size fits all is quite large however the robes are great quality and the personalization is a very nice touch.

Quality and design
By
Patricia D.

(Marlton, NJ) - September 25, 2012 (
See all reviews by this customer
)
I ordered the robes as a wedding shower gift for my future daughter in law. She loved them. Everyone at the shower thought it was a great gift for both the bride and groom to share for years to come. The quality was very nice, thick, soft and the robes were a good size. The embroidered names were done very tastfully and I'm sure they will enjoy the robes for years to come.

Very Happy
By
Patricia L.

(Tacoma, WA) - June 11, 2012 (
See all reviews by this customer
)
I was plesantly surprised with the quality. Very happy with both the thickness of the fabric and the length of the robes.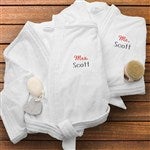 spa robes
By
Lawrence and Suzanne N.

(FAIRLESS HILLS, PA) - April 30, 2012 (
See all reviews by this customer
)
This product was purchased as part of a wedding gift for my nephew. The quality of the robes are decent but it couldve been better if the "Spa" description meant more of a luxury fabric-perhaps a microfiber instead of terry cloth. The embroidery however, could be a little more special if you could choose the font and the colors. Its a little funky to have them printed in mismatched styles. A true personalization wouldve allowed for some changes for a personal touch. Overall, I think they will like this but I wouldnt order it again....glad it was on sale. Quickly sent, correctly spelled, good idea for a unique gift.

You get your money's worth
By
Shopper

(Los Angeles, CA) - December 30, 2011
The robe is heavy duty, good quality. My major issue with it is that it only comes in one size: huge. I'm a 5'10" woman and I swim in it; my husband is 6'1", 200 lbs and he still has room. They really should offer a woman's version of it. Also, I'm not crazy about the font and color -- would be nice if there were more options to choose from. But all in all, it was an affordable and fun gift, and you get your money's worth.

Mixed review
By
Deborah G H.

(Carlsbad, CA) - May 23, 2011 (
See all reviews by this customer
)
The quality of the robes is great. Very soft and thick. My only concern was with the embroidery. The "r" in Mr.. And Mrs. does not look like an "r". Maybe an "h" or a "k", but it's definitely not the same font as the one in the pic on the website and really looks a little odd. Also, when the robe is on, the writing slants seriously downward. On the plus side, they are good quality and they arrived very quickly. Once you get past the odd letter, they are very nice.

So soft!
By
Alicia G.

(Gardena, CA) - December 27, 2010 (
See all reviews by this customer
)
Very soft and well made. Just wished they came in specific sizes.

Not one size fits all
By
Brittany W.

(Sherman Oaks, CA) - October 4, 2010 (
See all reviews by this customer
)
I think this is a cute idea and the bride and groom i purchased these for love them but personally I wish you could pick a size for each robe. The womens robe is HUGE! I'm small so I knew it was going to be big on me, but this robe was large no matter who was around me and put it on.... Everything else about these is great! Great quality and fast service!

Great Gift
By
Jacqueline C.

(Litchfield Park, AZ) - April 26, 2010 (
See all reviews by this customer
)
I didn't get to feel the robes because I gave them as a gift. The recipient stated the robes were great and of good quality. She loved them! I loved the quickness of the service and the price!

Nice Robes but not what I ordered
By
Bill D.

(San Ramon, CA) - April 13, 2010 (
See all reviews by this customer
)
We received the robes in just 3 business days (which was great) but one of the robes was from someone elses order. I have to have the correct order in the next 3 days. I'll come back and let you know if they come through or not.