Marriage Recipe Box
By
Shopper

(Milwaukee, WI) - March 10, 2014
Previously ordered for Daughter-in-laew shower; very pleased. Ordered again for new future daughter-in-law. Have guests bring favorite recipe to give t bride..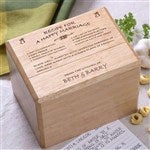 Nice Gift
By
Shopper

(Jacksonville, FL) - February 18, 2014
I bought this as a bridal shower gift for my daughter. When it arrived I noticed the poem on top was off center. I called PersonalizationMall and they asked me to send a photo of the item to them for review. I did and they immediately replaced it at no extra charge to me. I didn't even have to return the unwanted item. Now that's service! It is a well made box and should last for years.

Perfect for a wedding shower
By
Shopper

(Eatonton, GA) - September 20, 2013
I love what it says on the box! It is really different and perfect for what I was looking for. I am excited to fill it up when all the recipe cards come back from the guests. This is part of a wedding card shower done via mail with family and friends living all over the country. My only issue was one side of the box was rough, and my husband just needed to sand it smooth slightly. Otherwise, it is perfect now, I love it and can't wait to give it filled with recipes from everyone.

wedding gift
By
Melanie R.

(Parker, CO) - July 19, 2013 (
See all reviews by this customer
)
I also ordered this as a wedding present. I love the bamboo. I liked the whimsical recipe for marriage engraved on the top of the box. Cute. The slot on the top of the box to hold the recipe card you're using is great. I think the recipe box will look nice sitting on the counter in the kitchen.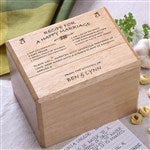 Just What I Wanted
By
Shopper

(Harleysville, PA) - April 30, 2013
Looks great and shipped fast. REMEMBER IT ONLY HOLDS 3x5 cards

Recipe Box
By
Shopper

(Thibodaux, LA) - March 17, 2013
This is a very nice recipe box. I think it's great for the kitchen of couples. My only disappointment was I purchased the gift kit to wrap it and the box is more about advertisement for Personalzation Mall than a nice wedding box. To me the box should be FREE If it's to advertise for them.

Recipe Box- love it
By
Joyce H.

(Pitsburg, OH) - March 8, 2013 (
See all reviews by this customer
)
I bought this for a friend to give to my daughter for a Bridal Shower gift and it is very cute!!!! It's not as heavy as I thought it would be, but it is very nice though. She will love it!!!!

Good item
By
Shopper

(Elk Grove, CA) - July 6, 2012
Item looks exactly as shown in picture. No surprises, which was great. I am happy with this purchase.

Fantastic Wedding Gift
By
John B.

(Fort Worth, TX) - April 20, 2012 (
See all reviews by this customer
)
Something different for a newly-wed couple, something they can actually use. Only wish there had been room to put the wedding date.

Wedding shower gift
By
Kay W.

(PLANT CITY, FL) - April 2, 2012 (
See all reviews by this customer
)
The recipe box was a great hit at the shower. Everyone loved it! I only wish it had come in another finish choice. So many modern kitchens are bright with stainless steel and colors. The personalization made it very special tho. Delivery was very quick. I could not have been happier with the service I received! Thank you so much.

Bridal Shower Purchase
By
Lori M.

(Martinsburg, WV) - March 20, 2012 (
See all reviews by this customer
)
I had purchased this item for the purpose of my niece's bridal shower present. The customer service & the rapid delivery (which I only choose the Economy rate) was excellent! The recipe box itself is beautiful, but disappointed with the "&" symbol where the bride and groom's names were engraved... and not enough room to indicate a year of their wedding date for remembrance. Other than that, the product was made well and very happy with the purchase.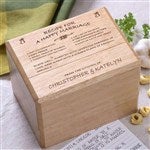 Great Bridal Shower Idea!
By
Shopper

(Three Rivers, MA) - February 25, 2012
Beautiful wooden recipe box....love the personalization! Expected the wood to be a little more solid/sturdy. Would consider purchasing again in the future.

Wedding gift
By
Shopper

(Pinconning, MI) - January 16, 2012
This was great. I love it and have showed to to several people who also love it and were jealous they did not see it. I will be makeing my own personalized recipes to go in it.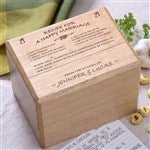 Better Than Expected...
By
Megan L.

(Boston, MA) - January 1, 2012 (
See all reviews by this customer
)
This recipe box is actually really nice. The wood is really smooth and the engraving/personalization on the top came out really good. Overall, I am very happy with this item.

Great wedding gift for the cooks
By
Jo Ann I.

(Yorba Linda, CA) - May 15, 2011 (
See all reviews by this customer
)
I liked this for a wedding gift. I bought the cards to go with it, a bit disappointing, they should increase the quantity of cards for the price. I'm planning to put a food store gift card in the box to complete the wedding gift.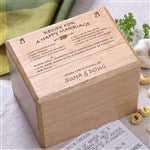 HAPPY MARRIAGE RECIPE BOX
By
Shopper

(bronx, NY) - May 1, 2011
I really like the style of the box and it looks like it is well made..I only had one problem which was my own fault...Instead of buying the cards sold on this site...I ordered ones that were personalized for a shower..they were too big for the box,,,,So although I am giving this to the bride at the shower..I am making another one...larger..for the cards from the shower..All in all..the box is as well made as in the picture...and will be a great addition to their new kitchen.....

old fashioned
By
Maria R.

(Gaithersburg, MD) - April 13, 2011 (
See all reviews by this customer
)
A very practical gift for a wedding, lots of room for personalizing it. Can't wait to give it away!

Great look for a great price!
By
Shopper

(Gillette, WY) - February 22, 2011
It came quick and was just what was shown.

Love the box, disappointed in the engraving
By
Janel Z.

(Johnson Creek, WI) - August 2, 2010 (
See all reviews by this customer
)
I love the recipe card box. It seems sturdy and holds my cards well. However, when they engraved our names the ampersand ran into my name and so I hate the way that looks. I double checked and the receipt shows a space between the two but it certainly does not appear that way on the box. Beware of what names you are having engraved and how they will display with the ampersand.

Recipe Box gift
By
Vicky M.

(Farmington Hills, MI) - July 26, 2010 (
See all reviews by this customer
)
First off, I love this company! Everything arrived so fast and I was always updated re: shipping. I bought the Happy Marriage recipe box, dividers, and recipe cards for a gift. The box is real quality, but I was a 'little' disappointed in the printing on the box of the actual 'recipe'. I know there was a lot of 'ingredients', but it was such small print, it was a bit hard to read with the grain of the wood.
This is the first time I've ever had a 'bit' of a disappointment with any of the tons of products I've ordered. I will continue to order from P.M. as they are a great company with great service! Thank YOU!

recipe box
By
Cindy W.

(Cottage Grove, WI) - June 8, 2010 (
See all reviews by this customer
)
I was a little disapointed with this. The personalization was a little small compared to the rest of the recipe boxes that I purchased.

Beautiful
By
Janel S.

(Chicago, IL) - April 30, 2010 (
See all reviews by this customer
)
This is for my sister's wedding shower and I sent out blank recipe cards with the invites. Its beautiful, a nice personal touch.

Very cute
By
Anne H.

(Johnstown, PA) - April 20, 2010 (
See all reviews by this customer
)
I was very pleased with the how fast I received my product and how well it turned out. I purchased this for my sister's bridal shower and I know she will love it!

Personalized recipe box
By
Diane B.

(Corral de Tierra, CA) - January 25, 2010 (
See all reviews by this customer
)
Top quality. I love the recipe card holder crease on top of the box. However, I would like it to be offered in 4 X 6 size.