Missing candy
By
Shopper

(Denver, CO) - January 16, 2014
The jar is very cute, but did not come with the Hershey Kisses as advertised.

smaller than it looks online
By
Shopper

(Toms River, NJ) - December 17, 2013
looks bigger online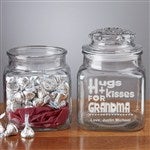 Cute gift idea
By
Shopper

(Fort Drum, NY) - December 2, 2013
I bought this for my son's grandma. I love the idea. It does come with plenty of Hershey kisses to fill up the jar. My only complaint is the wording is not as dark as pictured. You can see it, but not as dark as I would have liked. For that reason I rated it 4 stars. Other than that, I am happy with the purchase.

Great, but with a flaw...
By
Nicholas W.

(Fort Lupton, CO) - May 20, 2013 (
See all reviews by this customer
)
I got this for my mom for mother's day as a gift from my kids. She loved it! The only thing I wish were different is the color of the personalized printing. I took the red shredded paper out and replaced it with Hershey's Hugs candies in addition to the Hershey's Kiss candies already included so that it would be filled with "hugs and kisses" as the engraving says. However, after I did that, you really had to look VERY hard to see the personalized inscription because it really blended in with the lighter silver color of the candies. It would be better if color of the inscription was a darker red or brown or black, therefore making it easier to see. After receiving the jar, my mom didn't even notice the inscription until I pointed out to her. That's how easy it was to miss. In the preview picture that's on the website, it shows up very well. But if you'll notice, that's only because the background behind the items is a dark red. If that background were white, you wouldn't be able to see the inscription printing at all.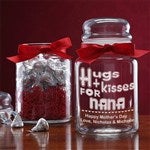 Cute Purchase
By
Shopper

(Fairfax, VA) - December 10, 2012
Great gift. letters a little light can be seen better with dark candies.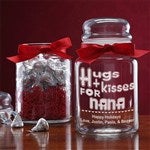 Very cute
By
Shopper

(Rolesville, NC) - May 17, 2012
My girls gave this to their grandma for mothers day! She loved it and the personalization will make it a perfect reminder . It is a bit pricey for a jar, but seems to be well made.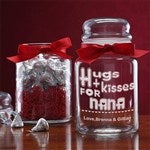 Really nice
By
Shopper

(Geismar, LA) - May 15, 2012
The jar was really nice and Nana liked it. The only reason I didnt give it 5 stars is b/c the kisses inside melted. Dont know if they melted in transit or b/c the package was left outside when delivered :-(

Super gift item
By
Shopper

(Buffalo Grove, IL) - May 15, 2012
This is such a great gift for a loved one. It will be around forever; and who doesn't like a kiss. :)

mothers day from grandchildren
By
amber B.

(stuarts draft, VA) - May 14, 2012 (
See all reviews by this customer
)
I couldn't wait for it to arrive this was my first non_generic gift for my mom from my boys. It was as cute as I pictured only problem is its very hard to read and the boys names almost looked faded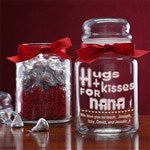 Candy jar
By
Madelyn S.

(Aurora, IL) - April 17, 2012 (
See all reviews by this customer
)
This is a very nice little candy jar and makes a cute little gift for someone. I love that it came almost half filled with Kisses and not just a few. I thought I would have to buy some to add to it before I got it but there is no need!

CUTE GIFT
By
Donna M.

(Crossett, AR) - February 14, 2012 (
See all reviews by this customer
)
I Ordered this for a Valentine's Day gift for my 4yr old granddaughter from her Daddy. He gives her a KISS (Hersey) everyday in her school lunch. This is the perfect jar to keep the KISS in. I had it etched with her name and the personalization of "I love you with all my heart, Daddy" which is what she tells all of us when she tells us she loves us. I only gave it 4 stars because the etching is hard to read because it is so light. I wish there was some way to darken it. Other than that it is a great gift.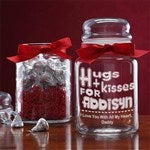 Candy Jar
By
Chelsea C.

(oxford, MA) - November 27, 2011 (
See all reviews by this customer
)
I made this candy jar for my daughters grandmother on her fathers side..I thought it was great. Not only was it so nice but it also came with the candy included!! I thought that was just wonderful. I would defiantly order another one!

Heartful Gift
By
Shopper

(Oak Lawn , IL) - June 20, 2011
This product is a great gift from the grandchildren to their grandparents or grandparent.
Only thing I do I agree with is the written on the jar can be alittle hard to read. If the written could come darker this product would rate five starts. Shipping was perfect it was wrapped great!!


Very nice & inexpensive gift!
By
Shopper

(Douglasville, GA) - February 15, 2011
I sent this to my best friend for Valentine's Day. HE LOVED IT!!! He said it came with 2 bags of Hershey's Kisses and was a very nice gift. He loved that it was personalized with his name on it & the personalization makes the gift because it shows that you as the sender put care into the gift. I would recommend it for all occasions. I gave it only 4 stars because I didn't actually get to look at the item in person, but feel he would have let me know if he wasn't pleased.

Great gift to Grandma from Grandson
By
Stephanie J.

(Folsom, CA) - February 8, 2011 (
See all reviews by this customer
)
I bought this as a Valentine's Day gift from my son for my mom. It's a great gift that she can leave out and share treats with him.

Very nice
By
Shopper

(Herndon, VA) - January 31, 2011
Very nice item, just like the way it looks on the picture.

Great Gfit!
By
Sandra W.

(Canada) - December 10, 2010 (
See all reviews by this customer
)
Such a great idea for Grandparents! I bought 3 of them and love them, but I do agree with some others in that I wish the text showed up better. I removed the silver kisses and replaced with red and green kisses (as they will be gifts for Christmas) so it does show up a little better. Still a great gift and would recommend to anyone not knowing what to get grandparents. This is something special that they can reuse to put anything in, and a bonus if they like chocolate!
Another idea is to put something around the inside of the jar to allow the text to show up better, it would just cover what is in the jar.

Super Cute
By
Holly W.

(Houston, TX) - May 10, 2010 (
See all reviews by this customer
)
I bought this for my mom for mother's day as a present from the grandkids. They call her granny, so I loved how I could put whatever name I wanted on there. So I put granny. She loved it.

The only this is when it arrived the chocolate was melting and got on the inside of the jar a little bite. So watch out if you buy this in the summer.

Kisses for Nana
By
Jessica C.

(Elk Grove, CA) - April 30, 2010 (
See all reviews by this customer
)
The quality of the product was great. The only thing is that the print on the jar I thought would be a brighter white and more easily read. With things in the jar it's hard to read the wording.

Great Gift
By
Susan G.

(Acton, MA) - April 15, 2010 (
See all reviews by this customer
)
This is a great gift for any "treat" lover! It is great quality, definitely would order again!

sweet treats
By
KarenLee B.

(Milton, FL) - February 12, 2010 (
See all reviews by this customer
)
The Sweet Treat jar makes a nice gift; however, the etching is very light and hard to read. I almost wish that it was painted on instead of being etched.

Super Fast Shipping..
By
Tuscarora S.

(Mentone, CA) - November 12, 2009 (
See all reviews by this customer
)
Cute gift idea for the hard to shop for granny. Etching on glass was not as bright as shown in picture so a little hard to see once filled with Kisses. But arrived within 3 days of ordering with standard shipping. Personalization mall is great for last minute gifts..I am sure I will be back soon to start my holiday shopping.