APRON
By
Shopper

(Lafayette, LA) - April 21, 2014
this was a nice item, however, a little better fabric would have been better. otherwise, ok and nice enough for shower gift.

DID It Again!
I originally order these as a gift for a few friends getting married but again returned and ordered for myself another great gift-A winner! Print is clear and bright i havent washed yet but so far so good.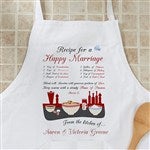 great product - wedding shower gift
By
Emilia M.

(OraNGE, CA) - January 24, 2014 (
See all reviews by this customer
)
The reason for the 4 stars is due to the material, it's a bit rough for me but appropriate for an apron - it's good for it's purpose. I gave it as a gift to someone that uses aprons and she was thrilled. A real special gift - got a few laughs at the wedding shower :)too

Cute, but a little old fashioned
By
Julia G.

(Woodbridge, NJ) - June 21, 2013 (
See all reviews by this customer
)
This potholder is really cute. The ppersonalization is great! And I love the saying/recipe, but the design is a little old fashioned for my taste.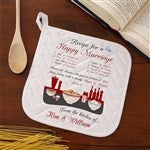 Shower hit!
By
Shopper

(West Falls, NY) - October 8, 2012
Everyone thought the apron was a great idea. The only recommendation we have is that the recipe's font is a little hard to read.

Love it!
By
Shopper

(Flemington, NJ) - August 24, 2012
Bought this apron to gift at an engagement party this coming weekend. Absolutely love it, super cute! I think the bride & groom to be will love it too. Only complaint, athough white which is ok, I think the fabric could be a little heavier.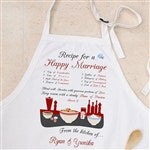 Great Bridal Shower Gift, but...
By
Shopper

(Spring Valley, CA) - June 14, 2012
This was a great gift for the bride and groom, and the guests also liked it especially when the bride read what was printed on the apron. The only option I would have appreciated was if you could choose sizes and colors for this wonderful item. Otherwise, it is an overall good purchase.

personalized apron
By
Shopper

(San Jose, CA) - June 4, 2012
The apron I ordered met my expectations. I know that the couple receiving the Happy Marriage apron will enjoy their gift.

Nice
By
Shopper

(Frankfort, IL) - March 21, 2012
I wasn't that impressed with the thickness of the material, a little skimpy but the overall premise is cute. I guess who wants to be hot in the kitchen-lol!

Bridal shower gift
By
Shopper

(Massapequa Park, NY) - March 4, 2012
The material was different than I expected. I expected cloth and it was more of a canvas type material, but other than that it was very nice. It looks just like the picture, and the lettering looks very nice. I'm giving this as a bridal shower gift.

My go to gift for the bride
By
sandra W.

(Cupertino, CA) - March 2, 2012 (
See all reviews by this customer
)
As a Pastor's wife I go to LOTS of bridal showers. Since I've found this I buy it for everyone. It may end up being my signature gift. It's so different yet personal and I can get it In a few days so it's always here on time. No more struggling to find yet another clever thing for the bride to be. Thanks.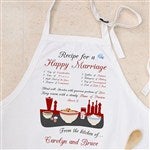 potholder
By
Shopper

(Oglesby, TX) - January 3, 2012
I liked the potholder except I thought the writing and the trim around the outside should have been a bit darker...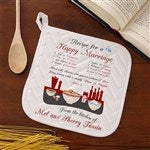 Apron.
By
Shopper

(Monument, CO) - August 26, 2011
The quality of the apron is great for the price. The color appears to be red on the website, yet the actual apron is more of a rust color. Also, I ordered 2 aprons and had both of them shortened. I'm only 5 ft 2 inches and the aprons came below my knees. The message on the apron is awesome and even with the mentioned items----the aprons are still worth it to me. The aprons (and matching pot holders) will make a nice addition to my bride/groom shower!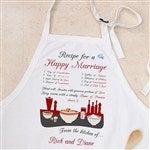 The apron I was looking for and the one we can share
By
Teena N.

(Salt Lake City, UT) - August 8, 2011 (
See all reviews by this customer
)
I was on my after wedding shopping spree when the 'Recipe for a Happy Marriage' Apron caught my eye. All I had to do was send the order and wait for it to arrive. Must say it's Terrific !!!!!

The image may not be very clear but it's good when you see the finished product. The pockets are great for keeping ladles and spoons within reach.

Happy & Satisfied. My husband appreciated it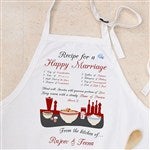 GREAT SHOWER GIFT
By
Shopper

(Aurora, CO) - February 2, 2011
The wedding apron was nice The couple enjoyed dreaming of sharing as they cook

Happy with purchase
By
Rosemary H.

(Longmont, CO) - August 19, 2010 (
See all reviews by this customer
)
I am happy with my order. It will be something cute to add to the shower gift. I would order again from this site.

pot holder
By
Marie-Laure C.

(Apollo Beach, FL) - May 3, 2010 (
See all reviews by this customer
)
neat item