Its very nice
By
Shopper

(Lancaster, PA) - May 19, 2013
This website is great! I like the original ideas for gifts. My mother-in-law love it! Im getting the same item for my mother, too. I just only wish it'll be bigger!

Beautiful
By
Kristie M.

(Waco, KY) - November 25, 2012 (
See all reviews by this customer
)
I ordered this product as a Christmas gift and am very happy with it. It looked just like the preview picture and is nice quality, definitely worth the price. Thank You.

Good product, but small type
By
Shopper

(Oak Lawn, IL) - October 19, 2012
This product looked really nice!! The only thing that I had a problem with is that the type is very small and hard to read. My mom has to use a magnifying glass. Also, the type is see through, so depending on what you have as the background where you will display the heart may make it un-readable all togehter.

Beautiful
By
Shopper

(New Salem, PA) - May 16, 2012
This was a gift to my mom for Mother's Day. She LOVED it!! It looked beautiful and the engraving was perfect! The only complaint that I have is that it is smaller than I expected. Still, it was a perfect gift and she loved it more than any other gift I've given her.

my mom says words are way to small to read
By
Melissa S.

(Jersey city, NJ) - March 17, 2012 (
See all reviews by this customer
)
When I gave my mom this gift just to show how much I appreciate her she complained about how small the writing was. She thinks the heart sculpture is nice but she says she needs a magnify glass to read the poem. Other than that I like this item.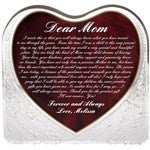 It truly is beautiful..............
By
Shopper

(Atlanta , GA) - January 3, 2012
The only real problem I had with this, is the fact that the prints are real small and I had to bring it up so close to read....I blamed it on bad eyes until the recipient did the same.
Luckily, I knew what I had written, so it was easy to read it to her...........the beauty of it all was seeing her appreciate the gift so much, and hug it real tight. great quality, but make sure u don't write much

A Letter to Mom Heart Sculpture
By
carl G.

(houston, TX) - July 29, 2011 (
See all reviews by this customer
)
The heart design and the abilty to have a personalized message engraved was impressive. The dark purple color of the heart made the engraving standout. A very reasonable price and fast shipping made for a positive experience. I presented it to Mom at her 90th birthday party, and she was so appreciative of the personal message it contained. My only wish was that a little larger sculpture was available so the engraving would be larger, and therefore easier to read.

Heart Keepsake
By
Siobahn Y.

(Mullica Hill, NJ) - May 14, 2011 (
See all reviews by this customer
)
I was satisfied with the product, but the writing was very small. It was also hard to understand the cursive writing on the glass, since the writing was too small. I would have also liked it much better if we were able to write in "poem" form. In other words, I wrote a poem on this item, but it did not put the lines the way I wanted it. It just automatically moves to the next line when it reaches a certain number of characters in the previous line. I wanted the first line to only contain one short sentence, and instead, it contains 1 and a half sentences. So, it does not read like a normal poem, it reads like a paragraph that rhymes. All in all, the product was a good gift. If you are looking to write a letter to someone, I would recommend this product. However, if you are looking to write a poem, I would not recommend this product.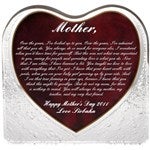 Gift for Mom
By
Raul Z.

(APO, AE) - February 16, 2011 (
See all reviews by this customer
)
My mother loved it, you gotta write the right thing to make it more special

Great Gifts for All
By
Christine R.

(Schaumburg, IL) - May 13, 2010 (
See all reviews by this customer
)
This was my first order with Personalizationmall.com. Extremely happy. Product shipped as shown. Packaging was sufficient so as not to break a fragile item. Item shipped QUICK. Received in time for Mother's Day when ordered only a few days before. Would definitely order from this company again!!!!