Loved the gifts upset with customer service.
By
June R.

(Smyrna, GA) - February 18, 2014 (
See all reviews by this customer
)
Easy to navigate the website, easy to order and shipping was free and quick. The product was beautiful. I was very pleased except that when they arrived the box they were shipped in was damaged so that damaged the boxes the items were to be given in. I called customer service on Feb. 5th and asked for them to send 2 new boxes and they said they would. They were Valentine gifts for my 2 granddaughters. Today is the 18th and I still have not received them. That is why I gave them a 4 instead of a 5.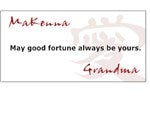 Fun!
By
JoAnn T.

(turnersville, NJ) - February 9, 2014 (
See all reviews by this customer
)
This is a very cute gift, something very fun to give. The only thing it's very hard to open. I had to look for something to open it as not to scratch it, trust me the design and inquires far makes up for that! A really fun gift to give. Picture doesn't do it justice.

Nice Romantic Gift
By
Diane F.

(Silver Spring, MD) - January 14, 2014 (
See all reviews by this customer
)
The fortune cookie is great quality, but I wish the fortune inside wasn't folded in half. The Chinese food caselooked pretty good, even though the love symbol on the outside was a sticker and not actually painted on. All in all and nice gift to tell someone you love them.

It's quite nice
By
Shopper

(Collegeville, PA) - February 14, 2012
I thought this was perfect since my Boyfriend loves chinese food. I'm a creative person, but I was on a time limit, so I bought this instead. It was only like 20 dollars with shipping, so I'm not complaining at all, just I feel like it could have been made by myself. If I made it by myself, it would have taken so much time though, because this product came in so quick. So I take that back, this was an amazing silver fortune cookie, I just think the paper inside seemed slightly not the greatest presentable way but whatever. I haven't given it to my boyfriend yet but I think he'll love it, and be able to read my personalized fortune to him whenever we're apart, since I live in Pittsburgh and he lives in Philly.

Beautiful !
By
Shopper

(Canada) - November 15, 2011
I got this is as a gift for my boyfriend (we both adore sushi, chinese food and most of all fortune cookies!). I love how unique it is! He absolutely adored it and cherishes it greatly.
The packaging is great and the box was in perfect shape. The silver cookie seems somewhat small bu it is quite large and also heavy, it's made of great quality! All in all, a wonderful, unique, beautiful gift!

Cute fortune cookie
By
Shopper

(San Francisco, CA) - September 9, 2011
Fast shipping. It would be great if personalized message can be engraved on the surface of the cookie. But in general the product is nice

cool!
By
Shopper

(Boston, MA) - September 6, 2011
It is very cute and nice but could be smaller.

Great love note
By
Shopper

(Pace, FL) - February 22, 2011
My wife loves her fortune cookies, so I knew this would be perfect for a Valentine's Day love note. High quality silver cookie encasing a durable and long lasting note that says just enough. Great deal!

Vey Pleased
By
Melocka M.

(Mount Wolf, PA) - February 14, 2011 (
See all reviews by this customer
)
This was a perfect gift for my husband on Valentines day! he loved it....Simple but very meaningful. Thank you

Great cookie- Bad Fortune
By
tyler S.

(Rindge, NH) - February 7, 2011 (
See all reviews by this customer
)
I love this item and hopefully the person receiving it will too. My only qualm is with the fortune inside. It is advertised as being printed upon fortune paper when actually its printed on a small piece of card stock. Other than the poor quality of the fortune this item is great!

Loved it. :)
By
Ma. Angelina B.

(Escondido, CA) - May 4, 2010 (
See all reviews by this customer
)
I loved the whole package. :) It came out great. Thanks. :)

Great Gift!
By
Nickole T.

(Quakertown, PA) - March 24, 2010 (
See all reviews by this customer
)
I got this for my husband for our anniversary and he loved it! This wass something that is an inside joke between us that now can sit on the bookcase. It came in a chinese take out container with the fortune inside...my only compalint is that the fortune was actually folded not smooth like a real fortune cookie or the picture. Other than that it was perfect!