Good but needs 2 sided personalization
By
Nancy Z.

(Maple Grove, MN) - September 30, 2014 (
See all reviews by this customer
)
Would have been a 5 star if there was a way to personalize on the front and back.

Special mug
By
Shopper

(Pittsburgh, PA) - October 11, 2013
Accuracy and speed of order excellent! Quality good, just a little plain. My only suggestion would be for this item, to have the option of putting something on the other side.

Great product and service
By
Shopper

(San Antonio, TX) - December 26, 2012
I ordered this near Christmas time as a last minute gift. It was shipped as promised and arrived ahead of schedule. Seemed a little pricey for what it was but totally worth it when it arrived. Excellent customer service.

Good product, limited selection
By
Shopper

(Ilion, NY) - December 1, 2012
I bought this as a Christmas gift for my father from my son and I'm pleased with the quality of the mug. However, the color selection for the personalization is pretty limited.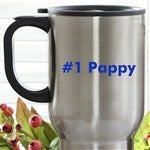 Good quality
By
Shopper

(Salem, MA) - August 14, 2012
The mug came out nice, I just wish there were more than two font styles available to choose from.

PERSONALIZED COFFEE MUG
By
Shopper

(Mount Vernon, OH) - February 14, 2012
I LIKE THIS COFFEE MUG AND THAT IS WHY I CHOSE IT. THE ENGRAVED LETTERS WERE NICE BUT I WISH THERE WAS A CHOICE BEYOND 4 LINES. THE LETTERING DOES LOOK NICE ON THE MUG.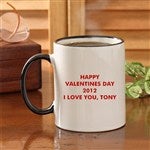 Nice gift
By
Marcela D.

(Reston, VA) - December 29, 2011 (
See all reviews by this customer
)
It was a nice gift. The mug turned out great but the lid was scratched up.

good quality mug
By
Shopper

(Sicklerville, NJ) - December 28, 2011
This came in very nice and the lettering doesn't seem like it will chip off. The contrasting handle sets it off nicely, giving it a more sophisticated look.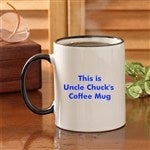 Morning Tea
By
Shopper

(Westfield, MA) - December 27, 2011
Personalization is perfect, mug not the highest quality.

Crisp & bold
By
Shopper

(SPRING, TX) - December 19, 2011
The text was sharp and clean & the color was nice & bold.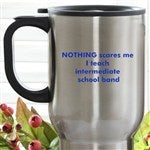 Very nice mug
By
Amy M.

(Valrico, FL) - December 18, 2011 (
See all reviews by this customer
)
When I recieved my mug it had a blurry line of text. I contacted them and they fixed the item right away and I still got the mug in time for Christmas. Excellent customer service and wonderful product!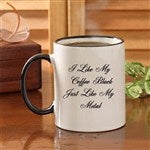 travel mug
By
Elizabeth H.

(Westwood, MA) - December 16, 2011 (
See all reviews by this customer
)
Got this for my husband, he's always misplacing his travel mug, maybe with his name on it, he'll find it!!

thankful in new york
By
Shopper

(Philadelphia, NY) - December 15, 2011
I was very pleased with everything: the quality, the wording, the shipping time, and the price! Thank you for making my shopping easier!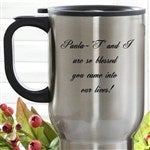 helpfull hint
By
john M.

(leomnster, MA) - November 26, 2011 (
See all reviews by this customer
)
your j loooks like a large i with a dot over it jack

great product
By
Shopper

(Harrison, AR) - November 22, 2011
This cup is a very nice gift good value for the price...

Awesome Father's day Gift
By
Shopper

(Patterson, NY) - July 12, 2011
I purchased this mug as a Father's day gift for my husband from our kids...and he loved it! The quality of this mug is very good plus its personlized touch made it a perfect gift!

Good gift
By
Shopper

(New York, NY) - July 5, 2011
I bought this for my husband on our first wedding anniversary and he loved it. It is a great and affordable and thoughtful gift, I think :)

Travel Mug Review
By
Jillian R.

(Schaumburg, IL) - March 8, 2011 (
See all reviews by this customer
)
The mug is decent size and is decent quality. It came way faster than expected which was a nice surprise. The blue writing was not as "blue" as it showed in the picture which was slightly disappointing. Overall, the service was reasonably priced and quick. I will be using the Personalization Mall again in the future.

Personalized mug message
By
Shopper

(Salt Springs, FL) - March 1, 2011
Loved being able to write my own message on the personalized mug. I did feel as if the writing was on the wrong side of the mug. Since most of us are right handed, I would have thought the writing would face the user; instead the printing is on what I would think of as the back side of the mug. But otherwise, I am very pleased with my latest purchase, the ease in ordering and the prompt service.

Great Item
By
Shopper

(Westminster, CA) - February 6, 2011
I Would have given it 5 stars but due to there being a few little scratches and it being smaller than I had expected. I was assuming it would be the same size as a normal coffee travel mug, but its much smaller holding about the same amount of coffee as a coffee cup. The personalization did look exactly as expected from the preview. It is sturdy and leak proof and to test the seal I filled it and flipped it and shook it around and nothing came out. It is a great cup and my fiance is going to love it for Valentines Day. :)

Free to write whatever you want!
By
Shopper

(Modesto, CA) - January 21, 2011
This mug is very plain, compared to the other two I ordered. The upside is that you can write anything you want to on this one, but the downside is it's kind of boring-looking without graphics (that the other mugs have available to you). Also, I had the writing done in black and should have used their vibrant colors.
Oh well, next time (and there will be a next time: I love their products)!

Very nice
By
Jennifer W.

(Milwaukee, WI) - December 29, 2010 (
See all reviews by this customer
)
I ordered before the holidays and the order was shipped promptly!

Great service, poor quality
By
Harmony P.

(Vista, CA) - December 23, 2010 (
See all reviews by this customer
)
The service was great, but the mug is poor quality, especially the handle.

coffee travel mug
By
Natashia S.

(Cincinnati, OH) - December 22, 2010 (
See all reviews by this customer
)
great product. The letters are a little light and seem as though they may wash off after a few washes, and there was a small scuff in the metal near the lettering, but the mug looks great and we were satisfied with it:)

Nice Gift
By
Mayra H.

(Philadelphia, PA) - December 14, 2010 (
See all reviews by this customer
)
I bought this as a Christmas gift for a co-worker and she loved it. The only complaint I could thin of is that I wished it would have had the option to put a picture or design on it other than just the personalization. It looked kind of plain. The recipient of the gift loved it though, so that's all that counts.

Like It but it needs more options
I like this mug. I wish it had more options with fonts and more lines to write on.

personalized mug
By
Anna S.

(Rockwall, TX) - November 30, 2010 (
See all reviews by this customer
)
a great gift idea

High quality
By
J C B.

(Chicago, IL) - November 8, 2010 (
See all reviews by this customer
)
The Travel Mug and the personalazation is great...

NICE
By
Penny G.

(Glenwood, MD) - August 5, 2010 (
See all reviews by this customer
)
The personalization looks really good!
My only complaint would be that the mug is a little on the small side!

Personalized Coffee Mugs
By
Tammy S.

(Solon, OH) - June 9, 2010 (
See all reviews by this customer
)
We ordered these for teachers' gifts and they were great! We put a flower in each one and it was a cute but inexpensive gift. People love to see their names in print - and in a school setting it's helpful for the mugs to be marked so another teacher doesn't borrow your mug! I do wish they came trimmed in colors other than black and they are a little sterile looking outside of the printing - but everyone I gave them to raved about them, and the shop that put the flowers in them for me went crazy over them - even calling other customers over to show them. Also, one happened to break during shipping and I had a replacement mug in two days! Disaster averted - great customer service!!

Nice Coffee Mug
By
Patricia R.

(Flushing, NY) - May 20, 2010 (
See all reviews by this customer
)
Nice coffee mug for the price, I purchased with a %20 off coupon.

My hubby Loved it
By
Stephabie C.

(Caswell, ME) - May 18, 2010 (
See all reviews by this customer
)
My hubby loved it! The lid broke, but they are sending us a new one! Fast shipping and service THankyou

GOOD VALUE/GOOD PRODUCT
By
Vick B.

(Dakota City, IA) - April 25, 2010 (
See all reviews by this customer
)
I purchased a coffe mug and had it personalized for a co-workers retirement. The product is of excellent quality. I received it in a very timely manner. Thank you for the good service. I will do business with you again.

Good mug
By
Stacy S.

(Goffstown, NH) - February 20, 2010 (
See all reviews by this customer
)
This is a nice mug. It was bought as a joke/useable gift and it was good to have a practical joke. I did wish that I could have put some sort of a picture on it but oh well. Also If you use it in the car the base might not fit in the cup holders.

Great
By
Kelly A. W.

(Round Lake Beach, IL) - December 29, 2009 (
See all reviews by this customer
)
I loved it. I wish the letters were just a little smaller. Other than that, it was perfect.

personalized coffee mug
By
Patricia Y.

(Abilene, TX) - December 22, 2009 (
See all reviews by this customer
)
I should have noticed the printing was on the side where you see it if you hold the mug in your left hand. Perhaps I should have had it printed on both sides. Or maybe that is the way mugs are always printed. Maybe the message is for others to read. Also, I was unsure if the mug was microwave safe. I looked on the bottom of the mug to get this information and it wasn't there. However, your service was great and I think the mug is really nice.

Exactly What I Wanted
By
Joanne G.

(North Haven, CT) - December 17, 2009 (
See all reviews by this customer
)
I ordered this mug for my 16 year old daughter who loves taking coffee to school but was tired of using "throw-away" cups, especially that we're trying to be more "green." I picked a favorite saying from her favorite musical, "Rent." First of all, the order arrived super fast. I was very impressed since it was the holiday season. I received several emails telling me the status of my order which was very helpful. Mug was exactly as described, stainless inside and out. Personalization was done exactly how I ordered. The only reason that I didn't give this 5 stars is the lid of the cup. Probably not the best design but overall the mug works. I'm sure I would purchase again from this store.

Good
I would like it to have a design.

travel mug
By
Maricel T.

(Grand Rapids, MI) - December 13, 2009 (
See all reviews by this customer
)
I recommend it, it's nice though it's kind of small in inside, equivalent to a small cup of coffee.

Not too bad!
By
Barbara R.

(Las Vegas, NV) - December 13, 2009 (
See all reviews by this customer
)
The travel mug itself was what I expected, although I felt the personalization needed to be a little darker and a little clearer. In the picture (gray-which is the color I got) the writing appears to be black. Mine was actually a somewhat dark gray, which kind of blends in with the color of the mug. The writing itself wasn't as crisp & clear as I expected, although had the writing been black I think it would be a little clearer. Overall, I was pleased with the mug.