Engraved leather flask
By
dorothy S.

(woodland hills, CA) - December 27, 2013 (
See all reviews by this customer
)
This makes a wonderful business gift for clients and customers. . . much more appreciated that a bottle of liquor or wine. Everyone enjoys seeing his/her name on a gift.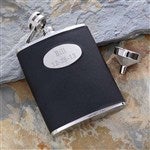 Neat Gift Item
By
Karen H.

(Norfolk, VA) - February 4, 2013 (
See all reviews by this customer
)
Neat gift item that can be personalized with engraving. I had this engraved for a Sherlock Holmes fan.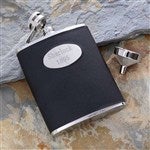 Nice Gift
By
Kaitlyn V.

(Middletown, RI) - August 20, 2012 (
See all reviews by this customer
)
The first time I ordered this item, they were not the best quality. After I complained, the company sent me two more flasks, free of charge, and the new flasks were exactly what I was looking for as a gift for my brothers for being in my wedding. I am very pleased with the quality. I am really impressed that the company went out of their way to send me new flasks when I wasn't satisfied the first time around.

Very nice!
By
Shopper

(Wichita, KS) - March 5, 2012
Very nice for the price.

Just fine.
By
Shopper

(Ann Arbor, MI) - August 13, 2011
Like the other reviews, the only problems with this are the back where the leather comes together, doesn't look very seamless, but is not terrible. Also, the front silver plate does have a little bit of space between the plate and the leather surrounding, but also not terrible. Overall, this was a nice groomsman gift and the engraving looked great.

Subtle Engraving, Leather may not be attached as well as I'd hoped
By
Shopper

(Brookline, MA) - January 4, 2011
The engraving was nice and subtle. It was elegant, but the leather attached at a seam in the back, and although it isn't peeling yet, I am skeptical about the longevity of the leather staying on the flask.

getting ready for christmas
By
elizabeth R.

(burlington, WA) - October 14, 2010 (
See all reviews by this customer
)
wow, didnt think id get it this esrly. im glad though, now i know its here before i go on vacation and dont have to worry about someone opening it. i'd give 5 stars, but i'm waiting till i know how my dad likes it.

Okay but not great.
By
Robert P.

(Tallahassee, FL) - July 29, 2010 (
See all reviews by this customer
)
Item appears to have everything, except once you hold it and examine closely, the quality of the leather sheath seems to not be attached to the flask in a high quality manner. The seam on the back where the material is cut and glued to the flask was rather pronounced.
Other than that it seems on par with what I ordered.

Valentine's Day
By
Jennifer S.

(Temecula, CA) - February 11, 2010 (
See all reviews by this customer
)
It was the perfect gift for my boyfriend and the perfect size

Very Classy
By
Amanda D.

(Tulsa, OK) - December 18, 2009 (
See all reviews by this customer
)
I just opened the box up, so I can't rate it on actual usage... but at first glance, I thought it was great. The leather has a nice feel and the attached lid is nice so it doesn't get lost. The only downside is the engraved plate doesn't lay completely flat. The leather is cut around it, so it should set down in there smooth, but the bottom part is higher than the top of the plate. Hopefully that won't become an issue and it will stay attached. Otherwise, it's a great buy!