awesome!
By
Sadie W.

(Vancouver, WA) - November 29, 2013 (
See all reviews by this customer
)
The puzzle turned out perfect! My picture is clear and sharp and sized perfectly. The tin it comes in isnt thin or weak. The packaging was hard to open, which is both good and bad, and the pieces were a bit smaller than I thought, which is my fault as the website gives dimensions, but its hard to picture that sizes cut into 252 pieces.

Very Good, Could be Thicker/Flatter
By
Shopper

(Alameda, CA) - August 19, 2013
Bought this puzzle mainly for my kids (5 and 3) and it's pretty good. All of the custom puzzles are too $$ in my opinion and I only have 2 "complaints." The cardboard is fine and will serve it's purpose, but it could be a little bit thicker for little hands. Second, I realize these are put out by a machine one after the other, but the pieces came a bit "curled up." I put the puzzle inside the pages of a thick, heavy book then placed a very heavy item on top of that and it flattened it just fine, but I shouldn't have to do that. In short, it's a great product that required some personal tweaking. Good luck!

Pretty Cool Gift!
By
Jessica C.

(Richmond Hill, NY) - December 29, 2012 (
See all reviews by this customer
)
My mother loves to get pics of the grandchildren and she also enjoys completing puzzles so this is a great gift idea with a dual purpose! After making the puzzle my mother frames them for display. Picture quality is good and the tin frame also displays pic so this is an added plus. I will be purchasing this product in the future.

Cute
By
Shopper

(Roebling, NJ) - December 28, 2012
A great gift; 5 stars if it wasn't so pricey.

Personal Puzzle
By
Shopper

(New London, CT) - December 8, 2012
Item arrived on time, and the picture came out great! It is such a cute idea! I will definitely try again!

Almost the Perfect Present
By
Danielle R.

(Reading, PA) - November 2, 2012 (
See all reviews by this customer
)
I ordered this as a wedding gift for my puzzle loving cousin. Upon receiving it I was a nervous because the lid of the tin cut off the top of the picture differently than in the preview; but after proceeding to put the actual puzzle together, to make sure the same thing didn't happen there, I am thrilled with the results. The puzzle itself deserves five stars; the only downside was that the lid to the tin did not come out as nicely. Overall I think this product makes a great gift and is something I will keep in mind for future gifts.

Great gift needs more glue
By
Mallory E.

(Newport News, VA) - March 20, 2012 (
See all reviews by this customer
)
I was very pleased with the puzzle. I had to order it last minute and I was able to get it right on time. My only concern was a good percentage of the pieces as my coworker began to put it together started to peel. I am not sure because this was a rushed order. But I would have liked for the pieces to be adfixed a little stronger.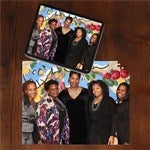 puzzle
By
Shopper

(San Jose, CA) - January 15, 2012
My mom loved this puzzle. The photo quality was really nice, but the photo on the tin box was a little chipped and some of the puzzle pieces were bent with the photo peeling off. Other than those few issues, I loved it and so did my mom!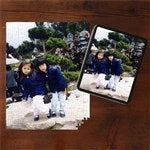 Super Cute Gift
By
Shopper

(Antioch, IL) - December 17, 2011
I bought this for my Aunt for Christmas. SHE WILL LOVE IT! The personalized tin will be great to store the pieces or for other fun uses. Yes, the pieces are small but I knew that before I ordered it. I recommend this item!

Great gift idea
By
Jeremy D.

(fairfield, CA) - October 28, 2011 (
See all reviews by this customer
)
The color was a little different but I was expecting that. The puzzle was about the same quality as one you'd find in a store and the tin sturdy. My girlfriend will love this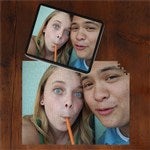 Fast delivery
By
Barbara K.

(Westlake, OH) - September 19, 2011 (
See all reviews by this customer
)
I ordered this puzzle as a hospitality gift sent directly to a host couple so I never actually got to see the finished product. However, I was extremely impressed with the very fast delivery. I ordered it in the tin and immediately got a "thank you" email because they were delighted with it, and easily recognized that it was a photo taken from their front yard.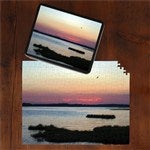 my friend's birthday puzzle
By
fatimah A.

(PITTSBURG KS, KS) - April 15, 2011 (
See all reviews by this customer
)
The puzzle was so nice, I liked it and I liked how surprising the gift was to my friend. I would recommend it for all... The only thing... Why didn't I got the puzzles in a bag like the one showed as sample? The black one... Other than that... It was perfect.
Thank you


Very pleased overall
By
Shopper

(Hoboken, NJ) - February 28, 2011
The tin the puzzle comes in is great and the picture on the puzzle itself came out great. My only complaint was about a third of the pieces weren't separated and as I separated them, some of the paper on the back began to rip. Overall though, I was very pleased.

Grandma's puzzle
By
Marnie M.

(Port Huron, MI) - December 30, 2010 (
See all reviews by this customer
)
The puzzle and tin turned out beautifully. The only bad thing I can say is that the puzzle is missing one piece. We've searched Grandma's house up and down and still have not found it so we're wondering if it never made it into the tin.

Great picture quality but too many unseparated pieces
By
Marifel P.

(Riverside, CA) - August 31, 2010 (
See all reviews by this customer
)
The picture quality was great and I liked the tin the puzzle came in, but I was slightly disappointed at how many of the pieces were still stuck together. While trying to separate them, I ended up ripping some of the cardboard backing off and/or bending the pieces. Also, there was not a lot of variation in the shapes of the pieces themselves unlike in a regular puzzle, so putting the puzzle together was a bit of a challenge.

COOL GIFT!
By
RONALD G.

(PORT RICHEY, FL) - February 4, 2010 (
See all reviews by this customer
)
THIS WAS A VERY COOL GIFT, GOOD QUALITY, AS USUAL, FROM PERSONALIZATION.COM. THANK YOU

personalized puzzle
By
Shamsa A.

(Springfield Gardens, NY) - January 31, 2010 (
See all reviews by this customer
)
This is a thoughtful idea for a gift and unexpected (that makes it even more meaningful). The tin and puzzle are of good quality with lvely colors just as picture. I want another puzzle.

Excelent gift for mothers
By
Dalexis A.

(Miami, FL) - November 16, 2009 (
See all reviews by this customer
)
I bought this for my mom's B-Day, I used a picture of the whole family and she just loved it! She almost cried. My mom loves to put puzzles together so this was a very nice and sentimental gift for her. The quality of the picture I used was the highest and yet it doesn't look completly neat on the puzzle as I expected. That's something that they should work on.