Gift for dad
By
Shopper

(Louisville, AL) - March 24, 2014
This was a perfect gift for my father! Love it!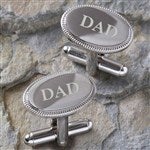 Great Gift
By
Shopper

(Fairfield, OH) - February 14, 2014
Order for my husband. They looked great.

Good gift
By
Shana G.

(Richmond, VA) - December 25, 2013 (
See all reviews by this customer
)
Good xmas gift to give. Engraving is nicely done.

Very Nice Anniversary Gift
By
Shopper

(Merrillville, IN) - April 16, 2013
I would have wanted the Initials to be engraved deeply as to prevent fast wear/tear, but either way the cuff links were nice. The job was well done and my husband loved them...which matters the most.

Nice gift
By
Shopper

(Plainville, CT) - August 2, 2012
These were bought as a gift for my boyfriend. They were very nice and he loved them. They could have had a little more weight, but considering he will wear them infrequently, I believe they will hold up fine. Delivered in 4 days using regular shipping. All and all very happy with this purchase.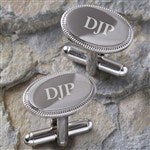 Wonderful craftsmanship but a little small
By
Shira K.

(Long beach, NY) - March 13, 2012 (
See all reviews by this customer
)
I got these for my boyfriend as a small token for his birthday. He loved them and they turned out gorgeous. BUT, my boyfriend is 6'6'' and the cufflinks look a little smaller on him then ones we buy in the store. Regardless, he still wears them and they look great.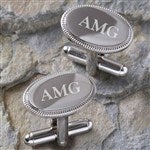 Just what I was expecting!
By
Shopper

(Bellevue, NE) - November 14, 2011
I really like the cuff links I got for my husband. They are exactly what I was thinking I was going to receive. The initials turned out great and he likes them! The only thing [which is a personal issue and has nothing to do with the product itself] is that he wishes they were a bit more "glam". He will only wear them at weddings and such and wishes they weren't so plain. My bad! ha!

Otherwise they turned out great!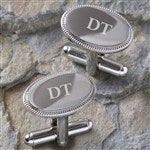 Great Cufflinks
By
Evelyn C.

(New York, NY) - August 9, 2010 (
See all reviews by this customer
)
These were a great gift for my boyfriend who recently got hired for a new job. Love the box they came in.

Only a small thing: the initials are a bit smaller in size than in the sample picture.

Overall, an excellent gift. Thanks.

another great buy
By
Michelle W.

(converse, TX) - June 16, 2010 (
See all reviews by this customer
)
very happy with my purchase. thought they would be alittle bit bigger but definitely worth the money. Very nice quality, I think the hubby will enjoy them along with all his sons who have the same initials :) he can just pass them down

A Little too small
By
Barbara S.

(Louisville, KY) - March 25, 2010 (
See all reviews by this customer
)
I really like these when I received them but they were so much smaller than I expected. I wish they would have been larger in size. I am giving these to my son who is getting married in September. I think he will really like them!

Engraved Silver Cuff Links
By
Elizabeth B.

(Empire, CO) - October 28, 2009 (
See all reviews by this customer
)
I was very pleased with the engraved silver cuff links which will be a Christmas Gift to our son-in-law. They were a bit smaller than I expected but it is a very good size and he will wear them proudly. Thanks for your prompt delivery to our P.O. Box here in the mountains.

A Delighted Spouse!
By
Truman B.

(Carlisle, PA) - October 7, 2009 (
See all reviews by this customer
)


My beloved wife of forty-seven years recently came home from a reception and noticed that one of her two cufflinks had disappeared from the sleeve of her blouse. These were simple monogram links with the large letter B in a circle.
I quietly searched the web the next day and found Personalization Mall.com, and ordered sterling silver cufflinks to replace the lost one and its lonely partner.
By the time the new links arrived we had been away for thirty days, and both enjoyed the delight of the surprise package in our over-stuffed mailbox. She was, and is, thrilled with these new and elegant silver cufflinks, and thanked me for this gift with a great hug and kiss. What husband could ask for more?