Nice chair, but small
By
Shopper

(Elgin, IL) - June 23, 2014
My husband loves to fish so I bought him this as a gift for Father's Day. The chair is much smaller than I expected, luckily my husband is not very tall and not very big, otherwise I do not think he could have used it. The cooler is also much smaller than expected. However whether its used for fishing, baseball games or whatever, it is a nice gift and portable.

Good value
By
Mindy S.

(Furlong, PA) - March 14, 2014 (
See all reviews by this customer
)
Great seat for fishing! A little smaller than I had anticipated, but was a great gift!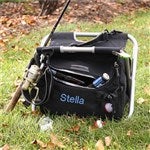 Sturdy
By
Shopper

(Edina, MN) - December 1, 2013
Product came in good packaging and looks great. It is an Xmas gift so durability has not yet been tested. I have bought many products from this website and have not been disappointed at any time.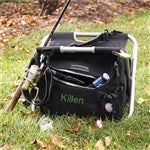 Great Item....
By
Carol L.

(Hope Mills, NC) - November 17, 2013 (
See all reviews by this customer
)
Can be used for other than fishing. Great product.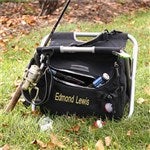 Great Quality, just smaller than expected.
By
Shopper

(Granite Falls , NC) - July 1, 2013
I bought it for my husband and we were surprised about the size. It is more of a fishing stool rather than a chair. He sat in it and was surprised at how comfortable it still was and convenient having a decent sized cooler. The long thick strap is a plus too.
I would be weary for anyone over 6' 1" or 6' 2". It is low to the ground.

Over all, Loved It!

Good item
By
Melissa F.

(San Antonio, TX) - June 16, 2013 (
See all reviews by this customer
)
I have this to my husband for father's day and he was floored... He loved the idea. The chair is a bit small but a decent material for the price.

gift for dad
By
Shopper

(Ferndale, WA) - June 15, 2013
This was bought as a gift for my dad, so I have actually never seen it. However dad says its great,and can't wait to toss a 6 pack of soda into it and go to the lake. He loves that his name is right on it, so he'll never confuse it with someone else's.

small sit
By
Shopper

(HOUSTON, TX) - December 26, 2012
I bought this chair for my dad for Christmas... he loves to fish. So when he opened his gift he was excited because it was personalized which gives it a special touch. But when he opened the chair I was disappointed at how small the sit is. I think a he is going to be sitting on the cushion and handle part literally. The cooler itself its very spacy, Im giving a 4 star because of the sit.

Anniversary gift
By
Sridevi V.

(Corona, CA) - November 24, 2012 (
See all reviews by this customer
)
Got this for my husband..he loved it ..The name engraved was the best part...I love the site and will keep coming back for all heartfelt gifts.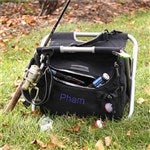 fishing chair
By
Shopper

(Arlington, MA) - November 13, 2012
the chair came out really nicely, with the monogram looking great! it feels a little like it might not be as sturdy as i hoped, but it seems to hold my weight for now! Very cool.

Fishing Stool & Beer Cooler in one
By
Susan S.

(Fountain Valley, CA) - November 4, 2012 (
See all reviews by this customer
)
I purchased this as a closing gift for the client whose house I sold. He's a fisherman and is moving to the country. He loved it. It is sturdy and has a zippered section for bait and another section of pockets for beer. The only negative I noticed was that the seat was rather small. My client fit on it fine but is your guy is a big guy, this might not be the one for him.

Loved the design, color, fabric,and monograg!!!
By
Shopper

(Morehead, KY) - February 16, 2012
The only thing my husband didn't like was the Height.
Just to low to the ground.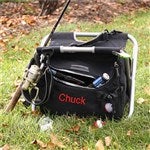 Sweet!
By
Brande C.

(Dayton, OH) - December 29, 2011 (
See all reviews by this customer
)
While my husband say the cooler isn't the best he's ever seen, he LOVES this thing! Looked great, name was added perfectly, cool item.

Looks Great
By
Veronica V.

(Rancho Dominguez, CA) - December 20, 2011 (
See all reviews by this customer
)
It looks realy good the name print was done great...
I liked it and this will be a xmas gift to a realy close family friend I know he will enjoy and get a kick when he sees HIS NAME!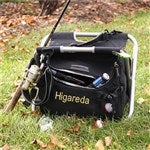 love it
By
Shopper

(Mount Gay, WV) - October 22, 2011
I got this for my son and 2 grandsons they all love.
Thank You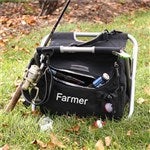 Good Gift
By
Shopper

(Cumberland, RI) - June 30, 2011
I was pleased with the look and overall quality of the product. It is also light weight but sturdy. Perfect for what I wanted it. I'm only giving it 4 stars because I am not sure that the insulation will keep the temperature steady for a few hours as it doesn't look very strong.
Definitely recommend.

Great for Father's Day
By
Lisa J.

(Beaverton, OR) - June 23, 2011 (
See all reviews by this customer
)
It came very quickly and was good quality, it was a bit short to the ground so it is a short seat, but very cute and perfect of Father's Day. Thanks!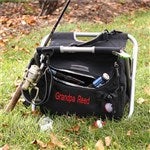 Great gift for the fisherman in your life but a little small
By
Shopper

(Tinley Park, IL) - June 14, 2011
I think this is a great gift idea especially with being able to personalize it. I bought this for my boyfriend for his birthday. He is always going fishing at the spur of the moment and definitely could use this. Its lightweight, easy to set up and take down for on the go. However, it is a lot smaller than I thought. It really looks like its made for a kid to sit on. It also says it can hold up to 24 cans. I highly doubt it, it is pretty small. My boyfriend really liked it though so hopefully he can still use it.

Ordered Two
By
Shopper

(Crofton, MD) - June 14, 2011
I ordered one for a friend and my husband wanted one for himself. They look nice and durable. I wish the personalization was centered better.

Attractive Product
By
Shopper

(Delaware, OH) - May 23, 2011
I purchased this for my husband as a Father's Day gift. It is a very attractive product and a unique gift. I have not given it to my husband yet. Hopefully he will enjoy it. The only negative is that the seat is quite small, so I'm not sure how comfortable it will be for a large man.

Good quality, Great gift!
By
Stephanie M.

(Huntington, WV) - January 1, 2011 (
See all reviews by this customer
)
I got the Red stitching and it looked great. Thanks personalization mall!

seat too small!
By
Sara S.

(Glenside, PA) - December 12, 2010 (
See all reviews by this customer
)
Very nice, good quality but child sized seat. Seems like the "seat" part will be better used as a small table to lay out a sandwich, etc.

Great cooler chairs
By
Kristopher C.

(Indianapolis, IN) - September 7, 2010 (
See all reviews by this customer
)
A little smaller than I thought it would be, but otherwise the chairs (ordered 7 for my groomsmen) look to be of good quality. The stitching on the personalized names is clean and looks nice. Shhipping was super fast. I'd like one for myself!

Extremely fast!!!
By
Matthew M.

(Rosemount, MN) - August 16, 2010 (
See all reviews by this customer
)
My order was placed, filled, shipped, and received all in less than 5 day!!! And that was with standard shipping mind you.
The product overall was as I expected. The quality of the personalized stiching isn't the best. But with such a quick turnaround time I didn't anticipate it to be.
Still very pleased!

Very nice!
By
Lisa S.

(Douglas, GA) - July 9, 2010 (
See all reviews by this customer
)
We love this cooler/seat I ordered for my husband's birthday. The personalization is great. I was disappointed with the size, though. Thought it would be bigger.

Wonderful Gift
By
Kelli J.

(Hudson, WI) - June 22, 2010 (
See all reviews by this customer
)
My husband was so happy to get this seat that has a cooler underneath. It is smaller then I thought - shorter and little are to actually sit on. However, the concept is too great to pass up. Since my husband is fairly fit, it will work for him just fine.

Cool chair
By
Trisha O.

(Vadnais Heights, MN) - May 9, 2010 (
See all reviews by this customer
)
When my fiance saw this chair, he insisted that he needed one of his own. Very cool.

Smaller than I expected
By
Thomas R.

(Summerville, SC) - April 22, 2010 (
See all reviews by this customer
)
The guy I bought it for weighs about 300 lbs., and I do not see this chair lasting 5 minutes under his weight. It DOES look nice, though.

Personalized Goody
By
Jeff C.

(Humboldt, TN) - January 7, 2010 (
See all reviews by this customer
)
It came in on time and it was very good. Just wish more sturdy.

good chair
By
Cindy B.

(Wichita, KS) - October 1, 2009 (
See all reviews by this customer
)
Great chair for price. Great gift idea for dads.