Personalized Door Mat
By
Shopper

(BATON ROUGE, LA) - May 9, 2014
Very nice mat. Personalization very nice. Will give to my Niece and her fiance for one of their showers.

Love this!
By
BLESSING A.

(SUGAR LAND, TX) - April 11, 2014 (
See all reviews by this customer
)
This is very beautiful! I have a really large entry way and ordered the extra large size. This compliments it so well. Visitors have loved it too and have been referred to the website. However, just know that it is more like for decoration, not a mat for outside use and rainy days/all that! I plan to buy more of this as gifts this year !


Perfect gift!
By
Ashley P.

(Bloomington, IL) - March 29, 2014 (
See all reviews by this customer
)
We ordered this doormat as a gift, and it turned out great. It was of good quality, and arrived very fast. I enjoy giving gifts with a personalized touch. I will continue to purchase more gifts from this site!

Beautiful
By
Maureen C.

(Erie, PA) - March 2, 2014 (
See all reviews by this customer
)
I love this personalized doormat! It looks wonderful in our foyer. Although, I have to admit I was disappointed when my husband wiped his shoes on it. Its probably a little too nice to have a practical application. Looks great though and would make a great gift.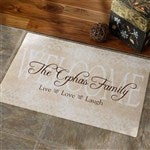 thickness
By
Isabel P.

(Menifee, CA) - January 15, 2014 (
See all reviews by this customer
)
The doormat is way too thin, other than that, its good.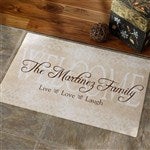 doormat
By
Jill D.

(Winchester, CA) - December 18, 2013 (
See all reviews by this customer
)
found the doormat to be what I expected. I would order again. I would recommend to a friend


Love it
By
Ashley C.

(Collinsville, VA) - August 16, 2013 (
See all reviews by this customer
)
Turn out great! Thought it be a little thicker for the price but still love it. Giving it as a bridal shower gifts for one of my besties,

Beaufiful Welcome Mat
By
Shopper

(Mattapan, MA) - July 1, 2013
I love the welcome mat. It is so pretty. I don't want anyone to step on it. LOL! I'll definitely order other items in the future.

a great housewarming gift!
By
Shopper

(Martins Ferry, OH) - June 22, 2013
I got this for my parents as a housewarming gift. Very pretty. Great for the money. The material is a little odd, almost like very fine carpet or felt-like. So concerned about cleaning since its such a light color. Otherwise, no complaints. Arrived quickly and as ordered. The name looks like it was made to be there, not cheesily inserted into the design.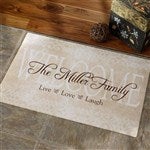 A bit thinner than I originally thought.
By
Erin L.

(Cimarron, KS) - May 6, 2013 (
See all reviews by this customer
)
This rug is a bit thinner than I originally thought it was going to be, but it seems to be good quality. It has not been used yet, so I'm not sure how well it will wear.

Really Nice!!
By
Melissa B.

(Indian Head, MD) - April 23, 2013 (
See all reviews by this customer
)
My only concern is that it is a very light color and will be hard to clean. It is, however, a doormat. :) It is great quality and sturday. Very cute! I would like to put it in a place where it is more decorative than functional though. Hate to see it get ruined!

rugs
By
Shopper

(Payson, UT) - April 16, 2013
Good writing and script. Not sure of material.

Beautiful! Just one thing...
By
Shopper

(Streetsboro, OH) - February 20, 2013
I love the rug! It adds beauty to our hardwood floor entrance. The only thing....it gets dirty easily. Use for decoration only - not for actual use. A friend accidentally stepped on it with a muddy boot and I can't get all of the stains out. But it is beautiful to look at and very eye-catching!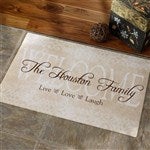 Great gift for dear friends!
By
Christy H.

(Placentia, CA) - February 10, 2013 (
See all reviews by this customer
)
Very quick delivery & recipients loved it. I just wish the colors though muted were just a bit stronger.

Looks nice
By
Shopper

(Medford, OR) - January 26, 2013
This personalized welcome mat looks very nice. I purchased mine with the intention of putting it outside in front of my door and I'm hopeful it will stand up to the elements because it is covered. The lettering it very well done.

Great gift !
By
Ana R.

(Smithfield, NC) - January 8, 2013 (
See all reviews by this customer
)
I gave this doormat to a very special family. They loved it so much !This is a very nice item ! It's worth the price !
I will soon purchase one for myself.

Buhrman doormat
By
Colleen T.

(des moines, WA) - December 29, 2012 (
See all reviews by this customer
)
Our daughter loved the mat but was disappointed that it wasn't recommeded to place in the washing machine. She washes her other mat once a week. They decided to place the amt in front of there hearth. Looks good there. It's real nice mat. Recommed it to anyone.

First Time Buyer
By
Brenda R.

(Cincinnati, OH) - December 28, 2012 (
See all reviews by this customer
)
At first I was a little worried that the mat was a little too thin because I was giving it as a gift. However, the receiver loved it because it was thin enough to put inside the door because everything else she tried was too thick when she opened the door over the mat. As far as the actual "look" of the product itself, I really liked it.

Personal and Elegant!
By
Shopper

(San Antonio, TX) - November 25, 2012
My husband and I really like this doormat because it is unique and it makes our entrance appear more elegant. I think it's a great item to welcome family and friends into our home. The only downside is that it's a bit thin and tends to roll up at the ends when extended because it arrives in a narrow box all rolled up. However, if you put something down at the ends to hold it flat, it flattens itself out after a day or so and looks great.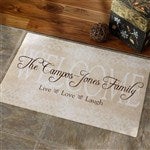 Excellent Idea
By
Shopper

(Elk Mound, WI) - October 28, 2012
I just ordered this as a Christmas gift for my in-laws and I've very happy with it. The only negative thing I could possible say is that it could be a little thicker....but over all I'm greatly pleased with it. Love it! Great gift idea.

Personalized door mat
By
Joanne I.

(Kansas City, MO) - October 26, 2012 (
See all reviews by this customer
)
I thought I turned out great but wish the mat was heavier so it won't blow away. I wish I would have ordered the larger mat. We are moving into a new house next week so anxious to put it at the front door.

Great wedding gift
By
Tiffany H.

(Menasha, WI) - October 9, 2012 (
See all reviews by this customer
)
My mom ordered a doormat for me and I love it as it has our new family name on it so I ordered one for my friend's upcoming wedding. The only thing I wish they would do is make the color a little darker so it won't show as much dirt, but I liked the design of this one the most.

Nice
By
Christa R.

(Nazareth, PA) - August 1, 2012 (
See all reviews by this customer
)
I was happy with this mat. Great bridal gift for a couple who already live together and don't need anything.

Great gift
By
Shopper

(Dallas, TX) - June 26, 2012
We sent this as a housewarming gift - they loved it!

Nice Things
By
Shopper

(Wilson, NC) - June 25, 2012
I liked the print details - very nice.

Exactly what I ordered
By
Shopper

(Brea, CA) - May 21, 2012
I wished that it could have been shipped over night ( l didnt know that they don't offere it so it arrived a little late for the event) but when it go here it was exactly what I expected. Love it.

Beautiful Mat
By
Shopper

(Novato, CA) - April 10, 2012
This mat is so Pretty!! It looks great, the only reason I took one star away is because it doesn't seem very sturdy. Not sure how it will last through a winter, but its so pretty and definitely worth the price!

Really pretty doormat
By
Shopper

(Houston, TX) - April 9, 2012
The doormat came and I loved the look and font used for the personalization. The only downside I have is that since it is so light colored, I don't want anyone to clean their feet on it in fear that it will ruin it. The mat itself is nicely sized but is a little on the thin side. We've decided to use it more for show than for actual use.

Beautiful rug
By
Shopper

(amesbury, MA) - April 9, 2012
I sent this rug to my sister for her house warming gift and she loved it.

Would buy again
By
Shopper

(Brighton, MI) - April 7, 2012
I bought this as a gift for a friend who recently got married. She really liked it and thought it looked elegant. She plans to use it inside her home. I was impressed with the rubber backing. I also liked how the website allowed you to preview it with the name on it so you new exactly what you were getting. The color in reality looks just like the website. It shipped very quickly too. The only thing I would change about it is to make the colors darker. If people really used it to walk all over with shoes, dirt spots on the light color would show up and stain very easy. But a very nice product.

Doormat
By
Shopper

(selkirk, NY) - March 20, 2012
It's a beautiful doormat. Very light in color and gets dirty quickly, so not recommended for high traffic area. It's smaller than I thought it would be but it looks great in my breezeway. Perfect warm weather doormat. Not thick, more decorative. Looks great!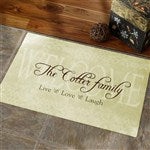 It was a gift.
By
Shopper

(Wellsville, NY) - March 2, 2012
This was a gift. They had never seen anything like it and they enjoyed it very much.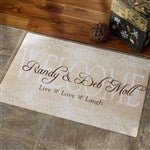 Great personalized Gtft
By
Shopper

(Lindstrom, MN) - February 19, 2012
The personalized doormat is a great gift for the money. I will
definitly use personalization Mall for future gifts.

Nice Mat
By
Andrea H.

(Staten Island, NY) - February 10, 2012 (
See all reviews by this customer
)
The mat is nice, a little small then expected. But good quality (and nonslip).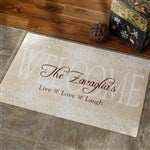 Love them
By
Matt B.

(Tempe, AZ) - January 2, 2012 (
See all reviews by this customer
)
I have these for my beach home in Mexico.I wish they were bigger but they're real nice.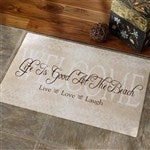 Family Gift
By
Shopper

(Aiken, SC) - January 1, 2012
Sent this to my family member who had just remodeled their home and they loved it. It looked exactly as promised on your website. Thank You.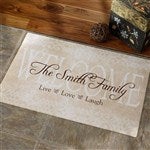 Great Product - Colour Is Deceiving Though
By
Shopper

(Canada) - December 30, 2011
I ordered this product and had it sent to a friend as a Christmas present so I didn't get a chance to see it beforehand. I saw a photo of it afterwards. The product turned out great, but when I ordered it I believed that it was beige. Turns out it's a light pink :( So just a heads up to those who order it, especially if you are trying to go with a neutral colour. Perhaps the colour should be in the item description.

The Personalized Family Name Doormat (Wall Hanging)
By
Shopper

(SEAT PLEASANT, MD) - December 28, 2011
I purchased this for my home because I had purchased a similiar one for my daughter and son in-law and they loved it. When it arrived, I realized right then that it was much too pretty to be stepped on. So..it will be mounted on a wall in the entryway of our home.It serves as a lovely focal point and casts a warm feeling with its' WELCOME in the background in addition to the "Live, Love, Laugh" at the bottom which is our family's main "mantra"... Two thumbs up for a great product that led to an even greater decorative idea !!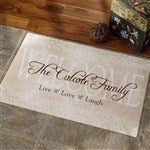 Very very nice!
By
Jackie D.

(Petersburg, KY) - December 27, 2011 (
See all reviews by this customer
)
I purchased this as a gift for my brother and family for Christmas! They loved it!

looks very nice
By
Shopper

(windham, ME) - December 25, 2011
We bought 3 of these mats for Christmas gifts. There look beautiful but are more decorative then functional. If you are looking for a mat to wipe feet on then you may not want this. It's really to nice looking anyway to wipe dirty feet on. However, if you want one that is great looking to go in a front door then this is it. We would buy then again for sure! The only reason I didn't give it 5 stars is just because I wouldn't use them as an everyday foot wiping mat.