Great stamp
By
Emma C.

(Ruston, LA) - April 15, 2013 (
See all reviews by this customer
)
I love our stamper. Gave it 4 stars because the self-inking function sometimes needs some priming and doesn't stamp clearly the first time, but other than that it's great. Would probably just opt for a regular stamp next time instead of self-inking. Lovely design and well-made!

Cute
By
Catherine K.

(PITTSBURGH, PA) - January 19, 2013 (
See all reviews by this customer
)
I definitely like this stamper better than any of the labels I've ever purchased and I've purchased my fair share. The only problem is that half of the stamper seems to pick up more ink so one side is darker on paper. It's not that big of a problem now, but I'm curious to see what'll look like when the ink starts to go. Still, I'm happy with my purchase.

Giant Initial
By
Shopper

(Saint Simons Island, GA) - December 13, 2012
Everything was correct but somehow I didn't realize how large it would be! The initial is huge! Wish I had known that. Maybe they could show how it would look size-wise next to a standard postage stamp in the ad! They showed an ink pen next to it, maybe a ruler would have been better.
Service was quick though.

Good buy
By
Shopper

(Bourbonnais, IL) - August 2, 2012
Great look to it. Only complaint I would have is that some parts show darker than others. Just a tad uneven, but not illegible. Not sure if its a design flaw or I haven't found the accurate way to press down. I would still buy it.

Pretty good
By
Shopper

(Bethel, NC) - July 31, 2012
I was pretty pleased with the address stamper I ordered. It came very quickly (which was very nice). The only problem is that the stamp ink was not even all the way around the stamp. I gave it as a wedding gift so I didn't want to use it too many times before giving it. Maybe it will get better with use.

Decent rubber stamp
By
Shopper

(Houston, TX) - January 11, 2012
It's hard to get the perfect stamp out of it (i.e. all letters come out in black and you can read the whole address) but for the price i didn't expect perfect. good deal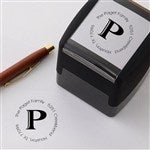 Very nice stamp
By
Lauren F.

(Bay Shore, NY) - August 27, 2011 (
See all reviews by this customer
)
I was looking for a stamp just like this and it is great. Shipped and rec'd quickly. My only complaint is that there were no other font choices. I would have liked the option to choose something less casual for the name and address portion of the stamp.

Love it - but be gentle.
By
Shopper

(Sterling, VA) - July 25, 2011
I love this stamp. It looks elegant and stamps very clear and nice when you stamp it gently. If you push hard or hold it too long it is blurry and messy. I like it's compact size and case, so I can toss it in my stationery basket and not worry about marking everything up. Great Buy!! Well worth it!

Perfect for our wedding invitations!
By
Stephanie O.

(Tucker, GA) - January 26, 2011 (
See all reviews by this customer
)
This saved SO much time, and it was easy to use. The paper insert at the top of the stamp was upside down, so make sure to check before you stamp your envelope....also, I found that the pressure had to be even in order to get a "good" stamp. Overall, we are really pleased with the way they looked on the back of our wedding invitations. Now my mom has a nice to stamp to use for everyday mailing!

Great product!
By
Jessica F.

(Los Angeles, CA) - December 31, 2010 (
See all reviews by this customer
)
I bought this as a gift for a new home owner, and they loved it. I just wish the letters in the circle weren't upside down. Great, quality product though!