A Nice Piece
By
Brandon C.

(Madison, WI) - September 20, 2014 (
See all reviews by this customer
)
My wife loved this piece! The main reason being that it is our 'wedding quote' on the back. It's heavier than I expected which is good as well.

Nice piece, but too small
By
michael D.

(finksburg, MD) - August 31, 2013 (
See all reviews by this customer
)
Nicely done piece but too small to set on a table and the text of the verse is so small it is very hard to read.

Item lovely-needs a stand
By
Shopper

(Mishawaka, IN) - March 23, 2013
The sculpture is a beautiful keepsake. I purchased it knowing that it came without a stand--thinking I could pick up an ornate easel or stand of some sort for display and safety purposes. I have searched all the local stores and on-line and have not been able to find an easel or stand that fits properly. Without a stand it's more like a large paperweight instead of the beautiful display piece that it is. Pity.

Great wedding item!
By
Shopper

(Minot, ND) - October 29, 2012
Loved this item! We used it for a wedding gift! It was a bit smaller than I would've liked, but otherwise perfect! I would love to order same item a couple of inches bigger.
Thanks!!

Arrived in time stated
By
Shopper

(Powell, WY) - September 3, 2012
The lovely sculpture arrived looking great -- and in the time frame advertised!

Background Bible text script is a difficult one to read.
By
Shopper

(Meade, KS) - July 29, 2012
Ordered this for my sister's Golden wedding Anniversary. Service was outstanding and item was received on time. Everythin was as advertised. Wonderful idea. Will find out Saturday how she likes it! Thank you for your prompt attention!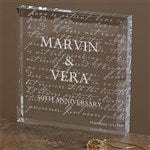 Beautiful
By
Shopper

(Chesapeake Beach, MD) - June 10, 2012
This reading was read by the bride's dad at her wedding. Perfect and beautiful gift to the bride and groom from her father.

Nice Gift
By
Gloria S.

(Levittown, NY) - May 7, 2012 (
See all reviews by this customer
)
This is a truly unique gift and it makes a nice presentation. This is the second time I ordered this as a gift.

Needs Holder
By
Shopper

(Nelsonville, OH) - May 1, 2012
Really loved the sculpture, but wish it would have came with a holder to help hold it up better.

Lovely sculpture
By
Danielle P.

(Philadelphia, PA) - October 17, 2011 (
See all reviews by this customer
)
It's a lovely sculpture and I was quite pleased with it. Pay attention to the dimensions given so you know what size it will be as it is not large. It was well-wrapped and there were no blemishes when I received it.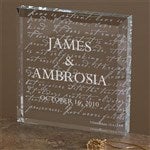 Very Nice!
By
Kaitlin N.

(Wauconda, IL) - October 11, 2011 (
See all reviews by this customer
)
I guess I didn't look at the actual size before I ordered...Though it is small it is very beautiful! The couple adored this gift!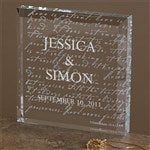 Beautiful
By
Sheryl J.

(Vero Beach, FL) - August 15, 2011 (
See all reviews by this customer
)
This turned out just as described. I just wish there was a little note letting people know that you get the full effect of the prism feature by putting in in a sunny spot. We used standard shipping and the item came very quickly. We were pleased and will use this company again.

Beautiful!
By
Tracie W.

(McDonald, TN) - October 26, 2010 (
See all reviews by this customer
)
This is a great topper! Only issue I have is names of bride and groom were not as bold as picture. They don't stand out very much. Still very pleased!

Great wedding gift
By
Kameron T.

(Boynton Beach , FL) - September 14, 2010 (
See all reviews by this customer
)
Very pleased with the gift. We got it very fast after ordering. The piece is beautiful. Thought it would be a little thicker but it is very nice. Great gift to give as a keepsake and something that would be very attractive setting out over the years.

Love is Patient
By
Andrea K.

(Overland Park, KS) - August 16, 2010 (
See all reviews by this customer
)
Beautiful memento for a wedding or anniversary gift. Good quality. Only negative is that the writing on the back is a bit tricky to read due to the size and font. However, I purchased the crystal sculpture knowing this. I would purchase this item again as a gift.

Beautiful!
By
Kason F.

(Clarksville, TN) - June 16, 2010 (
See all reviews by this customer
)
This came quickly in the mail (a week at most I think) and it is a perfect gift for my mother (I'm the groom) as my father received the same thing as my groomsmen. Very nice artwork!

product
By
Jodi Z.

(mount gilead, OH) - October 7, 2009 (
See all reviews by this customer
)
well it is very pretty -does look like the picture however its much smaller than i thought it would be and has no stand at all-weird huh???