Great gift..very nice quality..proud to give it as a gift
By
linda V.

(Seabrook, NH) - September 23, 2014 (
See all reviews by this customer
)
Bought one, loved it and then decided to give it as a gift as well ...so I ordered 2 more..used it as a way to announce that our son and daughter-in-law are expecting. We have already received many compliments...

a shower gift
By
Shopper

(Durand, MI) - July 4, 2014
The shower has yet to happen, so do not know how the recipient will like it. I thought it was very nice, as is anything I have ever purchased on your site. I have given many gifts from your site - always very pleased.

Damage Frame
By
Shopper

(Meraux, LA) - June 13, 2014
I have ordered several things from Personalization Mall over the past few years but this time my frame was damaged on the back of the frame in one of the corners.

Perfect Present
By
Shopper

(Baltimore, MD) - April 7, 2014
This is very pretty. I got it as a gift for my brother & his wife for Christmas, from my children to their aunt & uncle. They loved it!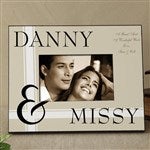 Very satisfied
By
Danielle M.

(Scarsdale, NY) - February 14, 2014 (
See all reviews by this customer
)
The frame arrived in the mail very quickly and looked just like the photo. It appears to be good quality.

Good frame
By
Melissa F.

(Otsego, MN) - October 20, 2013 (
See all reviews by this customer
)
I'm pleased with the frame. I never doubt I will be with this website. However, I will say I was disappointed in shopping. The wedding I purchased for was a gay wedding. Now not to make a political comment, but most frames are predesigned for husband & wife. Maybe this can be an option verses predesigned. Gay marriage is legal in my state and this was the second time I had to search through the limited options to find a frame that would work. (I always buy personalizationmall frames as wedding gifts, because they're awesome!)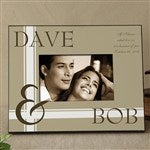 Frame
By
Shana B.

(Frisco, TX) - July 14, 2013 (
See all reviews by this customer
)
Happy with product and shipped on time. Great gift! Color was just slightly different from my expectation but I only saw it in my moms iPhone pic...could be her phone.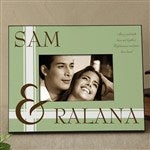 Very happy that I've found this item
By
Shopper

(McLean, VA) - June 18, 2013
This is my 4th purchase of this same item. Many weddings this season and this item makes a great wedding gift along with a check. Two of my weddings this summer are overseas and it was easy to mail them in the boxes in which they arrived saving me time and money.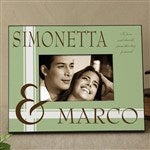 Great wedding shower gift
By
Kerri S.

(Morris, IL) - January 13, 2013 (
See all reviews by this customer
)
Purchased this for a recent wedding shower gift. The quality was very nice, and a very sturdy frame. It had a gloss finish over it, which made it look like it was good quality. A bought the brown/chocolate color. I like it, but wonder if the beige would have looked a little classier. It was at a great price, and the bride-to-be loved it.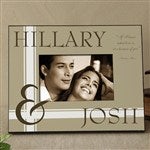 Exactly what i ordered
By
Shopper

(Fountain Valley, CA) - December 17, 2012
The title said it all, even though i hope the personalized letters and names would be engraved instead of printed, but then again...couldn't ask for much at that price. I am satisfy with this purchase. =)

Looks Good
By
Julia H.

(Randolph, VT) - September 4, 2012 (
See all reviews by this customer
)
This frame is good. it came exactly as i ordered it.

Picture Perfect!
By
Shopper

(Monroeville, PA) - July 30, 2012
I love this frame but I wasn't too impressed with the color I chose. Overall the frame itself is of good quality and well worth the $$...I highly recommend it!

Love the frame
By
Shopper

(Wilmington, OH) - February 27, 2012
The frame is beautiful. I ordered it for an anniversary gift and it is perfect. Shipping was extremely fast! Product is reasonably priced. Would recommend this frame to anyone.

Absolutely perfect!
By
Shopper

(Johnson City, TN) - February 12, 2012
I bought this to gift to my partner for our anniversary. It's perfect! It is beautifully made, and I can't wait to give it to him.

personalized frame
By
Shopper

(Dakota Dunes, SD) - November 1, 2011
Great frame, however, the color was more yellow than beige.

Great anniversary gift!
By
Shopper

(Paramus, NJ) - October 25, 2011
Bought this for my brother and sister-in-law for their anniversary. Nice touch that they can personalize it. Would definetly recommend!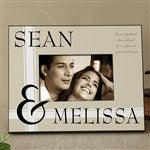 Nice gift
By
Melissa W.

(Centralia, IL) - October 3, 2011 (
See all reviews by this customer
)
This was my first purchase from PersonalizationMall.com and it won't be my last! I bought this frame as a bridal shower gift and was pleased with the quality for such a small price. I gave it 4 stars because I ordered the frame in beige, but found it to be more yellow than beige. All in all, I'm satisfied with my order and look forward to ordering from them again.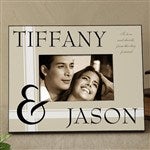 Great Purchase/Great Price
By
Shopper

(Washington, DC) - September 1, 2011
The frame looked great! I really liked the fact that you could add your own saying on the frame. Great quality especially for the price!

Great Wedding Gift
By
Amber B.

(Baden, PA) - August 25, 2011 (
See all reviews by this customer
)
Great Wedding gift.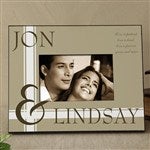 great gifts
By
Shopper

(Turtle Lake, ND) - March 11, 2011
The personalized frame is beautiful! It arrived promptly and in perfect condition.

Reasonable and Personable
By
S H.

(Wayne, PA) - February 8, 2011 (
See all reviews by this customer
)
It's always refreshing to receive a personalized gift. This frame's quality is good and it is very reasonable--a great combination. I would definitely order it again.

Picture frame
By
Carol W.

(Goodridge, MN) - January 17, 2011 (
See all reviews by this customer
)
I bought this picture frame for my godchild and her fiance for an engagement present. I thought the frame was done nicely, and my godchild and her fiance really liked the gift. I would recommend this personalized frame or any other frame from this company.

Very Nice Quality Frame, but slightly disappointed with the Personalization
By
Tara B.

(Jenks, OK) - July 5, 2010 (
See all reviews by this customer
)
The frame was great! Nice bright color, just as described. The personalized names were also nice and big...very nice. However, the personalized wording in the upper right corner wasn't centered as it looks in demo. I ordered two frames, with two different sayings, same prob with BOTH frames. I am very type A so this is extremely bothersome to me. I am giving it as a gift and I hate that it doesn't look perfect. Overall, I think that the couple I am giving the frame to probably won't notice that its not perfect, but the thought and meaning of what it says they will love.

Nice and Unique
By
Lisa T.

(Gaithersburg, MD) - June 16, 2010 (
See all reviews by this customer
)
I purchased two different frames. They are heavy duty and well made. The personalization of the names look professional. I especially like that I could create my own verse. I gave these for an engagement party gift.

Beautiful frame
By
Andrea D.

(south windsor, CT) - May 25, 2010 (
See all reviews by this customer
)
Love the frame - it came out beautiful. Only wish that you could choose the color of the font. I would have done gone with a black font.

Love this frame!
By
Alicia C.

(Leicester, NC) - May 6, 2010 (
See all reviews by this customer
)
I bought this frame for our wedding photo and am very pleased with it. Obviously, I was able to put both our names on it, and in the other section I included a line from the song from our first dance. My husband loves the frame as well. It was tough to choose among the colors as I liked most of them. My only request would be that Personalization Mall give a couple of font options as the script in the upper right corner is rather frilly. I would have given it a "5" if there had been other font options!

Beautiful
By
Kathryn B.

(Fall River, MA) - March 20, 2010 (
See all reviews by this customer
)
The frame is beautifully done. Very fast shipping. The quality is excellent with a glossy finish. It looks more expensive than what I paid. I do wish that the names were not all in capitals but I understood that before I made the purchase.

Personalized Picture Frame
By
Nalini B.

(Canada) - February 15, 2010 (
See all reviews by this customer
)
The personalization and shipping was fast! The quality was superb, however the frame is a lot larger than it appears in the photograph above. Also, the font for the names is too large and can only be printed in CAPS.

First Time User
By
Georgina M.

(Hialeah, FL) - February 12, 2010 (
See all reviews by this customer
)
I was a bit nervous of ordering since it was my first time. When I received my order I was very satisfied with the outcome. I will be ordering from you guys again.

To Love You Frame
By
Rachel R.

(Lafayette, LA) - January 22, 2010 (
See all reviews by this customer
)
This product is great. I am very pleased with the quality and price. On the other hand, I ordered early on Thursday and payed for next day shipping in hopes that it would arrive by Saturday. My item did not arrive until Monday night. I would have liked to know that there was no chance the item would arrive in time before I payed almost $30 for shipping.

Great Frame!
By
Anna K.

(Yonkers, NY) - January 21, 2010 (
See all reviews by this customer
)
Needed something that would explain how i felt without being cheesy and with as little words as possible. Chose this frame in khaki, and used one of the quotes on the site. The only thing I didn't like was that it is not exactly what i call khaki, it almost has a green tint to the color as opposed to a more brownish color. But i still think it's great and for this price, can beat it. Standard Shipping was quick and painless.

Well-made frame
By
Nancy N.

(Hillsborough, NJ) - January 11, 2010 (
See all reviews by this customer
)
I got this as a gift for a new couple, and I was very happy with the quality of the frame, the color scheme, and the size of the personalization. The style of the font and colors make this frame classy and complements contemporary home decor.

Love the style and idea.
By
Deborah L.

(Cicero, NY) - January 4, 2010 (
See all reviews by this customer
)
I love the frame and plan to give it to the newlyweds but I have contacted customer service because the verse was printed too close to the edge of the frame to the right. I am working with them to correct the problem and have every confidence they will. I have used this company many times in the past for gifts and have been very pleased with the quality.
Debbie - NY

Memories
By
Michelle B.

(Canada) - October 9, 2009 (
See all reviews by this customer
)
We love the picture frame. Everytime we look at it with the picture in it we are always reminded of our wonderful honeymoon.

Thanks