Nice Gift
By
Shopper

(Franklin, TN) - June 11, 2014
I am happy with my selection for the Father's day gift.
Picture clear and what I expected.

Great gift for Grand-dads
By
Shopper

(Baltimore, MD) - December 26, 2013
Grandpa was so happy when the kids gave him the tie for christmas!
The first tie we bought online from a major chain store was returned.

Father's Day tie
By
Shopper

(middle island, NY) - June 18, 2013
My husband loved the tie. Tie is good quality and the photo looks great.


Color not true
By
Pat A.

(New Paltz, NY) - May 28, 2013 (
See all reviews by this customer
)
Color of picture of black/white cat was more purple than black on product. Other than that product is okay, although needs a better descrption of silk to include the word, " Glossy".

Such a cute gift for a grandpa
By
Shopper

(Providence, RI) - December 22, 2012
I am giving this photo tie gift to a very proud grandpa. The price was good and I was able to preview the tie before I made my purchase.

I would def recommend this!

Photo tie
By
Shopper

(Scottsville, VA) - December 22, 2012
I was pleased with the quality. Very nice!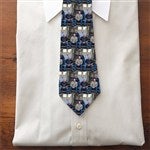 Fun & Personal
By
Shopper

(Centerville, UT) - July 3, 2012
This was so fun! We still haven't given it to Grandpa yet, but we're excited for when we do. My three kids love that they are on Grandpa's tie, and I was amazed at how quickly the tie came in the mail.

A Kissable, Sweet Gift
By
Sarah S.

(Erie, PA) - January 6, 2012 (
See all reviews by this customer
)
My husband proudly wore the personalized photo tie of our newborn son to work and his colleagues loved it! Some were even trying to kiss our son's photos on the tie! Wonderful that you can see exactly how the tie will look on your website before ordering. I recommend that customers submit a photo with a solid-colored background (put a colored bed sheet behind your subject(s) before photographing) which will give the tie color and make the subject(s) stand out. This is a fun and unique gift!

Ties
By
Jennifer S.

(Chesterfield, VA) - January 1, 2012 (
See all reviews by this customer
)
I loved the ties. We gave each grandfather one for Christmas. My only suggestion would be to offer another color for the back of the tie. White stands out when the tie is tied.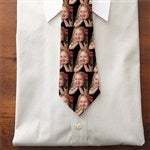 Very Impressed
By
Shopper

(Saint Ansgar, IA) - December 26, 2011
We were very impressed with the quality of the tie and it was a big hit at Christmas. I only gave it 4 stars due to the fact that it was ordered on the 6th of December and didn't arrive until the 20th. However, PM did refund me the shipping charges, so I am happy with that as well. Just a word of caution if you need this quickly, contact PM about shipping times...

Great tie!
By
Shopper

(Aurora, CO) - December 23, 2011
The tie turned out wonderful with the picture I used. High quality for a good price, but I dislike that the back of the tie is automatically white.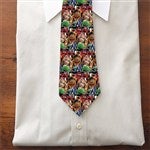 I love neck ties !
By
Shopper

(lousiville, KY) - December 21, 2011
I love this item. The pruchasing process was easy and quick. I received my order on time , which is a major plus since its so close to the holidays. I was pleased with the item and I know my dad will love it. The omly problem is I wish they would have used a black tie instead of the white. This item is totally worth it.

Beautiful!
By
VALERIE H.

(yukon, OK) - December 14, 2011 (
See all reviews by this customer
)
My dad will love the pic of his grandbaby on his tie. It is printed on a white silk type background, so the tie itself is white, then the front is printed with your pix. Mke sure you choose a pic with intense colors. The tie has it faded just a tiny bit.

Love the tie
By
Shopper

(Cushing , OK) - December 12, 2011
My husband belongs to our local Lions Club so the photo that I took of this lion on our trip to Africa seemed perfect for the tie. I perdict he will want more with his own photos on it once he sees this one. Thanks.

Wonderful
By
Shopper

(Canada) - October 21, 2011
I ordered two of these ties, one in lighter colors and one in darker colors. While they were both great, the darker colors were more vivid and suiting to this item. My husband just loves wearing these at his work, as the school kids get a kick out of seeing his children on his tie and reminding them that they don't lock teachers up in a closet when the school day is completed.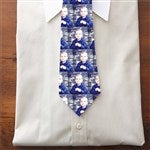 great- hard to upload picture
By
Shopper

(Taftville, CT) - October 8, 2011
it kept telling me the picture was no good and what the measurements had to be to work. and i'd resize it to those measurements and it still wouldn't work! i almost gave up but then a friend somehow figured it out for me. once that was done, it ended up coming out great!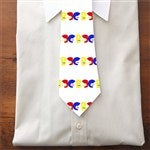 Personalized tie
By
Shopper

(South St. Paul, MN) - October 3, 2011
Nice fabric, great picture. The only surprise was that the back and edge of the tie is white. If I had looked closely at the "loop" in the picture I would have seen that.

Dad loved it. Color came out well.
By
Fatima C.

(Marion , AL) - September 27, 2011 (
See all reviews by this customer
)
Purchased tie for my fathers birthday. I was out of state and not able to see it, but he said it was beautiful and the color came out really well (something I was concerned about).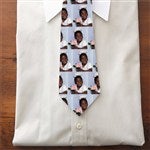 Tongue tied
By
Shopper

(Irving, TX) - June 21, 2011
Very Bright and Vibrant picture display. Wish the photos were on front and back of tie surface though.

Love it!
By
Shopper

(Fredericksburg, VA) - June 19, 2011
I love how this turned out. I was unsure how clear the pictures would be, but it was great. I don't love how the back of the tie is white, but the front is amazing!

Cute
By
Paula W.

(Fayetteville, TN) - June 17, 2011 (
See all reviews by this customer
)
Love the tie and can't wait to give it to my dad for Father's Day with his grandson's picture on it. Such a cute idea. Wish the tie material itself was of a better quality, but still a nice item.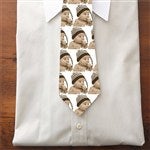 So cute
By
Shopper

(Mason, OH) - June 16, 2011
I think that if the back of the tie were black that would look better, but it's probably not easy to do since the tie needs to be white in order to print the picture onto it.

Awesome! Very well done--looks great!
By
Shopper

(Manassas, VA) - June 4, 2011
Great quality--well done!!! However, I do wish that the tie came in longer lengths. Thank you.

Lovely gift item
By
Shopper

(Alpharetta, GA) - May 31, 2011
At first I thought this gift might be a little corny, but he absolutely loved it! I would have liked more color choices and/or fabrics, but in the end the print probably showed up best on the white satin. If you are having doubts about purchasing this item I think you'll be pleasantly surprised!


Love it with one miinor flaw
By
john A.

(huber heights, OH) - March 13, 2011 (
See all reviews by this customer
)
Tie is great. Pictures look great and everyone loves it. I think it would be a 5 if the print was all over the tie. I can see white edges on both sides; it is really bad on the knot.

personalized mens tie
By
Rachel W.

(Springfield, OR) - January 14, 2011 (
See all reviews by this customer
)
I ordered 2 ties for my coworkers. I uploaded a company logo phrase. The quality came out pretty good and the tie is thin compared to some synthetic ties which they liked. They actually loved the ties and wear them to company meetings. Good product for price.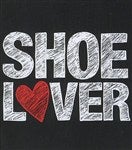 100% quality!
By
Clary D.

(Fremont, CA) - December 28, 2010 (
See all reviews by this customer
)
I'm totally satisfied with the product! The picture was clear, the tie is of excellent quality, the colors (from the picture) were true to original, great!!! How to make it better? The back of the tie is white. I wasn't expecting that for some reason. It would be nice if the back were a matching neutral color, black, navy, red. But I'm still happy with the product.

Nice looking tie
By
Tessa B.

(Sparks, NV) - December 28, 2010 (
See all reviews by this customer
)
This was a Christmas present. Looks really nice. Some minor issues things to think about. The images are put on a white tie and some of that white edge is visible when worn. So wear it with a white shirt and then it does not matter. Also my husband is tall and the tie was a couple of inches shorter than his other ties (I would have paid a few dollars more for a longer tie). Again this is not a big deal but he had to tie it differently. Overall I would definitely buy it again and everyone that sees it wants to know where we got it done.

Good!
By
JESUS U.

(ONTARIO, CA) - December 23, 2010 (
See all reviews by this customer
)
Great Gift, Tie Quality was great, but picture color was changed from grey to green, Sad!

love my tie!
By
Jon P.

(Laingsburg, MI) - December 18, 2010 (
See all reviews by this customer
)
The quality of the image printed on the tie is excellent. And I like the satin finish, giving the tie a quality look. A minor negative is that the back of the tie is white, and the edge of the white may "peek" around to the front if the tie is not tied properly. But this is really no big deal...

Personalized Tie
By
Lisa S.

(Little Elm, TX) - December 10, 2010 (
See all reviews by this customer
)
I ordered a personalized tie with a picture of our senior graduating class as a gift for our school superintendent. It arrived within 6 days and overall, I'm pleased. The picture looked great and the colors were vivid. I do wish that I could have chosen a color for the tie, as the only option was white. I plan to use this website again.

personalized tie
By
barbara B.

(cherry hill, NJ) - November 30, 2010 (
See all reviews by this customer
)
The tie looks pretty good. picture is good quality. my only complaint is that the tie has dark colors and the underside of the tie is bright whitel

4 1/2 stars
By
brenna H.

(palm harbor, FL) - August 26, 2010 (
See all reviews by this customer
)
We bought this for my father with pics of his grandson. Like others mentioned, it is high quality. The reason I gave it a little less than five stars is when you get it you will notice only one or two pictures on the whole tie are full pictures. The rest are cut off... it seems that the dimensions of the pictures should be larger or smaller to combat this. But a nice gift.

photo collage tie
By
kirstin V.

(murrysville, PA) - June 28, 2010 (
See all reviews by this customer
)
This tie was so easy to make. I just uploaded the photo and chose "tile" for hte pattern. It made a great gift for my husband. The only draw back is that the back of the tie is white. It looks a little tacky. It would be nice if they continued the pattern onto the back of the tie rather than leave it white.

Cute Gift
By
Stephanie M.

(Yonkers, NY) - June 9, 2010 (
See all reviews by this customer
)
I ordered this tie for my husband for father's day. The process to upload the image was easy and the product itself is very nice. The tie is silky and the photo on it appears exactly as it did during the ordering process.

Great display of grand-children's art
By
Joann F.

(Holmdel, NJ) - February 23, 2010 (
See all reviews by this customer
)
The quality of this tie is great! My husband wears ties daily. As a gift I used my grand-daughters art to personalize this tie. He was so excited.
I have tried this with other polyester ties, it didn't work. I give this tie 4 stars. It would have 5 if the back of the tie were not blank.

mixed feelings
By
aubree D.

(englewood, FL) - February 11, 2010 (
See all reviews by this customer
)
I was very happy with the price and the cropping tools for this picture tie. I was also pleased with the shipping time and cost.
After receiving my tie I was disappointed in the color of the photo, being very washed out. I then contacted customer service and they pointed out that the picture I chose had a lot of white in it and being placed on a white tie that this could happen. The lady I spoke with was very polite and had me email her a new picture and she told me she would send me a new tie. After being disappointed with the color of the tie I was happy to be taken such good care of with customer service and the replacement of the tie. I still enjoy personalizationmall.com and will use them again in the future!