1st Mother's Day
By
Umesh S.

(West Orange, NJ) - May 20, 2013 (
See all reviews by this customer
)
This locket was a gift for my wife on on her 1st Mother's day. The quality is nice and a decent size for a key chain. The engraving came out pretty good... only "1st" was smaller than i expected.

This product was a good deal. Save yourself shipping cost by ordering earlier than you need it... otherwise you'll pay a lot to overnight it.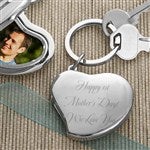 Needs instructions
By
Shopper

(Fulda, MN) - December 18, 2012
I love the locket, but it should have instructions or something to tell you how to insert the pictures because for the life of me, I can't get the framing off. It would be nice if it also came with a template to trace over a picture so you can cut it out and have the picture fit properly. Kinda disappointed with that aspect of the locket, but otherwise I'm satisfied with how it turned out. Thanks.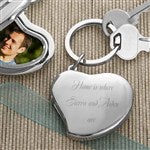 Great Keychain
By
Shopper

(Amelia, VA) - August 31, 2012
The locket is pretty heavy and the latch is tight enough that it isn't likely to pop open easily. I liked that you could put a picture that you could see, not like some that are so small you can hardly make out who it is. I would have liked the writing on the outside to be thicker, the locket is super shiny so it makes it harder to read it.

Beautiful, Heavy, but frames slightly flimsy
By
Shopper

(Palm Harbor, FL) - April 28, 2012
This locket is very beautiful, looks high quality, and fingerprints are subtle. I love the engraving and the photos inside, and although some have commented that it is too heavy, I think that the weight enhances the quality. My only negative is that the frames are a little flimsy, and I had difficulty getting the one on the right to stay in. Following another reviewer's advice, however, I slightly bent the frame to be a little more concave, and now it stays in fine. My Mom will love it!!

Great stuff -- suggest not to include the DIY packaging
By
Shopper

(Brookline, MA) - December 20, 2011
My friend loved it and I found it very pretty and nicely engraved. Stay away from the DIY packaging -- the boxe looks very poorly made, and it turned out to be a waste of money.

Very Nice
By
Daniel T.

(Grass Valley, CA) - December 17, 2011 (
See all reviews by this customer
)
Good quality, nice gift, easy to put pictures in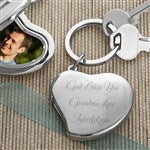 Good product feels solid
By
Shopper

(san diego, CA) - December 11, 2011
Good product, looks very nice. Does not open easily which is good seeing how it is a key chain ring so it wont just be opening up anytime it wants. Size is great and also picture space inside is made well. Good product just a bit pricey for what it is to me thats why 4 stars. Overall very satisfied with the product.

Very happy
By
Kristin V.

(Matthews, NC) - November 14, 2011 (
See all reviews by this customer
)
great gift for the mom friend I got it for. She's very happy.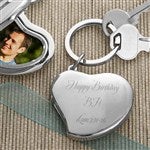 Great Product
By
Jamie N.

(Lincoln, IL) - July 30, 2011 (
See all reviews by this customer
)
great product timely shipping and well wrapped... thanks soo much!

Pretty Great Father's Day Gift
By
Shopper

(Lexington, KY) - June 15, 2011
I was completely satisfied with the quality of the gift EXCEPT for the writing on the outisde of the locket; it looked a little rushed. Not all of the engraving just some on the first line where it said *Dad it seemed like that could have been a little cleaner and at the bottom. I did not have time to really send it back so I didn't. But other than that, shipping was timely; the locket is very nice for the price and to be able to get it engraved; priceless! I put a picture of the children in it for one of my friends who is a father away from his kids right now and I KNOW he will absolutely adore having them close on his key chain, can't wait to give it to him Sunday! Thank you!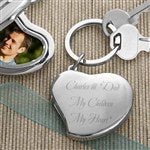 Lovely gift item
By
Sandra R.

(Wayne, NJ) - June 10, 2010 (
See all reviews by this customer
)
The key chain was nicely engraved and was large enough to hold 2 photos. The only problem I found was that it was a bit heavy. Other than that, it is a wonderful item to give.

good for the money
By
ESHA G.

(MERRIMACK,, NH) - May 11, 2010 (
See all reviews by this customer
)
good

Great Quality and service
By
Mounika E.

(denver, CO) - February 17, 2010 (
See all reviews by this customer
)
This is my first gift to my husband.It is just how I wanted it to be.good quality and enough space for photos.Bit heavy!!!


Nice present
By
Kateryna V.

(westchester, IL) - February 13, 2010 (
See all reviews by this customer
)
I loved the heart locket, however, it's a little bit too big, but then again if you make it smaller, photos inside won't look as nice. I bought this for my husband but I think it would be a better present for woman :)

nice looking
By
Stephanie B.

(Canada) - February 13, 2010 (
See all reviews by this customer
)
This key chain is beautiful but a little too big, still is nice and comes in a jewellery bag which makes it classy

heart key ring
By
Ethel L.

(San Antonio, TX) - December 25, 2009 (
See all reviews by this customer
)
Loved the locket but was just a little heavy. The engraving was very clear and think the recipient will love it. Just worry that it may put a little strain on the key ignition.

Great Quality
By
Jennifer J.

(Riverton, IL) - December 14, 2009 (
See all reviews by this customer
)
Was very impressed with my purchase! The engraving was impeccable!