Great Gift for a Friend's Retirement
By
Shopper

(Spencer, TN) - September 17, 2013
I love the saying on the Afghan, was a little disappointed in the quality of the material, seemed to be very thin to have been advertised as two layers. Overall I think our friend will be delighted with her gift.

Better Quality Control Needed
By
Cheri T.

(Ewing, NJ) - June 17, 2013 (
See all reviews by this customer
)
I love the afghan but it appears that the quality control is lacking. When I entered my retirement date with slashes they appeared longer when I previewed. When the item arrived the slash was the same height as the 1 in the "13" for the year which made the date look a little off. I should have used dashes instead but this is where QC could have called and recommended this based on their experience. Nonetheless, customer service was receptive to looking at the item to determine if it warranted correction. I would buy this again knowing not to use slashes in the date.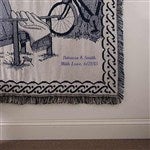 Great Surprise Gift!!
By
Shopper

(Converse, TX) - December 19, 2012
I bought it for a retirement gift, She loved it and was proud to display it. The writing for the personalization area is small but it is beautiful.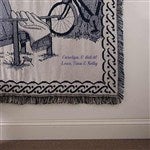 Great gift!
By
Tammy D.

(Emporia, VA) - October 27, 2012 (
See all reviews by this customer
)
Very fast shipping! Great gift. The recipient loved the personalization and quality. She couldn't stop hugging and thanking me. Huge afghan!

A GIFT FOR A GREAT BOSS!!
By
Saundra T.

(Pittsburgh, PA) - April 21, 2012 (
See all reviews by this customer
)
NICE SIZE, COULD BE A LITTLE SOFTER FOR CUDDLING, HOWEVER PERFECT FOR HANGING OR AS A THROW, AND FAST SERVICE WITH STANDARD DELIVERY. SOMETHING DIFFERENT AS A GIFT.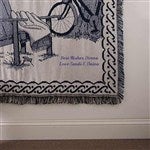 Product Features
By
Shopper

(Vienna, VA) - January 31, 2012
I liked everything about the afghan. It would be beneficial if the afhgan was woven more tightly.

Loved It!
By
Shopper

(Midwest City, OK) - December 28, 2011
My friend who retired has thanked me many times over for it. She just loves it.

product quality
By
Shopper

(Hamburg, NJ) - June 26, 2011
The retirement afghan is really nice - good quality - the person I got this forjust loved it. a beautiful saying & also very useful. also, theshipping service is great! received this within 2 days of placng my order!! awesome!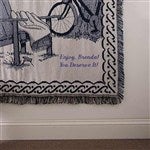 Pleased
By
Shopper

(Fort Mill, SC) - June 7, 2011
Very pleased with the item and it arrived so quickly, I could not believe I got it so fast.

Wonderful Retirement Gift!
By
Shopper

(San Diego, CA) - May 15, 2011
I have purchased these for retirees in previous years and am so glad that the throw is still available. Everyone loves it!
The throw is well made and has such great sentiment when personalized.

perfect
By
Sue D.

(Citrus Heights, CA) - September 28, 2010 (
See all reviews by this customer
)
I have purchased items from you before and this was the first place I thought of when I heard about a colleague who was leaving. I am very happy with this item and the speed with which it was delivered. I believe my colleague will get a lot of pleasure from it.

Wonderful retirement keepsake!
By
Teresa L G.

(Terre Haute, IN) - April 22, 2010 (
See all reviews by this customer
)
This reasonably priced afghan is of better-than-average quality and the personalization makes it a wonderful retirement gift.
I've ordered several items from PM and have been very impressed with everything I've received. I had my items in less than a week from the order date. I will definitely be ordering again in the future! Wonderful company!!!

Very Nice
By
Evelyn A.

(Athens, TX) - March 20, 2010 (
See all reviews by this customer
)
Our co-worker loved the afghan. It was pretty and really like the size.

Nice Gift
By
Kathleen B.

(Saint Peters, MO) - March 9, 2010 (
See all reviews by this customer
)
Nice quality for the price. Not too heavy, good all year round weight. Nice keepsake for a co-worker, friend or relative. If the lettering was in a smaller font there would be more space for personalizing.

About the "Embrace The Future Retirement Afghan"
By
Wanda C.

(Birdsnest, VA) - October 16, 2009 (
See all reviews by this customer
)
The retirement afghan was not as thick as I expected but the 2 people I purchased them for as gifts were delighted. They really loved them and that's what mattered. The personalized engraving,colors,message and picture were outstanding. If a little thicker and heavier they would have been perfect for my taste. Also would make them a better keepsake.