Puppy and Kitten Towels
By
Shopper

(Bristol, PA) - March 23, 2014
Towels arrived quickly. Love the monogramming. However, the towels need to be made of much better quality, especially, when giving them as gifts. Very Cute.

Bought this item as a baby shower gift.
By
Shopper

(Sandown, NH) - September 3, 2013
Quality of the towel was as I expected. Very soft and adorable. The wash mitt was smaller than expected and don't think it would fit on adult man's hand. Maybe it was intended for the child to use?

Puppy Love Personalized Towel and Mitt
By
Shopper

(Apache Junction, AZ) - May 10, 2013
Cute gift and will be a memory for years to follow. Quality was good.I loved the fact that I could order it a week before my nephew's 1st birthday and it was shipped and produced quickly...That will make a difference in my future orders. I will be back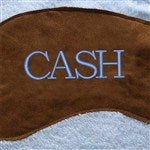 Cute baby gift--but towel is white
By
Shopper

(Montclair, NJ) - March 5, 2013
This was a gift for my new nephew. It came out super cute and arrived fast. However, I gave 4 stars because I was very surprised that it came in white. According to the picture, the towel is blue. I would have preferred blue, and while it is still cute, I think the color should be made clear in the description.

cute towel
By
Jennifer B.

(Newtown, PA) - February 4, 2012 (
See all reviews by this customer
)
Love this towel! My son received as baby a gift a few years ago and it is adorable. He uses it for bath time and at the pool. Washes nicely. It is now one of my favorite gifts to give.

Adorable
By
Shopper

(Redwood City, CA) - December 1, 2011
I bought this as a gift so I didn't get a chance to use it. By looks and feel alone, it is quite adorable and seems of quality. I like the design of the brown patches, which are of a different material than the rest of the towel, I only wonder if they are suitable for drying off a toddler. That's the only reason I didn't give it 5 stars.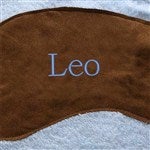 Cute gift
By
Andrea B.

(Glendale, CA) - September 25, 2011 (
See all reviews by this customer
)
Overall I am pleased with the quality and weight of the terry cloth, though for the price, I wish it was fluffier/thicker. Received it very quickly.

Adorable!
By
Shopper

(clinton, MA) - May 6, 2011
A bit on the expensive side, since theres not a lot of room for personalization (only allows enough characters for a name), but its quite large and absolutely adorable. The brown spots are a soft suede. Good quality overall.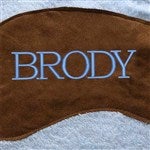 Great Size!!
By
Amanda M.

(Canada) - February 8, 2011 (
See all reviews by this customer
)
This is a gift for my friends little guys 1st birthday! It is perfect cause what else do you get a one year-old for his birthday? I am thrilled that it will fit him for a few years to come.

texture was a little rough
By
Rohini R.

(West Sacramento, CA) - November 23, 2010 (
See all reviews by this customer
)
The bathrobe is super cute and the colors are exactly how you see them in the picture. The embroidery is also very well done. The only issue I have is with the quality of the fabric. Just wish it were a little softer. Very cute though, I would gift it again.

Very Cute
By
Jena R.

(Hoboken, NJ) - November 18, 2010 (
See all reviews by this customer
)
Love the size & the quality was good too.

Very Cute!
By
Renee C.

(Abilene, TX) - October 19, 2010 (
See all reviews by this customer
)
This is very cute, the monogramming is excellent. I was a little disappointed in the quality of the towel.

Adorable Idea
By
Anna L.

(Glenview , IL) - June 9, 2010 (
See all reviews by this customer
)
Purchased for a younger ring bearer to have for longer term. Looks very cute. Agree that it is rough like any towel but give it a wash or two and I am sure it will be soft like other towels first purchased.

Great for the price!
By
Will C.

(Cramerton, NC) - March 9, 2010 (
See all reviews by this customer
)
Great looking, wonderful embroidery. Could have been a little softer, but tremendous value for the price. Would definitely buy again.

great gift
By
Melissa K.

(Chicago, IL) - February 3, 2010 (
See all reviews by this customer
)
One of my favorite gifts to give.