Gift for new Marine
By
Shopper

(Mount Crawford, VA) - December 23, 2013
Very nice piece of jewelry. Was very happy with the workmanship. Only negative comment is wish it were a little bit larger. But then again that might make it less attractive. Over all very nice.

Nice gift for anyone in the military
By
Shopper

(Land O Lakes, FL) - January 25, 2013
I was looking for something nice but portable for our marine grandson. This medallion fit the bill perfectly. It is and exact reproduction of the marine emblem and the engraved back is clear. The medallion can be carried in his pocket like a coin instead of around his neck.

Beautiful
By
Ana N.

(Union, NJ) - January 19, 2013 (
See all reviews by this customer
)
The pendant looks heavier than it really is, which is fine depending on your preference. That is the only reason I didn't rate this 5 stars. The edges of the pendant and a part of the wings is shinier than the rest which adds a "richer" look to it. As always, I am pleased with everything I purchase from this website - which is alot!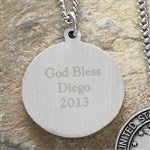 St. Michael's Navy men's necklace
By
Shopper

(Burton, MI) - November 9, 2012
The charm itself is very goog quality. We had it engraved on the back, turned out really nice. I felt the chain needed to be a little bit longer for some men's neck are bigger then others. I haven't got to see it on the person it was given to so I'm not real sure how it fit, but could always buy a new chain t.

Beautiful gift for my beautiful son being deployed...
By
karen H.

(Westerville, OH) - August 1, 2012 (
See all reviews by this customer
)
This military pendant is good quality, heavy, and a wonderful sentiment to my son who is being deployed soon. The engraved back is nice. My son loved the chain, however, the clasp is very loose and he needs to push it closed every time he puts it on. He may need to find a new chain, but the medallion portion is very beautiful and thoughtful.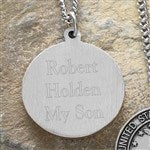 i loved it!!
By
valerie S.

(corpus christi, TX) - March 15, 2012 (
See all reviews by this customer
)
just came in the mail nd it looks better than i expected i cant wait to give it him!!!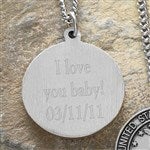 very nice, great value
By
Shopper

(Sun Prairie, WI) - February 22, 2012
I ordered this for my husband for Valentine's day. He was pleasantly suprised and now wears it daily with his dog tags. its very attractive and has great detailing. The chain seems a little short so he uses a different one.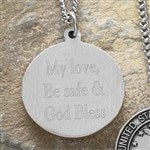 Nice Pendant
By
Charles W.

(Cameron, NC) - December 10, 2011 (
See all reviews by this customer
)
This is a very nice pendant with a lot of detail on the front. The engraving on the back looked a little cheap.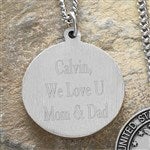 Good Quality and Memorable Gift
By
Shopper

(Bridgeton, MO) - August 17, 2011
Perfect gift for my nephew who was leaving for basic training in the Air Force. The medal was smaller than I expected, but probably better for a man. I had it inscribed with his name and "2011". The quality is very good and the inscription was very professional. Even if he does not actually wear the medal, it is a nice sentiment and a good keepsake.

Perfect
By
Shopper

(Bella Vista, AR) - March 13, 2011
The pendant was exactly as pictured; including the engraving on the back. The product was shipped and received very quickly! I ordered this pendant for a woman and it is called a men's pendant. Not sure why (maybe due to the size of the links in the chain)? The chain appeared to be a tighter weave in the picture than what I received, however, it wasn't obvious that it was a man's chain. The size of the pendant itself wasn't too big for a woman, either. I couldn't find anything else similar to this pendant on the site for a woman, so I thought I would give it a try because it was what I wanted. I would say that it is also acceptable for a woman. The pendant can be removed from the chain and worn with their dog tags while on active duty.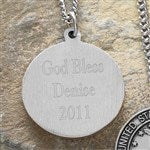 Nice!
By
Brooke W.

(Dublin, OH) - December 23, 2010 (
See all reviews by this customer
)
The pendant itself is GREAT!
Honestly soo much better than I even imagined it would be. The only thing I would change is the style of the engraving. It is engraved almost as an outline so is almost a little hard to read on the pendant.

This is definitely better quality than I have found ANYwhere though and even at a good price!

It also comes in a nice black necklace/ring box like you would get from a jeweler.

Marine Pendant
By
Davy A.

(Cumming, GA) - December 21, 2010 (
See all reviews by this customer
)
We bought this for our daughter, even though it says "Men's Pendant." It looks great and the personalization came out wonderful on the back.

I love it!!
By
Kendra H.

(Santa Rosa, CA) - November 1, 2010 (
See all reviews by this customer
)
The medallion is a little smaller than I would have liked, but I love the message. And the free engraving is always a plus!

St. Michael's Army Pendant
By
Amanda A.

(Peoria, AZ) - July 24, 2010 (
See all reviews by this customer
)
I absolutely love this website and the personalized gifts you offer! With this particular gift, though, I was a little disappointed in the engraving itself. It was very difficult to notice and to read. I believe this is because the letters were only engraved as outlines, rather than the entire letter being engraved, like you would find on a dog tag. Other than this, I was very happy with the necklace...and so was the person I gave it to. Thank you so much.

Love It
By
Tina K.

(Mechanicsburg, PA) - June 8, 2010 (
See all reviews by this customer
)
Bought this for my boyfriend who is of course in the US Navy and it looks all right, and pretty much what I expected. Not sure if it is worth $30+ but I wanted it so that is why I bought it. Also, I would agree that the engraving is not very deep or pronounced and I hope it doesn't fade!. Chain does look cheap but I just bought this so we will see how it fares after a while...

HOOAH
By
Linda C L.

(Mountainhome, PA) - February 23, 2010 (
See all reviews by this customer
)
I gave this to my son when he was commissioned in the Army as a lt. It must have meant a lot to him. The original medal fell off the chain and I had to replace it. I love it because it is religous but not overboard. The new one I had the loop soudered so that it won't come a part.

Great for the Price
By
Kelly T.

(Quinwood, WV) - January 25, 2010 (
See all reviews by this customer
)
I had this personalized for my soon-to-be husband who just finished up his basic and AIT training. Its a nice pendant and its well engraved. The only reason why I gave 4 stars is because I think the chain is just ok. I will probably purchase a separate one -- but overall (even with the chain) its a great price for a monumental event such as this. I'm certain he will love it. XOXO

Pendant quality good.. Engraving, not so much
By
Rachael G.

(Dayton, OH) - December 6, 2009 (
See all reviews by this customer
)
The pendant itself was nice, however the engraving wasn't of the best quality. If I could do this over, I would have purchased the pendant and had it engraved elsewhere.

Nice Pendant
By
Judy O.

(Corpus Christi, TX) - October 8, 2009 (
See all reviews by this customer
)
A little smaller than I expected, but was very nice; The chain was even included.