Nice
By
Aja P.

(chicago, IL) - April 15, 2014 (
See all reviews by this customer
)
I bought these glasses for a friend to gift them at their engagement party. When I received them, I expected something taller and heavier. They are really nice glasses. I expected more, but I can't complain. I'm sure the happy couple will enjoy drinking from something they can have for many celebrations to come.

great item, great price
By
Destiny C.

(BRANDON, FL) - April 11, 2014 (
See all reviews by this customer
)
Engraving is beautiful and they are exactly what I needed for my wedding. They are simple but the engraving gives it a great touch. I did notice a very small bubble in the glass; it doesnt affect it and it is not going to be noticeable but that is why give 4 stars instead of 5. Quick shipping as well. I am very happy and will purchase through personalization mall again.

Very nice.....
By
Shopper

(Laurel, MD) - March 2, 2014
This is a very nice his and her flute set, but I was kind of surprise that the glass size was a little smaller from what I expected.

small
By
Shopper

(Philadelphia , PA) - October 19, 2013
The glasses were a bit smaller than I hoped. But they are still gorg. The bride and groom loved them.

Great Wedding Present!
By
Shopper

(Quincy, MA) - August 7, 2013
I bought these as part of a wedding present for my friends. The quality is great, the only thing is I wish the names were etched into the glasses instead of just printed on them. But I still love them and hope that they my friends love them too!

ALL CAPS LAST NAME!!
By
Shopper

(Bartlesville, OK) - April 7, 2013
My soon to be last name has two capital 'M' so the whole name being in caps is a little disappointed but there is usually no option to have lower case on this site. This is the only disappointing part of their products. But the glasses are awesome can't wait to use them.

Mr.& Mrs.
By
Shopper

(Edwards, CA) - November 19, 2012
Because my Husband and I are married and he is in the Military, we are having a blessed wedding in the chapel. I choose these flutes because we are already Mr. & Mrs. so i put the date we were married on them. For our sand unity set, i put the date our wedding will be blessed in the chapel. Thought it was a cute idea. I did wish the flutes were taller and bigger, they are quite small. Other then that, i love them!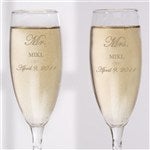 great font love these!
By
Shannon R.

(franklin, IN) - September 6, 2012 (
See all reviews by this customer
)
perfectly packed and shipped! very happy with my purchase!

Wedding champagne glasses
By
Shopper

(Castle Hayne, NC) - June 17, 2012
Beautiful! Gave four stars instead of five because they were a little smaller than I had expected. But very pleased overall. Customer service was five-star.

Great Price
By
Shopper

(Fairlawn, VA) - January 15, 2012
Great Price including the free personalization. I was able to find similar glasses for about the same price but the personalization was over $70 for each glass. I am very pleased with these glasses and would definitely recommend them to others.

Champagne Flutes
By
Christina B.

(Lexington, KY) - August 3, 2011 (
See all reviews by this customer
)
Love the glasses! They will be great for our wedding. There was a very small chip in the top of the Mr. glass and that is the only reason I didn't give a 5 star review. Great packaging with the shipping and very timely.

Not picture perfect
By
Shopper

(Ireland) - July 4, 2011
I am delighted with this gift, although the picture looks like the stems of the glasses are swirled but in actual fact they are just plain, i am sure my brother and sister in law will love them though, thanks

Great wedding gift
By
Margaux D.

(Dallas, TX) - March 25, 2011 (
See all reviews by this customer
)
I gave this as a wedding gift to my friends in New York. They loved it! The sketching looked great! I didn't personally see it, but it got great reviews!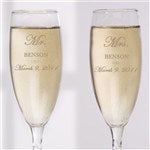 We liked them!
By
Vivian P.

(Houston, TX) - July 2, 2010 (
See all reviews by this customer
)
We like them the only thing was we wanted heavier tasting glasses.

Very Nice!
By
Nancy F.

(Paxton, IL) - December 3, 2009 (
See all reviews by this customer
)
I purchased these for my nephew and his fiancee' for their wedding day. The delivery was very quick and the glasses themselves were of a much better quality than they look in the picture. Just pay attention to the size as these are a bit smaller than I would have wanted. They look a bit small compared to other champagne glasses if you are trying to match these to other ones you may have for the wedding party. Other than that they were perfect!