Really Nice
By
sabyasachi D.

(Burlington, NC) - March 18, 2014 (
See all reviews by this customer
)
I ordered it as a surprise for my wife and she really liked it.

Adorable
By
Ashley C.

(Kings Mountain, NC) - February 25, 2014 (
See all reviews by this customer
)
Loved this, I always get a keepsake for my boyfriend on valentines day but I always try to get something out of the ordinary. It was a little bit bigger than I expected it to be but he loves it.

Mrs. Butler
By
Shopper

(Syracuse, NY) - October 21, 2013
I was completely surprised at how great this actually looked. It was amazing and my husband really enjoyed this for our 5th wedding anniversary. Only wished the engraving had been a little deeper.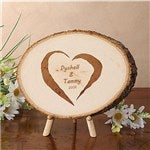 Pleased
By
Shopper

(monroe, CT) - August 21, 2013
Was a little smaller and less detail than I thought but over all very pleased The date numbers I think would have been too small so I am happy just did names. Got it for my boyfriend 4 years anniv. And he loved it. Will go perfect on wall or anywhere on display. I love that it's real wood I saw on other sites that looked decent but realized they weren't wood. Overall I gave it four not five stars just because I thought could of been a little more detailed but we put it in our new house and I am very happy with it. I've ordered numerous presents from this site and will continue to do so. Fast and always packaged nicely. Thank you

Just as pictured
By
Shopper

(Mableton, GA) - July 10, 2013
Looks exactly like the picture, no surprises, which was great. Unfortunately ours was a bit damaged, but they are sending us a new one.

beautiful, fast shipping
By
Kryanna F.

(Cedar Park, TX) - November 11, 2012 (
See all reviews by this customer
)
I bought this for my husband, 5 year anniversary he liked it. Good service, extremely fast delivery.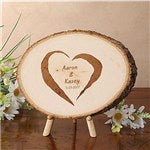 Good Review
By
Shopper

(Bristol, TN) - July 20, 2012
The product was great. The only issue i have is the date was right in the knot of the wood and it shows up as 09 instead of 07

tree plaque
By
Shopper

(Sioux Falls, SD) - May 21, 2012
great unique product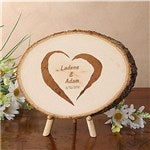 Very cute
By
Nichole B.

(Parkton, MD) - May 18, 2012 (
See all reviews by this customer
)
The personalization is perfect and the quality is great!

nice
By
Charlene P.

(Carlisle, PA) - February 21, 2012 (
See all reviews by this customer
)
Tree plaque is very nice. There was a small scratch over one of the letters but other than that I'm very happy!

Cute Gift!
By
Shopper

(Spring Lake, NC) - October 18, 2011
I bought this for a Christmas gift to celebrate our first Christmas together since my boyfriend is a nature person and loves hikes, camping, etc.and we're spending it in a cabin out in the woods with my family. I was a little concerned since the quality of some things I've ordered on here haven't been that great. But this product is a really unique idea and looks great. It has that woodsy scent that I'm sure he's going to love, and the size works well to hang anywhere you want a touch of nature.

Memories of the Phillipines
By
Deirdre K.

(Garfield, NJ) - May 27, 2011 (
See all reviews by this customer
)
When I gave the recieving couple their gift, the wife looked at it and her facial expression couldn't even be put into words! A family member sitting next to her said that it reminds them of home. Apparantely in the Phillipines they do craftmanship similiar to this product. It was more dear to them than the appliances they recieved!

Nice Product
By
Shopper

(Pearland, TX) - February 21, 2011
I was very pleased with this plaque... It looked exactly like the photo and I thought even a little larger in person. I was happy with it and my husband loved it for Valentine's Day...

awesome if you're lucky
By
Elena S.

(college park, MD) - September 29, 2010 (
See all reviews by this customer
)
I got this for my boyfriend for our 6 months anniversary. I gave it 4 stars because in spite of the fact that this thing is completely beautiful, natural, romantic and makes a perfect gift for the important to your heart ocaasion, it's still dependable if you're lucky to get a nice piece of wood. There was a big dark spot next to my name that made it look kind of stained. I hope my bf closed his eyes on that. But I was a little disappointed. Besides that the piece was very thin (I expected it to be a little thicker), I think not even an inch thick. I didn't measure it, but it looked very thin. Other than that it's a -must order for your sweetheart- gift. I still think it was an amazing gift in spite of the downsides.

Love it!
By
Elena M.

(Albuquerque, NM) - September 14, 2010 (
See all reviews by this customer
)
Mine was on the high side of the size range, which made the heart look disproportionate. This is the only reason I gave it 4 stars instead of 5.

I got this for my machismo husband (who hates anything cute/cuddly) to celebrate our first anniversary. With our wedding date added, I think it looks better than the picture. He actually got mushy about it and said it was the sweetest gift ever.

I got the stand for it, but I'm glad it also has the hook. About 5 minutes after I gave it to him, it was hanging on the wall in his man-cave (no idea what happened to the stand).

Tree Plaque
By
Lindy B.

(Canada) - August 14, 2010 (
See all reviews by this customer
)
I ordered this for my 5th wedding anniversary (wood). It arrived quickly and it really looked nice. It is very original and i hope my husband likes it.

4/5
By
Kylee S.

(Lafayette, IN) - December 14, 2009 (
See all reviews by this customer
)
I would reccomend this gift to anyone, lots of options with this style BUT not all slices on wood are this large... they are unique but not always as large at the picture.

Nice gift
By
Kayla H.

(Yuma, AZ) - October 7, 2009 (
See all reviews by this customer
)
I get a lot of personalized gifts from this website. I love shopping here! I got this for a 5th wedding anniversary gift for my husband since the theme is "wood." I was happy with it, and it fit the theme.