Leather watch box
By
Lauryl P.

(Brooklyn , NY) - June 8, 2014 (
See all reviews by this customer
)
Awesome gift idea.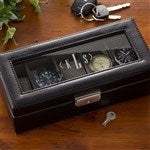 Great gift!!1
By
Shopper

(Upper Marlboro, MD) - May 12, 2014
Top quality, move husband loved it!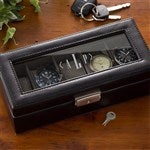 A little disappointed
By
Mickie S.

(East Stroudsburg, PA) - February 18, 2014 (
See all reviews by this customer
)
It "looks" really nice superficially but when I really checked it out, I was little disappointed. I expected hinges the connect the lid and box that would make it more durable. It is a continuous piece of letter over whatever the material used to construct the box, which doesn't seem so sturdy. But other than those things, it's good for the bucks. It's nicely engraved and my Valentine loves it for his growing collection of watches. So therefore....4 stars

I also want to say, the service was excellent. Very prompt delivery after my order.

Good quality
By
Shopper

(Brooklyn , NY) - May 3, 2013
Happy with the product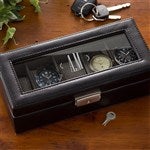 Great gift
By
LORIE P.

(Murrieta, CA) - March 20, 2013 (
See all reviews by this customer
)
Purchased it for our anniversary and hubby loved it. The silver locking closure was slightly slanted when he received it but not a big deal. It's still a great gift and would recommend it.

Great Gift for Best Man
By
Shopper

(Yonkers, NY) - March 12, 2013
I ordered the beer mugs for my groomsmen and this leather watch box for my best man. The quality is very nice. The leather is soft. The personalized lettering is just right. Definitely recommend

better than the picture
By
May S.

(Kansas City, MO) - December 16, 2012 (
See all reviews by this customer
)
I bought this for my boyfriend for Christmas. It shipped so fast. I wish there was more options with the font for the engraving but what I ended up choosing look beautiful with the rest of it.

Watch Case
By
Shopper

(SAND SPRINGS, OK) - December 6, 2012
I ordered this for a Christmas gift to my son. At first glance it looks terrific, I haven't had the chance to open it, but it looks of good quality. The engraving looks great!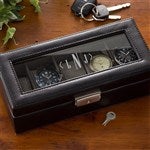 Awesome service
By
Shopper

(Rochester, NY) - October 29, 2012
I ordered a watch box and when I received it there were some dents on the metal parf. I emailed the customer service center and they got back to me right away. I returned the box and immediately got a replacement.

classy and chic
By
Shopper

(FOX POINT, WI) - October 22, 2012
This is going to be my father in laws birthday gift. I really do hope he likes it. But when I opened the box I knew that there was quality there. I hope that it lasts!

Great box
By
Shopper

(Carrollton, TX) - August 20, 2012
I was very pleased with the size of the box. I just wish they offered a different font for the monogram, I did two RR's and they were too narrow and too tall.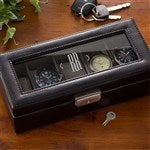 How to fix the loose cushin problem
By
Shopper

(Hacienda Heights, CA) - May 25, 2012
I purchased this watch box for my fiance since he recently bought a watch. He is very picky, so I was a little worried when I made the purchase. When he got the box, he liked it except for the fact that the cushions are loose so the watch does not stay put in the box. I fixed the problem quickly by added foam pads on the sides of the cushion. You can't even see the foam pads on the top view, so it looks perfect now. I finally saw the smile I wanted to see on my fiance's face. So if the loose cushion is your concern, it's really not a big deal. Aside from the fact that they are lose, the quality of the cushion is great. We recently purchased another named brand watch box and had to return it because of the poor quality of the cushions. The leather on the outside also looked nice, and the engraving really gave it a great finishing touch! I am a happy shopper on this website and will recommend this item as long as it's on sale :)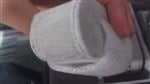 Classy look
By
Shopper

(Egg harbor twsp, NJ) - March 6, 2012
I bought this for my man along with 5 watches to go inside...I love the personalization and the leather,but I have two complaint it dosen't close all the way and I would recommend that the watch holders itself fit more snug,but overal I like it and my gift to him is complete.

Nice
By
Shopper

(Las Vegas, NV) - February 20, 2012
I bought this for my boyfriend as part of his Valentine's Day gift. I knew that it wouldn't be the best quality in the world, but it was ok. There weren't any defects or anything like that.
The pillows provided could be a little fuller, but that's just me being picky. :)

Decent for the price.

Cute for a boyfriend :)
By
Tatiana E.

(Miami, FL) - February 13, 2012 (
See all reviews by this customer
)
My boyfriend has a bunch of watches and I wanted something to keep them organized in. So I got him this watch box for his birthday and he absolutely loved it :) The personalization on the top of the box looks great. The only issue with it is that it is a little small so it's a good and bad thing. It won't take up too much space but hope that his watches fit there.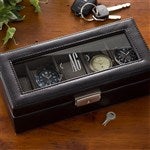 A little overpriced for product
By
Shopper

(deer park, NY) - December 13, 2011
This gift arrived very quickly but I was slightly disappointed with the quality. I love the clear top- but is is plastic.. The engraving seemed very light (It would have been more noticeable if it were glass)... If I had paid under $50 I would not even be complaining- but for 70 I expected a little more.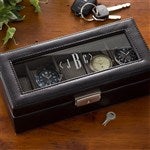 Nice Engraved Watch Box
By
Shopper

(Malverne, NY) - October 16, 2011
Beautiful and just as shown in the picture. Shipped very quickly. Exceeded my expectations! I love it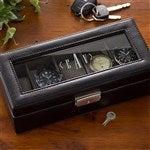 Great Gift for a Great Man in ur life..
By
Shopper

(Bakersfield, CA) - September 26, 2011
A very elegant gift for ur partner.. Beautiful leather.. The only drawback is the latch.. U have to b very careful while closin it.. It's not a easy close.. Except that this is a perfect gift for the perfect person..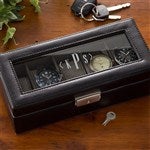 A Very Classy Gift for the Man in your Life!
By
Shopper

(Slidell, LA) - September 23, 2011
I purchased the monogrammed leather watch box for my son after purchasing one previously for my husband. Although they are slightly different they are both a very attractive way to store and display their watches. Even the biggest watches fit neatly and securely. The monogramming makes it special. The watch box is an excellent value and would make a beautiful gift for any gentleman.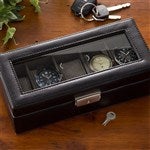 Satisfactory
By
Heather Y.

(Fort Myers, FL) - September 2, 2011 (
See all reviews by this customer
)
This was along the lines of quality that I expected and delivered in a timely manner.

Features I liked and did not like
By
Shopper

(Ithaca, NY) - June 27, 2011
It looks nicer than I expected. I do not like that the middle initial is bigger than the first and last initial.

Better in person!
By
Mildred R.

(Bronx, NY) - June 21, 2011 (
See all reviews by this customer
)
When I ordered the watch box, I thought it was very nice looking, and I liked that I could add a monogram. However, when it arrived and I had it in my hands I knew it was well worth it. It is very classy and just the right size in addition to very affordable. I highly recomend this gift especially if you are buying for someone like my husband, who has everything.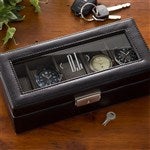 organization
By
Shopper

(Dallas, TX) - February 21, 2011
This was a very useful product. I bought it for my husband cos he had so many watches laying all over the house. This was a good way to have them organized without me having to bring them to him everytime I saw them around the house. Good product but I got a two day delay for "express shipping". I was happy with it except I couldn't give it to him on the day it was meant for. I had to give it to him two days later.

Nice Quality
By
Nicholas A.

(San Diego, CA) - January 3, 2011 (
See all reviews by this customer
)
Ordered this as a gift and was impressed with the quality. Paid around $55 for it...make sure you get it on sale.

leather watch box
By
ANN G.

(CLEARWATER, FL) - May 3, 2010 (
See all reviews by this customer
)
this box had my husbands initals, was shipped and given to him within 3 days. I ordered it on sunday pm and had it wed am, things remembered wanted 5 business days to do almost the same thing. I found this web site by stumbling apon it and I was nervous ordering from a site I had never heard of but I gave it a chance and I am so glad I did. The only complaint I might have about the box is I wish the pillows inside for the watches were just a little larger, since these are all men's watches they are just a little small,but other that that I am 100% happy I ordered from this company and will be using them from now on, the box is beautiful.

Great product
By
Stephanie T.

(Enterprise, AL) - March 8, 2010 (
See all reviews by this customer
)
I'm currently in Iraq and bought this for fiance's bday, said it was nice and looked great.

Nice Gift for watch collector
By
casie W.

(bardstown, KY) - December 30, 2009 (
See all reviews by this customer
)
The watch box was nice and exactly as explained except the lock on front was alittle to cheap looking. It was suppose to be bronze but it was bright gold. Otherwise the box was great and boyfriend loved it.

Good Quality, Monogram could be darker
By
Tiffany W.

(Mesa, AZ) - December 20, 2009 (
See all reviews by this customer
)
This box is definitely of good quality. It will look great with all my husband's watches. I think he will really like it. My only disappointment was the monogram, which I thought should have been darker, more bold. It was kind of like, more like gray color than a nice bold white. I almost think if I had known this, I might have gotten it done myself. I still give this product 4 stars though because it is a great purchase and my husband will still love it.

Great Value!
By
Catherine K.

(Tulsa, OK) - October 21, 2009 (
See all reviews by this customer
)
I ordered this box and had it personalized and it was delivered to me within the week. Great value for the price.