great gift
By
Shopper

(Taftville, CT) - February 8, 2014
As always a nice finished product with clear images.

Nice quality
By
Angelina E.

(Wappingers Falls, NY) - April 27, 2013 (
See all reviews by this customer
)
I ordered this for a friend who is getting married in June. I hope she likes it as much as I do. The only thing is, her fiancé's name is covering his face. Still looks nice though.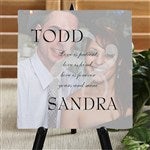 Its's Cute
By
Shopper

(Brooklyn, NY) - February 24, 2013
It came a little smaller than I expected, but nonetheless, I liked it. Was purchased for my fiance who loved it and thought it was cute also.

Romantic
Item is good for anniversary gifts...

Lovely
By Shopper (Franklin park , NJ) - April 6, 2012
Great gift

Great gift!
By
Shopper

(Missoula, MT) - February 5, 2012
This was a great gift and I got a great reaction from my fiancee. She loved it! I would have liked to do some more editing when creating it. The editing program was fairly restrictive. In my opinion, the easel is a must, it looks much greater on a desk, dresser, or coffee table rather than the wall.

Overall, I recommend this item for any occasion!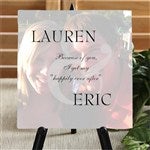 Liked the product. Shipping was a dissapointment
By
Shopper

(Brooklyn Park, MN) - December 29, 2011
I am happy with my item, however I paid the extra $20 for express shipping. The item arrived 2 days late. I contacted customer service and they did reimburse me very quickly which I was very happy with. I may order from personalization mall again, but only pay for standard shipping.

Because of You Photo Canvas Art
By
Shopper

(CEDAR CITY, UT) - December 24, 2011
This is a wonderful gift for any occasion. I was slightly disappointed by the size but all in all, it's beautiful.

Perfect gift !!!
By
Shopper

(Houston, TX) - December 6, 2011
This canvas is a beautiful gift. I purchased it for my husband on our 1st wedding anniversary. I was concerned about its quality but it was absolutely perfect. The picture was beautiful and canvas quality was also very good.
The only disappointing thing was its size. It was not what I expected but that was may be because I dint see its size in the description and just went with what the image looked like. My bad !!!

Wonderful
By
Shopper

(Boston, MA) - September 25, 2011
Ecxellent amazing gift. I give 4 stars because it is very very difficult to chose and adjust the photo. I think there must be an easier way. Also, they sent me a slightly different photo from the one I cropped. They immediatelly replaced of course. Very professional company!!

6 year anniv
great


Very small canvas
By
Angela C.

(Pgh, PA) - July 2, 2011 (
See all reviews by this customer
)
I bought this as part of a shower gift for my niece. It is beautiful. However,I failed to look at the dimensions of it. It is rather small. I would have liked it better, if it was bigger. This was a learning lesson for me, always look at the dimensions of the product you are buying.

Nice, Valentine's gift.
By
Natasha B.

(Lakewood, WA) - February 16, 2011 (
See all reviews by this customer
)
I got this for my husband for Valentine's Day. He loved it of course, cute and sentimental. It came out exactly as the preview showed. Only thing it was a day late, but I think that was UPS's fault. Besides that we loved it!

Wonderful Idea - Just Beware of Its Size!
By
Shopper

(Kentwood, MI) - February 12, 2011
I loved the idea of this photo canvas art for my fiance and I. When I received it in the mail - I was shocked! It was extremely smaller than I expected. The art, wording, canvas, photo, etc. look amazing!! I just need to read more carefully next time!

Cute!
By
Shopper

(Ladson, SC) - February 7, 2011
I really do love this....but it is a little smaller than I thought it was going to be......I wish it was a little bigger....but I do love it and it was great turn around time! Thank You!!!

grandchildren
By
Shopper

(o,fallon, MO) - January 8, 2011
very excited to have a canvas of both grandchildren together. Good job

Wonderful Gift Idea
By
Xai V.

(Hickory, NC) - October 27, 2010 (
See all reviews by this customer
)
I received my gift in 3 days! it was great! I loved that i was able to personalize it to make it even more memorable! The price was great for the quality. I had my doubts since it was shipping the next day of how good it would turn out but I am not disappointed at all! I only gave it 4 stars because I wished the size was a little bigger. Other than that - EXCELLENT WORK!!

Great gift for a couple
By
Aimee L.

(West Falls, NY) - August 17, 2010 (
See all reviews by this customer
)
Very nice quality for the price. Check dimensions just FYI it is on the smaller size. I wish they made it in a few different sizes. Also when cropping your photo be aware that the edges fold over so if heads are near the top they may be cropped out.

I really liked this and I would definitely order it again if I had an occasion to. The delivery was super fast too. I ordered it on a Mon night and received it on Thurs.

so cute
By
hina A.

(syracuse, NY) - July 23, 2010 (
See all reviews by this customer
)
it was very beautifull I gift it to my husband and he really liked it and he was very happy. But I think the size of the frame was little small anyways but we liked it. :)

Nice, but...
By
Sandra S.

(Cincinnati, OH) - July 6, 2010 (
See all reviews by this customer
)
We had ordered this for friends of ours that recently got married. I think it was a beautiful idea, but the picture was so light as to being barely able to see. I know it can't be too dark or the words will get lost, but I don't think it needed to be quite this light.

Otherwise, like I said, it's a beautiful idea and if you can get the picture a little darker, it would be a very sweet gift.

nice
By
amanda A.

(niagara falls, NY) - March 8, 2010 (
See all reviews by this customer
)
this was smaller than i thought but was beautiful. nice colors and very professional looking

Beautiful but hard to submit suitable photo
By
Tamera P.

(Lexington, KY) - February 19, 2010 (
See all reviews by this customer
)
This is a beautiful item and I received wonderful customer service after submitting what I thought was a suitable photo according to the directions. It turned to be too pixelated so I submitted 3 more, 1 of which was suitable. The name is over my fiance's face, and I was not able to get the photo I wished but it is still a nice keepsake. If you're a computer whiz with manipulating photos, this is wonderful. If you're not, like me, it may be a little hard to get the photo you want on this item. It's a great concept and very personal so makes a great gift.

My Valentine Gift
By
Edward A.

(Quincy, MA) - February 11, 2010 (
See all reviews by this customer
)
My husband Edward gave me a personalized plaque for Valentine's Day.I starting crying I was so touched .It's beautiful! He created the sentiment himself. I guess you can choose one. But it was in his own words. I love this gift out of many gifts I've received in our 23 years together. Gorgeous gift. Bravo to my hubby and bravo to the makers of this plaque.
Sincerely,
Patty Anzalone

Review
By
Ellen M.

(Bartonville, IL) - February 11, 2010 (
See all reviews by this customer
)
My only complaint is that my photo is not centered like I had it when I edited/cropped. Otherwise, it turned out very nice!

AMAZING!
By
Janeli R.

(Sebring, FL) - February 4, 2010 (
See all reviews by this customer
)
I love how the picture came out and how everything was. Was a little smaller than I have expected but overall a GREAT gift! Thank you!

Love this!
By
Sara C.

(Pittsburgh, PA) - December 30, 2009 (
See all reviews by this customer
)
This frame is fantastic for the price. Although the size was a little bit of a downer. Thats why I gave it 4 stars instead of 5. Everything came perfectly but I wish it was a little bigger. But my husband loved it, I got it for him for our 1 wedding anniversary since its suppose to be "gift of paper". But yes defineatly worth it!

Nice!
By
Heidi R.

(Pennsville, NJ) - December 2, 2009 (
See all reviews by this customer
)
The picture turned out great, It will make a very special wedding gift for a close friend, I just wish it was bigger!!

Very Nice
By
Brian M.

(Canton, MI) - December 1, 2009 (
See all reviews by this customer
)
I really like this item. It's very personal, and a very nice keepsake. I only wish they had them larger. When they do, I'll be the first to buy it. LOVE IT!!!

7/22/09
This item is worth the price and it will last a life time with the ones you love!

DELIGHTED
By
Sue D.

(Citrus Heights, CA) - November 16, 2009 (
See all reviews by this customer
)
I am delighted with the photo canvas. It was a great 20th anniversary gift for my husband. I did have a little trouble getting the "&" in the right place on the photograph so that it didn't cover both our faces but patience and perseverance overcame this. The result was well worth the time.

My Anniversary Gift
By
Deborah C.

(Alexandria, LA) - November 12, 2009 (
See all reviews by this customer
)
I wanted to get something really unique to celebrate my 22nd wedding anniversary! I chose the photo canvas because it was something different and would be the perfect way to express what I wanted to. I created my own verse and used one of our wedding pictures! It came out beautifully! The only drawback was the size; I wish it could have been an 8x10! Thanks Personalization Mall; it was still a very unique gift!