I love the information provided on this personalized plaque.
By
Shopper

(Carpentersville, IL) - June 16, 2014
This is a unique gift idea which I know the recipient will appreciate when it gets to him. My only fear is that the writings are TOO TINY for older eyes. I think making the plaque a little bigger will allow for larger lettering. Overall, I like this product a lot.---The only down side is not being able to read it without glasses or a magnifier.

Great present for anybody who likes trivia
By
Eliza G.

(Louisville, KY) - March 26, 2014 (
See all reviews by this customer
)
This was a great present. The information included was quite interesting. I just wish the print was a little larger since some people need to strain to read the smaller print. Overall though, this was a great gift

Nice!
By
Shopper

(Miramar, FL) - March 24, 2014
This was a gift for a friend. He thought it was really cool!

Birthday Plaque
By
Shopper

(Suitland, MD) - December 18, 2013
I purchased this plaque as a gift. I love the details of the plaque. However, it would be most beneficial if the imprint of the words and the plaque itself could be a bit larger for more visual clarity. The words just look too jumble and close together.

Nice but...
By
Shopper

(Aurora, IL) - November 24, 2013
I would have been happier if the title said On The Day You Were Born so it is more appropriate for anytime. The plaque itself is very well done and attractive.

The Perfect Memory
By
Shopper

(Mount Laurel, NJ) - October 12, 2013
The Day You Were Born framed picture came really fast. The Plaque is well made, great quality and sure to be a perfect gift of the history we started from, and how far we came. Great gift, but would indicate in the info, that there are no clips to hang.

Day you were born birthday
By
Gary P.

(Bradenton, FL) - February 12, 2013 (
See all reviews by this customer
)
Our 9 year old grandson loved it and thought it was cool to see things that happened way back when :). I think it's a great birthday gift. Price seemed a little high but it was a special birthday for him.

Awesome
By
Erica T.

(West Milford, NJ) - November 16, 2012 (
See all reviews by this customer
)
This wasn't as big as I thought it was, however it came out really nice and love the different facts!

Birthday
By
Shopper

(Gilberts, IL) - September 10, 2012
Shipped really fast. The plaque is really nice.

Product features
By
Shopper

(Braintree, MA) - August 28, 2012
I just purchased this for my son in law and thought that it was good quality. What I didn't like is that it has 2011 instead of 2012 for the current year of what is happening for todays prices events etc. Other than that I was satified with the purchase.

Plaque
By
Mary J.

(Waco, TX) - August 6, 2012 (
See all reviews by this customer
)
Great quality, love it

Unique gift!
By
Shopper

(Moneta, VA) - August 2, 2012
Purchased this plaque for my Mom's 80th birthday. Great quality, fast service but the writing was very small on the plaque and everyone had a hard time reading it even the younger ones. However, I have never been disappointed in any of my purchases from Personalization Mall.

90th Birthday
By
Lisa W.

(Lebanon, KY) - August 1, 2012 (
See all reviews by this customer
)
I got this for my mother-in-laws 90th Birthdy. Everyone loved it and had fun reading it. The only complaint I have with it is the print is really small.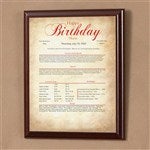 Impressive
By
r ann C.

(Annandale, VA) - May 1, 2012 (
See all reviews by this customer
)
This created a lot of interest at a 95 year old's birthday party. Fun for the person who needs nothing.

Birthday plague
By
Shopper

(CHESTERFIELD, VA) - April 4, 2012
Very please with plague. Attractive and full of intersting information for date chosen. Would purchase again.

Gift for my husbands 50th birthday
By
Shopper

(MATTESON, IL) - February 21, 2012
I wanted to get a nice momento for my husbands 50th birthay. The gift arrived within the 2 day timeframe and he loved it. It was a nice gift for the milestone of 50!!

Nice B-Day gift!
By
Kathy T.

(Pleasant Valley, NY) - October 15, 2011 (
See all reviews by this customer
)
This is a very nice plaque. Bought if for a 70th birthday gift. Only thing is writing is very small. Plaque would be best placed in a stand rather than on a wall this way folks can pick it up to read info. Nice gift though!

Birthday History Plaque
By
Shopper

(Lindenhurst, NY) - September 30, 2011
I love The Day You Were Born History Plaque. It is very interesting to read about events that happened on your Special Day. The plaque is a good size so it won't be overpowering on a wall when displayed. Great gift idea.

Birthday History Plaque review
By
Toby G.

(Fair Lawn, NJ) - June 3, 2011 (
See all reviews by this customer
)
Disappointed that cost of living comparative data only went to 2010, not 2011. Many people commented on that. Gasoline, for example, is now $1 more per gallon than it was a year ago. Being that we're almost halfway through 2011, I feel that the data should have been updated to that point. Other than that, I'm satisfied with the purchase.

Nice gift but small print
By
Shopper

(Glenview, IL) - May 31, 2011
This is a nice gift to reminisce over and share with friends and family. We gave it to a neighbor for his 90th birthday. He didn't open his gifts at the party so we still have yet to hear from him. The only downside to the item is that the print is quite small. When we took it out to see it and wrap it we cringed a bit at the type size.

Great Product
By
Shopper

(Henderson, KY) - March 15, 2011
It looks great and the quality is amazing. The only negative is I bought it in 2011 and the date it used for current things was 2009. Still a great gift though.

Very decorative & made well
By
Shopper

(Bronx, NY) - February 27, 2011
This is a great gift. I like the personalized touch & feel it's a unique gift. A while back I ordered a 50th wedding anniversary gift & liked that I could have it personalized to that event.

Very nice frame
By
Shopper

(Canada) - February 19, 2011
I really like this, got it for a birthday gift, the only thing they made a mistake with the name, but personalization mall was amazing with the service. they send me another one in such little time...

Very Nice Plaque
By
(Anita) Janae L.

(Fredericksburg, VA) - January 21, 2011 (
See all reviews by this customer
)
This turned out very well and will look great on the table next to the special cake and gifts for this big birthday. My only concern was that there isn't quite as much history information on it as I'd thought there would, but there's enough and it may look too crowded if there was more, I guess. I think it was a little pricey for what it is; well with the shipping charges. It is a very nice, special gift though for a "big" birthday and, especially, for history buffs. Since his bday isn't until 2/10 I don't have it out yet to get a pic. I do have an easel stand for it and a "corner" ribbon and bow on it, so it should look great on the table. Will send a pic after the big day, if I still can.

Very cool
By
Natasha B.

(Albuquerque, NM) - August 11, 2010 (
See all reviews by this customer
)
I got this gift for my ma, for her 50th birthday.
Loved how has all the events, hits songs and major stuff.
Great, fun, birthday gift!

Nice unique gift
By
Eric D.

(Santa Clarita, CA) - July 13, 2010 (
See all reviews by this customer
)
This is a neat gift to give anyone, especially someone who has everything. Not much to say about it, it's well constructed and laminated (or apparently so) onto a thick plaque of wood, even though it appears in the picture that it's just a framed piece of paper. It has slots drilled into the back of the wood for mounting on the wall, or you can order it with the optional wooden easel and stand it up on any flat surface.

It has a good diversity of information, but I definitely would have focused on the Events/News section and made it encompass the entire birth year (like they did with almost all of the other categories) rather than just the month. Quite important things might have occurred that year, but if they didn't happen in that specific month the recipient wouldn't know about it form this plaque. Even in the example the sports section is larger than the Events section, and personally I think historical events are more important and interesting than the sporting events in a given year.

Anyway, still a good gift, I just would have made a few tweaks.

unique birthday gift
By
Starla J.

(Wink, TX) - June 1, 2010 (
See all reviews by this customer
)
just like the preview...great

Higher quality than expected
By
Kelly H.

(Richmond, VA) - April 13, 2010 (
See all reviews by this customer
)
The item I ordered arrived quickly which was a plus because I needed it within the same week. I made a HUGE mistake by putting the wrong birth year when I ordered the plaque so the information is all wrong -- but, that's my fault.

I didn't pay attention to the item description and I thought it was going to be a paper certificate of some sort that would need a frame. So, I was pleasantly surprised when I opened a plaque instead.

The only issue I had is the birth year was only compared to 2009 and not 2010 as I had hoped.

beautiful presentation
By
Andrea T.

(South Ozone Park, NY) - February 11, 2010 (
See all reviews by this customer
)
Love the design the quality of the frame and the information requested for my baby Valentine birthday. She will be so impress on Valentine's Day . Thank you for such a smooth delivery and I appreciate your kindness In keeping me up to date via email.
satisfied customer
Andrea T.

interesting, but not very personal
By
Leann N.

(Sturgeon Bay, WI) - February 6, 2010 (
See all reviews by this customer
)
Other than my daughter's name being printed on the plaque, it is obvious that this is made for mass production.

Excellent choice
By
Andronikki P.

(Flushing, NY) - December 31, 2009 (
See all reviews by this customer
)
A great belated Happy Birthday gift for my husband who celebrated his 89th birthday in June.

Great gift for the person who has everything.
By
Michael R. H.

(McDonough, GA) - December 24, 2009 (
See all reviews by this customer
)
My daughter is very difficult to buy for but this birthday gift made her very happy. She and her daughters laugh as they read the History of the Day she was born.

interesting
By
michelle E.

(brooklyn, NY) - December 21, 2009 (
See all reviews by this customer
)
This was a very nice idea and much more useful then one of those books from the card store. The writing is abit small but it is certainly a conversation piece.

Great gift!
By
Yvonne B.

(Estero, FL) - October 8, 2009 (
See all reviews by this customer
)
I bought this for my grandfathers 75th birthday. It's a great gift for a monumental birthday!

Satisfied Customer
By
Deneace M. G.

(Columbia, SC) - October 8, 2009 (
See all reviews by this customer
)
I just want to send you guys a thank you for such a great product. I purchased the birthday history plaque for my mother-in-law who celebrated her 96th birthday. She was thrilled as well as all who attended her celebration.

D.M.G. - S.C.


Present for my husband's 50th birthday
By
Jill S.

(Pflugerville, TX) - October 7, 2009 (
See all reviews by this customer
)
It was nice but the print was a little too small. I was kind of dissapointed when I opened the package. My husband and friends really loved it though.