Good mug
By
Megan S.

(Putnam valley, NY) - December 28, 2013 (
See all reviews by this customer
)
I really like the size of this mug and the quality of the pictures-I just wish the pictures were a little bigger-there is a lot of empty space

Great mug!
By
Shopper

(OKLAHOMA CITY, OK) - June 28, 2013
Great mug! It seems like the one I ordered last year had bigger pictures? Perfect Father's Day gift for Papa.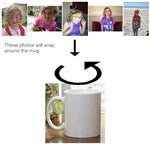 Fabulous
By
Shopper

(Thornton, CO) - May 16, 2013
The perfect gift! My sister-in-law lover her Mother's Day gift and it will be great for her to take to work!

Mug
By
Shopper

(Staten Island, NY) - January 10, 2013
Love it!! It is so adorable.

Christmas mug 2012
By
Carol F.

(Wilbraham, MA) - December 26, 2012 (
See all reviews by this customer
)
Very pleased with the customizable mug .... arrived rapidly, and the mug itself seems heavy and durable.

great quality
By
Shopper

(San Francisco, CA) - December 23, 2012
The pics came out great on the mug. Very clear crisp images. The reason I'm giving the products 4 stars instead of five is because I wish there was an option of choosing a colored outline or border around the pictures. Unless your pictures are bright and colorful they won't look as nice on the plain white mug. My bright pics on the beach looked fantastic. But my night/darker pics weren't impressive. So use bright vibrant pics for the best result and if not I'd recommend getting the personalized photo message mugs because any pics will look good on those due to the bright colors.

mug
By
Shopper

(beavercreek, OR) - December 15, 2012
Photos turned out great. Great price. Quick delivery. Wish there were an option for a larger mug

Create good mornings each morning!
By
Melinda S.

(Carroll, OH) - August 14, 2012 (
See all reviews by this customer
)
Coffee mug of good quality, pictures were not as clear as I would like them to have been. Quality of product is good, as always and shipping is FAST!

Great gift!
By
Paige S.

(HENDERSON, NV) - June 25, 2012 (
See all reviews by this customer
)
The pictures are a good quality. Not grainy at all. I received them quickly too. I ordered 2 mugs, and they both looked good, but one of them did have a little extra line of dark ink under one of the pictures. The other one was perfect. Thanks!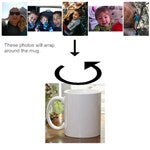 Made a nice gift
By
Shopper

(williamsville, NY) - February 7, 2012
I loved that I could personalize this mug and gave it as Christmas gifts to the grandparents. I also made one for myself and love looking at my kids every morning. I just wish the mug were larger and a little heavier/better quality. I drink a lot of coffee...

Collage
By
Shopper

(east newark , NJ) - December 27, 2011
One of the pictures did not come out well... otherwise a great gift

good Quality
By
Kea D.

(Canada) - December 12, 2011 (
See all reviews by this customer
)
I was worryed about not being able to see the images very well since they are small, but it actully turned out very nice, I can see all the pictures and they look proper (they arn't fuzzyer then the origanals), the pictures don't look like they would be able to come off when washed, as they look like they are part of the cup and not just painted on.

Great gift
By
Shopper

(Six Mile, SC) - December 12, 2011
I was skeptical about the picture quality on the mug, but it is great. I wished the mugs came in colors so you could coordinate them with the theme of the pictures..

Very Nice Custom Item
By
Shopper

(Canada) - December 1, 2011
I purchased this mug as a gift and it was received with a quick turnaround. The print quality and concept of the mug were great as was the mug itself. I would and likely will purchase this item again.

When the mug arrived, the photo's were not laid out in a straight line around the mug and were in fact on an angle. The front of the mug near to the bottom had a misprint or black smudge line and for these two reasons I contacted customer service.

I need not have worried though, because after sending the Customer Relations Agent I had spoken to on the phone, a photo of the problem, I received a very prompt reply and a successful resolution to my issue. The customer service that I received was outstanding and I would recommend this product, this company and will be purchasing from them again - thank you!

Loved it!
By
Shopper

(El Paso, TX) - July 4, 2011
Great Gift! loved the quality of the pictures and I got it really fast!
Not surprised since all the stuff that I have bought from here has been amazaing!

Great gift that will touch the heart!
By
Shopper

(Miami, FL) - May 20, 2011
I loved it! It's a very inexpensive way to give a gift your family and friends will enjoy and be able to use on a daily basis! I even got one for me.

Review on personalized mug
By
Shopper

(Arlington, MA) - May 15, 2011
I wish there could have been an option to write a note in the cup.
Otherwise it looks good.

Great gift for Grandma!
By
Shopper

(Twin Peaks, CA) - May 13, 2011
I was very happy with this item and Grandma loved it! I used pictures of my daughter and & I and gave it to Grandma for Mother's Day. The picture quality wasn't very crisp/clear but overall it was a good product.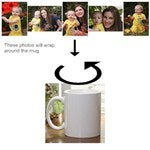 Great gift
By
Angela W.

(Richmond, VA) - February 22, 2011 (
See all reviews by this customer
)
I really loved the idea of creating a picture mug. It turned out great! It arrived one day earlier than the expected date :) The only reason I didn't give it 5 stars was because the pictures did seem a tad smaller than in the photo they provide, but that could be because the pictures I chose were not as close up?? So I do suggest very close up/ cropped pictures! I got this gift for my b/f for Valentines and already purchased a gift from Personalizationmall for his Birthday in March. Thanks for a great gift!

Looks exactly like Preview
By
Shelly J.

(Rancho Cucamonga, CA) - January 25, 2011 (
See all reviews by this customer
)
Mug looks exactly like the Preview shows. It is a standard coffee mug. I have purchased nicer, heftier mugs from other sites, but they were more expensive. This was exactly what I paid for and a great purchase.

Great pics, less than great mug
By
Natalie R.

(Elizabethtown, PA) - January 24, 2011 (
See all reviews by this customer
)
As the title says, I love the mug. The pictures are bright and glossy. The mug is a little too thin and I had to buy this one to replace one with the exact same pictures due to hairline cracks. I hope this lasts longer!

"Grampas Mug"
By
Shopper

(Queensbury, NY) - January 10, 2011
The mug is great..but the pictures are not as large as I thought they would be. None the less, I am sure Grampa will love it when he gets it for his birthday! He will love drinking his coffee from it and seeing his boys each day! Everythng I have ever ordered from Personalization Mall has always been satisfactory!
Thank you for the prompt service and delivery!

So cute!
By
Morgan P.

(Dallas, GA) - January 5, 2011 (
See all reviews by this customer
)
I had these made as Christmas presents for both sets of grandparents with pictures of our 8 month old and they loved it! They turned out really nice, my only complaint is that the pictures looked slightly fuzzy but that might just be what you get for printing pictures on a ceramic cup. There were no complaints from any one else and were a huge hit.

Great Service
By
Connie R.

(Grandview, MO) - December 27, 2010 (
See all reviews by this customer
)
Thanks
Your company did a great job with the product and delivery of the product on time. I appreaciate fast and good service.

connie

Makes a good gift
By
maria F.

(levittown, NY) - December 23, 2010 (
See all reviews by this customer
)
I am very happy with the way the mug came out. Last year I ordered photo mugs from another company and was not happy with the placement of the pictures, they were oriented opposite the handle so when you held the mug the photos were not centered. This mug has the pictures going all around and gives you the option of how to place them so you can decide which you will see when you are holding the mug. The actual mug is a good size and has a decent weight to it.

Great Gift
By
Monica G.

(College Park, GA) - December 16, 2010 (
See all reviews by this customer
)
I ordered this gift for my girl's grandparents. They are going to LOVE them!

Cute mug.
By
Kristen C.

(Snohomish, WA) - December 12, 2010 (
See all reviews by this customer
)
I got these on sale (2 of them) and they were easy to create and look really good. It would have been nice to be able to have added personalization.

Met expectations...
By
P. O.

(Bronx, NY) - December 8, 2010 (
See all reviews by this customer
)
The photo quality was more than satisfactory. The price was also fair. This mug will be appreciated for years...

mugs for grandparents
By
Timothy A.

(Erie, MI) - November 23, 2010 (
See all reviews by this customer
)
we purchased one of these mugs 3 years ago and it has been used a lot and put in the dishwasher almost daily and still looks just as good, we just purchased 4 more for the grandparents, still very good but pictures came out a little yellow, most likely was from the camera, anyways we were happy will all of them.

Coffee dad
By
Shobhit A.

(Rockville, MD) - October 27, 2010 (
See all reviews by this customer
)
Overall mug came out great, but the pics could be a bit larger.

This mug makes me happy
By
Doug K.

(Atlanta, GA) - July 26, 2010 (
See all reviews by this customer
)
I like the result, but it was a little aggravating loading and reloading the pictures I wanted on it.
If they'd just told me that the sequence had to be Portrait/Landscape/Portrait/Landscape/Portrait to begin with, I could have plotted it out better from the beginning. I'd actually wanted the mug with more photos, but couldn't figure out the conformation.
Still, the final outcome looks good, and I'm very happy with it.

Great gift idea
By
Angela H.

(Brooks CB, TX) - June 19, 2010 (
See all reviews by this customer
)
Very pleased with this mug. The photos came out well and it arrived quickly.

Lovely!
By
Danielle S.

(Nottingham, PA) - June 3, 2010 (
See all reviews by this customer
)
The pictures on the mug were in really great quality They were a little small, but overall I really enjoy the product. It looks much better than any of the one-sided pictures make it look!

lovely
By
Satvik M.

(Devon, PA) - February 23, 2010 (
See all reviews by this customer
)
lovely gift for a friend

worth every penny.
By
Mir G. C.

(San Francisco, CA) - February 18, 2010 (
See all reviews by this customer
)
I wasn't sure what to get my boyfriend for valentine's day and it took me a while to find something. I stumbled across this site and I thought the printing quality was going to be poor but the pictures on the mug came out pretty nice. My mug also came just in time for valentine's day. I am satisfied with my purchase and i would buy from this website again. I would also recommend this site to others.

Quick & easy, needs some oversight
By
Craig W.

(Los Angeles, CA) - February 1, 2010 (
See all reviews by this customer
)
It was so quick and easy to create our gift, and it shipped and was delivered in record time. We were very pleased with that aspect. One of the photos in our collection printed too dark - even though it looks fine on our home monitor. I wish there was some quality control oversight to make optimizing adjustments to photos.

WIll order again from Personalization Mall!!!
By
Brooke S.

(Albany, NY) - January 28, 2010 (
See all reviews by this customer
)
This collage mug was the fourth item I have bought from PM in last 2 months! Everything comes so fast & the prices are wonderful! Thank you!

photo mug
By
Mary S.

(Cape Coral, FL) - January 1, 2010 (
See all reviews by this customer
)
Very nice gift item - delivered quickly and as ordered. Only reason for 4 stars is I've seen similar items that included more than the 5-6 photos allowed here and having the option for more would have been good. Would recommend this item.

Good item
By
Tia T.

(Victor, MT) - December 26, 2009 (
See all reviews by this customer
)
This was a Chritmas gift for my mother in law. She loved the idea and its a cute idea. The only problem I had, which is slight. The pictures are a little crooked.

good christmas present for grandparents
By
Valerie F.

(Holister, MO) - December 22, 2009 (
See all reviews by this customer
)
liked the product very much.
Only 2 comments....
1. little pricy
2. wish I had known to pick pictures in a certain order to fit the standard spots of vertical and horizontal a little better.

Positive comment was that basic shipping delivered quite fast and I didn't have to pay extra.